The 2014 Oscars are over, bringing to an end our celebration of the one-year anniversary of when we first began discussing who would win the 2014 Oscars. It was a night in which many of the winners vied for the separate honor of who could make the most touching acceptance speech, while Ellen DeGeneres—as a stand-in for the audience at home—wandered around talking about pizza, taking selfies, and making jokes about Jonah Hill's dick. It was a night in which the Oscars paid tribute to the greatest heroes of all: montages, whose selfless acts of putting themselves out there, again and again, heroically saved millions from having to watch yet more people accept awards. It was a night filled with music, because a lot of this year's nominees were seriously depressing, so here's Pink singing about The Wizard Of Oz or whatever. Truly, it was Hollywood's night to sit patiently while all of that happened.
As for the winners, the full list is below, and likely not all that surprising to those who have been paying attention to the annual endless procession of prognosticating, or to Harrison Ford, who could seriously not give a shit. Best Picture went to 12 Years A Slave, though it more or less split the difference with Gravity, which made off with Best Director for Alfonso Cuarón and swept pretty much all the technical awards. (The Great Gatsby's wins suggest maybe Cuarón should have "jazzed" up the cold vacuum of space a little.)
Matthew McConaughey and Cate Blanchett triumphed as expected, Lupita Nyong'o helped make for an American Hustle shutout, and all three spoke in their own gracious and inspiring ways—though only McConaughey had a shout-out to Miller Lite. Also sentimental was Spike Jonze's win for the screenplay to Her, for its clever, touching depiction of the elusive nature of relationships, as well for sneaking a phone sex scene into the Oscars.
Elsewhere, we were again reminded by the sad, inexorable march of time through Bill Murray's bittersweet shout-out to his favorite cinematographer, Harold Ramis; by another brutally overcrowded In Memoriam segment (though one that still couldn't spare room for Dennis Farina or Alain Resnais); with a Bette Midler performance of "Wind Beneath My Wings," which thanked those departed for all they'd done to make Bette Midler so, so great, we guess; and by Kim Novak, who was in vertigo, or possibly just tired. And finally, John Travolta came forth to begin the cycle that shall bring all of Hollywood to an end, uttering the phrase, "Adele Dazeem," that heralds the dawning of man's final battle against Xenu.
Anyway, you can revisit these and other glib talking points by replaying our Oscars live-chat—or just talk about it all over again in the comments, until it's time for the next Oscars to begin. Until then, Adele Dazeem, everyone. And Adele Dazeem with you.
G/O Media may get a commission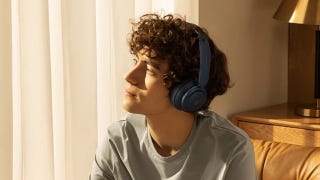 30% off
Soundcore Headphones and Earbuds
BEST PICTURE:  12 Years A Slave

BEST DIRECTOR: Alfonso Cuarón, Gravity

BEST ACTOR: Matthew McConaughey, Dallas Buyers Club
BEST ACTRESS: Cate Blanchett, Blue Jasmine
BEST SUPPORTING ACTOR: Jared Leto, Dallas Buyers Club
BEST SUPPORTING ACTRESS: Lupita Nyong'o, 12 Years A Slave
BEST ORIGINAL SCREENPLAY: Spike Jonze, Her
BEST ADAPTED SCREENPLAY: John Ridley, 12 Years A Slave
BEST ANIMATED FEATURE: Frozen
BEST ANIMATED SHORT: Mr. Hublot
BEST CINEMATOGRAPHY: Emmanuel Lubezki, Gravity
BEST COSTUME DESIGN: The Great Gatsby
BEST DOCUMENTARY FEATURE: Twenty Feet From Stardom
BEST DOCUMENTARY SHORT: The Lady In Number 6: Music Saved My Life
BEST LIVE-ACTION SHORT: Helium
BEST EDITING: Gravity
BEST FOREIGN LANGUAGE FILM: The Great Beauty (Italy)
BEST MAKEUP & HAIRSTYLING: Dallas Buyers Club
BEST ORIGINAL SCORE: Steven Price, Gravity
BEST ORIGINAL SONG:  "Let It Go," Frozen
BEST PRODUCTION DESIGN: The Great Gatsby
BEST SOUND EDITING: Gravity
BEST SOUND MIXING: Gravity
BEST VISUAL EFFECTS: Gravity