There is nothing quite like staring down the barrel of your own mortality by thinking about what you'd choose as your last meal on earth or the final song you'd ever hear. These are deeply personal choices, difficult and unpleasant to think about. We regret to inform you that that decision might be made for you, and it might be the fucking Chainsmokers.

BuzzFeed reporter Julia Reinstein, who attended the New York Presbyterian Hospital's "Hands Only CPR" course, shared the knowledge with Twitter yesterday that the hospital maintains a playlist of songs whose beats per minute is the same as the timing necessary to properly perform CPR compressions on a patient.

This is clearly a cool public service, and, at 47 songs, there is probably something here that has wormed its way into your subconscious over the course of the past few decades that you could summon to memory in case of an emergency. If you're lucky, it'll be something like Missy Elliott's "Work It" or Marvin Gaye's "What's Going On" or Fatboy Slim's remix of the Beastie Boys' "Body Movin'." If you are extraordinarily unlucky, the person who saves or attempts to save your life will be muttering Sugar Ray's "Fly" or Shakira and Wyclef Jean's "Hips Don't Lie," a track which ends a verse with the line, "So be wise and keep on reading the signs of my body," which is a little on the nose, to be honest.
G/O Media may get a commission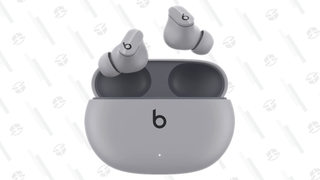 The same might be said about tracks like Justin Timberlake's "Rock Your Body," Gloria Gaynor's "I Will Survive," the Bee Gees' "Stayin' Alive," and the Backstreet Boys' "Quit Playing Games (With My Heart)." It's a hell of a mix to imagine going out on, but a good way to remember the proper CPR tempo in an emergency. If Hanson can help save a life with their classic "MMMBop," the New York Presbyterian Hospital will have accomplished its goal.
Send Great Job, Internet tips to gji@theonion.com