Imagine it's a Friday night—let's say December 1st, 1995. A husband and wife go out to their favorite Mexican restaurant with their children, then head home to put the kids to bed. The couple is full of fajitas, margaritas, and familial goodwill. They snuggle up on the couch to watch one of their favorite shows, Homicide: Life On The Street. By the end of the hour, they're sobbing, feeling depressed about the transience of human relationships and the looming specter of our common mortality.
So… a good way to start the weekend?
The Homicide episode "A Doll's Eyes" aired toward the beginning of the show's fourth season, well after NBC had given the Homicide producers a mandate to become more viewer-friendly. The first episode of Homicide: Life On The Street aired in January of 1993, immediately after the Super Bowl, and was seen by more than 18 million people, many of whom never watched again. Among those who stuck around for episode two were critics, award-show voters, and the NBC programmers who kept the show on the air through seven years of low ratings. Also among the loyal fans: television creators, who quickly pilfered Homicide's handheld-camera-derived immediacy, its caustic wit, and its emphasis on the mundane details of crime-solving.
Filmmaker Barry Levinson, film-critic-turned-screenwriter Paul Attanasio, and TV writer-producers Tom Fontana and James Yoshimura adapted Homicide from a non-fiction book about the operation of a Baltimore homicide detective squad, written by David Simon, who would later go on to create The Wire. From the first episode, the creators established Baltimore itself as a character, from the inner-city bars and crab shacks to the posh suburban mansions. The cast clicked right away, too, especially Kyle Secor as an oversensitive novice detective and Andre Braugher as his hotshot partner.
Homicide's nine-episode first season and four-episode second season sported a darker look and tone than later seasons, when network pressure pushed more action sequences and master criminals into the picture. But throughout the show's run, crimes would go unpunished, justice would prove elusive, and the writers would use the commonplace to get at the big questions of what it means to sort through the debris of murder. Even the opening credits for the first four seasons are jarring: just a surreal, impressionistic montage showing extreme angles of Baltimore row houses, police-station desks, and one metaphorically vicious dog, all set to a soundtrack of electronic shredding and high, rapid percussion. By the time the cast list comes around, the image totally breaks down, reduced to blurry streaks of light, before ending on a reversed picture of a homicide-department door. Has the world gone topsy-turvy? Is life flashing before some victim's eyes? Or is it all just another day of mayhem in Balmer?
Back in the mid-'90s, I was friends with a guy who heard I'd started watching Homicide in the middle of its third season (with the episode "The City That Bleeds," as I recall), and he made sure to let me know that the show had been going downhill from the moment its lighting improved. No matter how dark Homicide would get over the years—and this is a show where the cops drank too much, murdered suspects in cold blood, and explored the extremes of their sexual desires—there were always longtime fans who'd complain that the cast had gotten too pretty and the cases too "TV-ish." Homicide was tough once, they'd say. Then it got… different.
G/O Media may get a commission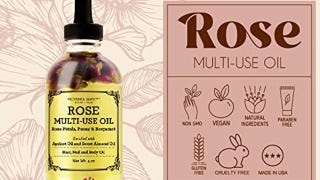 Provence Beauty Rose Multi-Use Oil
What then to make of "A Doll's Eyes"? Directed by former TV news producer Kenneth Fink and written by Yoshimura from a story by Fontana and Henry Bromell, "A Doll's Eyes" is a tough hour of television by just about anyone's standard. It's riveting and mood-changing, a contemplation of fate, miracles, and the blurry line between life and death. And it's unsparing in its dramatization of tragedy.
The episode opens with a married couple—not unlike the pair in my opening what-if—out at the mall with their 10-year-old son, Patrick Garbarek. The scene cuts between someone running through the mall and Patrick ignoring his mother's demand that he tear himself away from a storefront dinosaur display. The soundtrack and image shift drastically, depending on the perspective. With Patrick and his mother, all is calm. With the fleeing man, the image blurs and the soundtrack fills with loud, propulsive percussion. Then there's a gunshot, and Patrick falls to the ground.
For all its occasional sensationalism, Homicide was in essence a drama about how ordinary people cope with the extraordinary. "A Doll's Eyes" makes that division explicit through its story structure, which shows a seemingly happy family shattered by the thoughtless violence of an unhappy one. (Later, we learn that the shooter at the mall was chasing his brother, as part of a dispute over a girl.) The division continues as the Garbareks navigate the nightmare of hospitals and an empty house, while Detectives Pembleton and Bayliss (played by Braugher and Secor) investigate the crime.
The episode is fairly evenly split between the Garbareks (played by Marcia Gay Harden and Gary Basaraba) and the detectives. In the early going, while Patrick is in surgery, Joan and Paul Garbarek reassure themselves that he's going to be fine and fret over trivialities, like whether their car is parked in a tow-away zone. Later, back home, after Patrick's fallen into a coma and is showing no brain activity, Joan insists on making eggs even when Paul's not hungry. ("Do I have to worry about you too?" she snaps.) Then she washes Patrick's bloody clothes, unaware that the cops need them as evidence.
Meanwhile, Pembleton and Bayliss go about their business, bothered more by the run-of-the-mill annoyances of their job than they are by the imminent death of a 10-year-old boy. When we first see them in the episode, they're talking about the weather, and debating whether there's humidity in hell. Later, when they find out that Patrick is still alive but brain-dead—that he "has a doll's eyes," according to the doctor—the partners want to pass the case off to the violent crimes division, but their competitive, clearance-obsessed cohort Kay Howard (played by Melissa Leo) doesn't like the idea of them taking a red name off the board so quickly. While the Garbareks come to grips with the possibility that they'll never hear their son's voice again, Pembleton and Bayliss are listening to their colleagues chit-chatting about the pope's upcoming visit to Camden Yards and enduring their bitching that all the ice cube trays in the kitchen are empty.
These two worlds collide a few times throughout the episode. When Pembleton and Bayliss first stop by the hospital to get a statement from the Garbareks, Paul is confused as to why homicide detectives would want to talk to them—"Someone got killed over there today, huh?" he asks—and his confusion isn't helped by the simultaneous arrival of doctors asking for the Garbareks' signatures on forms related to Patrick's condition. Paul gets agitated, and Bayliss grabs at him, but immediately feels bad about it—not because he was out of line, but because while reaching for Paul, he hurt his back. Later, Pembleton returns to the hospital after Patrick's settled into his coma, and tries to ask Joan about the clothes she washed, but finds she still has no interest in the investigation. The weight of her responsibilities and the randomness of the incident have come crashing in on her, and she starts yelling, at Pembleton and at Patrick. ("He has to see the dinosaurs," she says. "He has to go that window.")
So the two camps disengage again. Pembleton and Bayliss track down a pimple-faced kid named Tommy Porton who may have witnessed the shooting. They get him in the interrogation room and launch into their well-honed shtick: two slick-talking cops playing on a suspect's worst fears. Bayliss goes off on a tangent about how he doesn't have a nickname like "Tommy" and how that pisses him off, then he tells Tommy that Patrick doesn't have a nickname either. Together, Pembleton and Bayliss shake Tommy's tree enough that he cracks and confesses that his brother Donny is the shooter. (Pembleton, feeling biblical, opines, "Younger brother gives up older brother… variation on a theme.")
During all this, the Garbareks suffer in silence around each other, afraid to have the conversation about whether they should take Patrick off life support and let his organs go to kids who need donors. Finally, they agree to say goodbye, in an absolutely brutal scene that has Joan first wanting to put off the decision one more day before Paul reminds her that it won't be any easier tomorrow. The Homicide team doesn't spare the audience any of the painful details of the Garbareks' farewell to Patrick. Joan's taken aback that the child is still warm when she touches his face. Paul asks that the doctors let her hold Patrick while they switch off his machines, but they only allow the parents 15 seconds, so Joan quickly takes Patrick into her arms, says, "Thank you for being my son," and cradles him as he flatlines. Throughout the scene, the beeping of the life-support equipment and the hovering medical staff send a clear message: This decision is irrevocable.
I repeat: Is this an enjoyable way to spend a Friday evening in front of the television? Why would anyone want to put themselves through the emotional wringer of "A Doll's Eyes?"
I can think of a few reasons. First off, unlike a lot of television then or now, Homicide: Life On The Street was attuned to the visual possibilities of the medium, thanks largely to its frequent cinematographer (and occasional director) Jean de Segonzac. Note the framing of that shot of Pembleton and Bayliss grilling Tommy Porton. Bayliss' face is out of the frame, but his hand is right on Tommy's throat while Pembleton and his ever-present cigarette emit a halo of hellish smoke behind the boy's close-up, blemished face. Or note the way the decor in the hospital hallway…
…reflects an alien, external world where people look forward to the fall weather and the holidays, even as the patients and their families inside the building endure some of the worst moments of their lives. (Underlining that theme, there's a brief shot in that same hallway earlier in the episode in which we see a janitor casually mopping up a trail of blood while Bayliss and Pembleton walk by, not at all concerned about what put that blood there in the first place.) Later, after a long conversation about impossible choices, the camera cuts to a sun setting behind Baltimore…
…in a shot that lasts about 30 seconds. It's not an establishing shot either; it's strictly a mood-setter. (And a theme-reinforcer: this is an episode about transitions after all.) Or study the composition of the scene where Bayliss tracks, finds, and apprehends Tommy Porton.
The quick-cut mix of close-up, medium, and long shots conveys the adrenaline rush of the moment, the immediate reactions of the characters, and the flavor of the city where all this is taking place. (It also reminds us that Bayliss' back injury is still bothering him. And it contains one of those "multiple takes of the same instant" routines that was all the rage among movie and TV editors in the mid-'90s, in part because Homicide did it so well.)
Just on a visual level, "A Doll's Eyes" is a pleasure. It's also a pleasure to listen to the dialogue, which is often funny and worldly wise. Early in the episode, when Pembleton and Bayliss are interviewing witnesses at the mall, one old man claims that the shooter bumped him and made him spill his lemonade all over his pants, though he quickly admits that "it ain't all lemonade." And one woman, pressed to describe the suspects, keeps saying, "They were regular!" before she concedes to Pembleton that what she really means is that they were white guys. Pembleton and Bayliss also talk circles around each other, whether they're arguing about who owes whom money or breaking down the finer points of where to keep a wallet.
Homicide's banter isn't "realistic" per se. It's more in the mode of David Mamet, Quentin Tarantino, or other writers who love the outsized rhythm of language, especially when spoken by tough-guy-types. Often the dialogue is mannered and quirky in a way that made Homicide feel fresh at the time but now comes off a little forced. (Though not cripplingly so, at least to me.) "A Doll's Eyes" also features multiple conversations that confront the issues of the episode head-on, which was a fairly common approach to storytelling among the genre-bound dramas of the mid-'90s (like Law & Order, say, or any of the shows created by David E. Kelley). The difference in this case is that Homicide worked those debates about the issues of the day into more casual conversations. Rather than two lawyers standing up in a conference room or courtroom and shouting their opinions about how best to preserve the dignity of human life, Homicide has Pembleton dismissing Bayliss' passing thought that Patrick might make it by saying, "How's he gonna make it? He has no brain function. Where's he gonna make it to?" And when the partners finally track down and arrest Donny Porton for Patrick's murder, Donny argues that he shouldn't be charged with that crime because he wasn't the one who switched off the life-support.
All of these scenes are marvelously well-acted, too—another way that Homicide is enjoyable even when it's ripping viewers' guts out. Consider the long, winding scene that anchors "A Doll's Eyes." Pembleton and Bayliss head back to the Garbareks' house to retrieve Patrick's clothes. Joan and Paul haven't made their final decision about Patrick yet, so Joan plies Bayliss with coffee in the kitchen so that she'll have someone to talk to about why she thinks it's wrong to let Patrick die and become an organ-donor, while outside Paul tells Pembleton that he hopes Donny resists arrest, so that the cops have to hurt him—or kill him. The couple talks about the cost of Patrick's care, and how this incident has brought home to them that they have nothing in common anymore. And when the heavy stuff's out of the way, they talk about the weather, and gardening.
The scene lasts about five minutes, split between two locations, and the performances are as subtle, graceful, and affecting as the dialogue is blunt. After it's over—and after that long sunset shot I mentioned earlier—Pembleton and Bayliss get back in their car in the darkness and drive away, yelling at each other about old debts, their irritation at the Garbareks' neediness, and their own differing opinions about end-of-life care. Bayliss cites the miracles at Lourdes, and wonders if he could do what the Garbareks are about to do. In short: The partners have lost all their casualness about this case. They came into it all breezy, and now they're rattled.
By the end of "A Doll's Eyes," the papal visit that was a minor bit of historical and regional color early in the episode takes on a larger meaning. Detective Munch (played by Richard Belzer) teases the squad's captain, telling her that she could sell the seat she has on the dais with His Holiness and use the money to buy a 60-inch, high-definition, surround-sound TV to watch the pope in style. She shrugs Munch off, saying, "That would be heresy," but she ultimately decides to give up her ticket anyway, passing it on to Pembleton, a lapsed Catholic. But Pembleton declines to attend, and instead at the end of the episode watches the pope roll into Camden Yards on television—and not on a big-screen either.
While he's watching that, Bayliss is impatiently answering questions from the father of a boy whose life was saved by Patrick's kidney. In the background, Pembleton is pulled away from the TV by a call for a new case, and he hollers at Bayliss that they have to go. Bayliss is ready to shift his attention away from all things Garbarek, once and for all, but when the grateful dad at his desk ponders what would've happened "if this killer isn't in the world," it stops Bayliss short. What kind of miracle is this, after all? What message is God sending here? (And can we even make it out on our crappy TV sets?)
Maybe this is the real value of "A Doll's Eyes," to get viewers to turn their eyes from the everyday, to contemplate something more eternal. Or maybe the episode's meant to be like a nightmare: painful to experience, yet leaving us blessedly relieved that it was only a dream when it's over. Or maybe it's a way of preparing us for inevitable loss, in the same way that parents-to-be take birthing classes and watch videos that cover every possible scenario, from breech to Caesarean. Here's a different kind of video: How To Say Goodbye To Your Brain-Dead Child.
Or maybe it's just pure catharsis. That's my take, honestly. I think we underrate catharsis as an essential function of drama—at least the bawling-your-eyes-out kind of catharsis, that is. Network television used to pull huge numbers with disease-of-the-week movies; now those have been shuffled off to cable. Tearjerker movies are sneered at as "chick flicks," and don't get much critical respect. And yet there's something profound and even admirable about a movie or TV show so engaging to its viewers that it reduces them to mush.
As an experiment, I watched "A Doll's Eyes" with my wife for the first time since we watched it together back in 1995. (No, we weren't the couple from the opening paragraph; we were unmarried and childless back then.) She had some work to do, so I put the DVD in, saying, "Well, since you're working, I'll go ahead and watch this and take notes for the column." But I was also taking notes on her. Ten minutes in, I noticed that she was looking at her laptop less and at the screen more. By the time the Gabareks pulled the plug on their son, she was a wreck. She had no idea what she in for when the evening began. At 9:00, all smiles. At 9:50… destroyed. That's how quickly everything can change.
---
Next time on A Very Special Episode: The Outer Limits, "The Man Who Was Never Born."