When it comes to Pearl Jam, musical comparisons aren't difficult, but finding many other bands that experienced the same career trajectory might be. The Seattle group is one of the few bands in history to go from playing its first show to becoming arguably the biggest band in the world in barely over a year. Its first album, Ten, is one of the highest-selling rock albums of all time, going platinum 13 times. When your first release goes to No. 1 in almost every country in the world, you've created a tough act to follow. But after 25 years and 10 albums, the group has evolved into the classic rock band it always intended to be.
Pearl Jam formed from the ashes of Mother Love Bone, a promising glam-rock group that died along with its lead singer Andy Wood, after his heroin overdose. Guitarist Stone Gossard began writing songs with a more stripped-down, elemental feel, and after he and Mother Love Bone bassist Jeff Ament recruited lead guitarist Mike McCready and drummer Dave Krusen, they demoed a few songs and sent out a tape in search of a new singer. Which is how they found Eddie Vedder, still probably one of the most recognizable rock frontmen on the planet. Whatever alchemy led to the creation of debut album Ten, the band—along with fellow Seattleites Nirvana—became the global face of grunge, an image it labored to overcome.
By the second album Vs., Pearl Jam was already writing songs with a more traditional rock vibe, combining various elements of '70s rock that fused arena-ready bombast with the rootsy intimacy of a Neil Young or Van Morrison. (Vedder also brought punk into the mix, both as an aesthetic and personal ethos, and musically on certain tracks.) It's difficult to overstate just how ubiquitous Pearl Jam was during this time. And not all the members were happy about it. In Five Against One, the closest thing to a solid biography of the band, Kim Neely recounts how unhappy Vedder was in the spotlight. But his status as the face and voice of the group also led to a quiet transfer of power behind the scenes, as Vedder slowly took over Gossard's role as de facto bandleader.
Subsequent years saw the band recede from the pop culture landscape, as the group intentionally tried to make its life as a rock band more manageable. Some of this was unavoidable, as the group's very public fight with Ticketmaster made touring during the latter part of the decade difficult. And while Pearl Jam was still incredibly commercially successful, this began a period of artistic experimentation. For the next 10 years, Pearl Jam played around with its sound, testing the limits of its rock 'n' roll identity. The results included both more straight-ahead rock albums (Yield) and sprawling, adventurous offerings that trafficked in a plethora of sounds (Riot Act).
By the time its contract with Epic was up, the band had managed to develop a fairly consistent personality, in no small part due to the addition of Soundgarden drummer Matt Cameron, who brought a stability to the group and a distinct backbeat to Pearl Jam's music. A Pearl Jam record can be largely anticipated as a blending of disparate '70s-rock influences, from punk stompers to acoustic ballads to a bevy of midtempo rockers crafted with an eye toward ever-so-gently pushing the typical verse-chorus envelope, without straying too far. That combination of mild experimentation while still remaining within the confines of classic rock songwriting have served the group well, along with a dedication to its fan base that has earned Pearl Jam some of the most devout followers this side of a Rush concert.
G/O Media may get a commission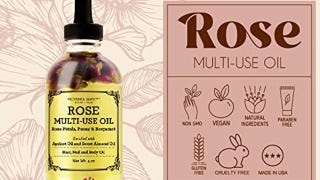 Provence Beauty Rose Multi-Use Oil
However, the group's consistency in songcraft is often matched by an inconsistency of output. Pearl Jam has tons of great songs, but few great start-to-finish albums. Interestingly, it's the clockwork traditional tunes that misfire as often as the more experimental tracks, though the band's album-first ethos means that it sees records as a singular entity, containing plenty of room for sound collages and odd trifles as part of a larger whole. And while some of its singles find their way onto this sampling of the most representative music to define Pearl Jam, devotees know that it's a deep-cuts band. (To wit: "Alive" is easily the group's most culturally relevant track—so much so, there is zero need for it, or "Jeremy," in this compilation.) The group makes records, not hits, and a song that "sounds like Pearl Jam" is rarely an early single. Consider this an introduction to Pearl Jam, the actual warts-and-all classic rock act spanning 25 years, and not "Pearl Jam," the early '90s symbol of grunge where slapping a distortion pedal on traditional riffs made for a "new sound."
1. "The Fixer" (2009)
There's no reason not to start with the greatest song in the back half of the Pearl Jam catalog. A fiery anthem fueled by one of the catchiest sing-along refrains Vedder has ever come up with, "The Fixer" chimes and reverberates with the strength of the band's best rock 'n' roll tendencies. "When something's gone, I wanna fight to get it back again," goes the transition into the chorus, echoing the rebel yell spirit that characterizes so much of the group's ideology. It's a powerhouse track, and a natural first song on this mix.

2. "Alone" (1991)
An early song that didn't make it onto the band's multiplatinum debut Ten. "Alone" is an excellent example of the transitional music Gossard was writing in the early days of the group, retaining the sliding chords and psych-rock tendencies of his previous band, Mother Love Bone, while pushing them in a harder-edged direction. It also showcases an early lyrical habit of Vedder's: the third-person story-song, words that evoke the behavior of someone caught in emotional turmoil. It may not have fit the first album, but it's a great song, and sharply captures the group's early sound.

3. "Hail, Hail" (1996)
A prototypical example for the kind of arena rocker of which Pearl Jam is capable, the second track on No Code is also indicative of the wildly turbulent musical push-and-pull that characterized the recording of the band's fourth record. The group was feuding with Ticketmaster, its label, and most worryingly, itself. Despite landing a new drummer in Jack Irons—who immediately brought a different, more loping and less technically ambitious vibe to the songs—the record is all over the map, song-wise. Still, that turmoil generated some great art, this track being one of the chief pieces of evidence.

4. "God's Dice" (2000)
The 2000s saw Pearl Jam expanding on some of the ideas that had characterized the music of its first decade. "God's Dice" again demonstrated the significant sonic changes a new drummer could bring to the mix. Recruiting Soundgarden drummer Matt Cameron, the band finally seemed to find a groove with which it was comfortable. (The truth of this claim is apparent from the fact that Cameron has been with them ever since.) Reinstituting the more hard-charging and ambitious flourishes of Dave Abbruzzese's work on Vs. and Vitalogy, it pulses with a newfound energy.
5. "Not For You" (1996)
Perhaps one of the defining tracks of the band at the height of its worldwide fame, "Not For You" is one of the most misanthropic and angry of Vedder's cries against the roiling industry that had caught his band up in its churning machinery. In the deluxe re-release of the album, a live concert from the time finds Vedder introducing the song by saying, "This song is about, uh, people who don't have taste, but they like us anyways." It practically seethes with resentment.

6. "Thumbing My Way" (2002)
Though often less remarked upon, acoustic ballads have been a key part of the band's arsenal. From Vs.' "Elderly Woman Behind The Counter In A Small Town" to most of the group's more successful recent singles ("Sirens," "Just Breathe"), it's impossible to get a full sense of Pearl Jam's music without including the sound of Vedder's voice and an unplugged instrument, stripped of all noise. Clearly, it's important to Vedder as well—he recently released an album of ukulele songs.

7. "World Wide Suicide" (2006)
The influence of '70s punk on the band regularly makes its presence felt, as tracks like "World Wide Suicide," or Backspacer's "Got Some" demonstrate Vedder's affinity for the stuttering tempos of early punk rock. Jagged riffs mesh against his speedy vocal patter, resulting in a song that still delivers the band's swing-for-the-fences bombast, but adds a tighter, more retro bob to the rhythm.

8. "Lukin" (1996)
But then you get to the band's real punk workouts. No Pearl Jam set list would be complete without at least one of the group's frenetic high-speed fist-pumpers. Ever since Vitalogy's "Spin The Black Circle," a number of albums have included at least one of these fast-paced proto-punk throwbacks, often clocking in at minimal length, though "Lukin" has the rest beat in terms of get-in-and-get-out brevity.

9. "Insignificance" (2000)
Probably because it achieved international fame based at least in part on a song about a boy killing himself in front of his classmates, Pearl Jam's dark side is often only considered from a lyrical perspective. Tracks like "Insignificance" (again off 2000's Binaural) show the group hewing darker musically, too. A jarring rock track with a fitful start-stop hook, it showcases the band's penchant for fusing some of the catchier melodies with music that interrupts the steady pogoing of a mosh pit.

10. "Better Man" (1994)
The song that launched a million angsty breakups of teenage romance, this track smartly combines Pearl Jam's acoustic tendencies and its driving rock tempos in near-seamless fashion. While the track's sunny harmonies and uplifting major chords pull it dangerously close to easy-listening territory, the darkly ironic lyrics and Dave Abbruzzese's hard-edged rhythm keeps it anchored squarely in potent rock 'n' roll.

11. "State Of Love And Trust" (1992)
For many people, this song stands out not only as one of the best of early Pearl Jam's barnburner rock songs, but as one of the things they most remember from Singles, Cameron Crowe's movie that tried to capture the spirit of early '90s Seattle grunge. The soundtrack is more acclaimed and successful than the film that spawned it, and "State Of Love And Trust" is a hard-charging highlight.

12. "Corduroy" (1994)
Anyone who says this isn't one of Pearl Jam's best songs is lying. The centerpiece of the ragged and raging Vitalogy, Vedder's ode to the bizarre consequences of fame is everything the band does right: stomping, distorted rock, with earnest vocals that make the unwieldy and personal surprisingly universal. Plus, that vocal melody in the refrain is one for the ages.

13. "Animal" (1993)
"One, two, three, four, five against one," begins this blazing and ferocious song that showcased the raw strength of Pearl Jam, remaining undimmed on its sophomore record. Originally called Five Against One, the album was meant to serve as a testament to the band's unity and coming together through music, right at the time when the bonds which first drove the band were beginning to fracture. Luckily, that element of anger and frustration got taken out in the music—with "Animal" being a prime example.

14. "Smile" (1996)
Like any great American rock band, Pearl Jam inevitably found its way toward the blues. While bluesy roots always shone through Stone Gossard and Mike McCready's guitar playing, "Smile" is one of the first times that the group thoroughly and unashamedly embraced a classical lurching blues structure, with a staggered stomp gradually unfolding into a sweet and heartfelt love song. As Vedder would occasionally say when introducing the tune live, "This is the happiest song we know—and this is for you."

15. "Porch" (1991)
Going all the way back to its debut album, "Porch" emerged as a singularly malleable track, a hard-charging rock explosion that also happens to have a second-act breakdown ripe for molding into whatever form the band saw fit. From night to night it would change, the song spending years as a de factor set closer. The album version is a much more streamlined affair, but it's still so raucous, so full of the energy and promise of a world-class band just getting to its feet, that it can't help but merit inclusion.

16. "Yellow Ledbetter" (1992)
Then, of course, comes the finale. One of the first songs the band ever wrote as a group (and released as a B-side for "Jeremy"), it slowly became an audience favorite, and eventually supplanted "Porch" as the standard show closer. In concerts, it often segues into a lengthy solo by McCready, which, if you're not in the audience (and sometimes even if you are), can sound lengthy and exhausting. But on record, it still captures something fleeting and essential about the band. It's what Pearl Jam often leaves you with after an inspired concert, and it's how this Power Hour ends, too.

Total time: 59:56