The Killer (1989)
Chow Yun-Fat is a beautiful man. In The Killer, the 1989 movie where John Woo turned him into an icon, Chow looks more like a classic romantic leading man than an action star. His hair is always perfectly in place. He wears impeccably tailored suits, which often end up covered in blood. His eyes dance. Cary Grant is the comparison everyone makes, and Cary Grant is the exact right comparison. The Killer had moments of operatic tragedy, and Chow treated those moments with gravity. Most of the time, though, he didn't seem to take anything seriously, even when he was gunning down a room full of anonymous rent-a-henchmen.
To enjoy The Killer, you can't just suspend disbelief; you have to utterly eradicate it. It's the story of a hit man so consumed with guilt from accidentally blinding a nightclub singer during a gunfight that he becomes her guardian angel, putting his own life at risk time and again so that he can get her the cornea-transplant surgery she needs to restore her sight. It's also the story of a renegade cop who starts out completely driven to bring the killer to justice and who then recognizes him as a fellow warrior spirit, helping him shoot down the small army of mob underlings who have come to kill him. There's a scene where Danny Lee, playing Detective Li Ying, describes Chow's character to a police sketch artist; he doesn't give a physical description so much as he writes a love poem to Chow: "He's very calm, quite intelligent. His eyes are very alert, full of compassion, full of passion." Watching it, you kind of get where Lee is coming from. He's right.
The movie itself plays a bit like that piece of dialogue. The Killer is violent as all hell, but there's no real grit to it. Instead, it treats Chow as a human work of art. He moves with a dancer's grace. During the opening shoot-out, there's a moment where he finds himself out of bullets, in a room full of people he's already killed and people still trying to kill him. He spots a revolver on a nearby table, so he kicks the table, which flips the gun into the air. He catches the gun, aims it, and shoots the guy trying to shoot him. He does all of it in one fluid motion. It's breathtaking. The Killer is full of moments like that.
John Woo had already started to change the way action movies—shoot-outs in particular—looked before he made The Killer. Woo had been working in Hong Kong movies since the late '60s, but most of that time, he'd been a fairly anonymous studio cog. That changed in 1986 with A Better Tomorrow, the monster-hit crime movie that made Chow a star in Hong Kong and introduced the melodramatic bullet-ballet style that will always define Woo for most of us. And the influence was immediate. Crime shoot-'em-ups exploded in Hong Kong, and I'd argue that even something like the great train-station shoot-out in Brian De Palma's The Untouchables, from 1987, could've been Woo-influenced. But The Killer is the movie that pushed Woo's style to new levels of operatic absurdity, the one that other directors spent years attempting to equal.
Woo had his own influences, of course. He talked about The Killer as his homage to both Martin Scorsese and Jean-Pierre Melville, whose Le Samourai also told the story of a glamorous and principled hit man. There's also plenty of Sergio Leone in Chow's laconic intensity, and plenty of Sam Peckinpah in Woo's over-the-top shoot-outs and heavy use of slow motion. But Woo was still an original. More than any other director, he figured out how to make a gunfight look stylish and beautiful and mythic. He's a show-off, and his action scenes tend to go on forever, escalating and becoming more unreal as they unfold. His action scenes never feel like breaks in the story or even crescendos; they're just natural extensions of the grand, tragic, dramatic stories that he loves to tell.
G/O Media may get a commission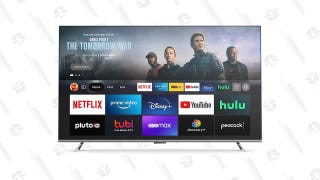 Save 46%
Fire TV 55" Omni Series 4K UHD Smart TV
In The Killer, Woo did everything he could to detach the movie, visually and auditorily, from reality. He filmed the entire movie in light so soft that it almost looked like there was Vaseline on the lens. He let his camera swoop through hallways and down sidewalks in ways that always drew attention to themselves. He set the whole thing to Lowell Lo's synthy, ethereal, positively soothing score. And he treated his characters less like human beings and more like avatars of virtue. In The Killer, one mobster lectures another on "the meaning of ethics and honor" while Chow tells his new policeman friend that "very few people still believe in the old ways" of crime, the codes that used to govern the taking of lives. They talk like Old West gunslingers or aging samurai facing changing worlds, seeing degradation instead of progress.
The movie's plot is a bit of a dance, and all the characters have their own motivations. Chow wants the money so that he can save his accidental victim's vision—and so that he can, ultimately, at least begin to atone for his life of murder. Lee wants to bring Chow to justice, but he also respects his code of ethics and, in the end, goes to war alongside him, helping Chow and the singer Jenny to escape the hordes of murderers sent by the sniveling, self-centered mobster who's refusing to pay Chow for that one last job. In one standout scene, Chow and Lee hold each other at gunpoint, trading jibes while pretending, for the sake of the sightless Jenny, that they're just old friends. Both of them seem to enjoy the charade.
It's all beautifully ridiculous: the macho notions of honor, the dream-state tone, the iconic Chow performance. But the real reason The Killer has a place in history is its gunfights. For my money, there's never been another director who's staged mayhem better than Chow has. And the final gunfight—the slow-mo doves-in-the-chapel blood-fest that everyone envisions when they hear Woo's name—is a masterpiece. Chow's creamy-white suit becomes a bloody mess almost immediately. He and Lee bicker, but they stay on the same side. And henchmen attack in wave after wave, crashing through windows and falling from scaffolding and flying across the room as shards of wood explode ecstatically around them. (All these guys are dying, incidentally, because the evil mob boss doesn't want to pay Chow the $100,000 he owes. His economics seem faulty.) Very few directors have ever managed to film an action scene that brutally gorgeous since. Many, many have tried.
When we talk about Woo's imitators, Quentin Tarantino is always the name that comes up first, though he's really more of an admirer. But Woo really did change the way action movies looked and moved, and his influence was felt around the world. For the past decade or so, Hong Kong's greatest action director has been Johnnie To, whose style is basically Woo with a dash of Jim Jarmusch. A year after The Killer, Luc Besson made La Femme Nikita, a movie that plays like an extended tribute. The movie also left its mark on Robert Rodriguez, Antoine Fuqua, the Wachowskis, and anyone else who would learn to shoot scenes of guys firing guns at each other for the next 20 years or so. Even Michael Bay must've learned something about sheer excess from Woo.
For all its iconic power, though, The Killer isn't Woo's masterpiece. That would come later. This column is going to have a whole lot more to say about Woo in the months ahead.
Other notable 1989 action movies: The year's runner-up is another classic with its own sort of dream-logic storytelling, albeit a particularly American sort: Road House, in which Patrick Swayze plays the world's greatest bouncer and takes on a small-town dictator kingpin. It's a gloriously silly movie with a stunning cast: Ben Gazzara! Sam Elliott! Terry Funk! John Doe! And while the movie wasn't exactly influential, it does represent just how good this sort of American studio action movie could be during this era. It's got a great and unique hero/villain pairing, a handful of immortal lines, some gorgeously choreographed mayhem, and a story that makes absolutely no fucking sense. There are very few movies that will improve your afternoon more than Road House.
This was another great year for grand, silly American studio action movies. In Tango & Cash, Sylvester Stallone and Kurt Russell had too much fun playing teamed-up super-cops who talked constant shit to each other while going to war against Jack Palance's scenery-inhaling crime lord. It's a rare burst of early action-movie self-awareness (Russell spending a scene in drag, Stallone intoning, "Rambo's a pussy"). And it made better use of Robert Z'Dar's gigantic chin than any other movie ever would. In Blind Fury, Rutger Hauer, in a rare good-guy role, played a blind Vietnam-vet sword master who saves an obnoxious little kid from some mobsters. And in The Punisher, Dolph Lundgren took the first of three stabs at bringing the Death Wish-esque Marvel Comics vigilante to the big screen. Dolph's version had ninjas in it. It was pretty good. The same year, Lundgren also starred in Red Scorpion, a weird little exploitation flick that doubled as a hysterical anti-communism fable.
Two of the great action sequels came out in 1989. In Indiana Jones And The Last Crusade, Steven Spielberg paired Harrison Ford up with Sean Connery, the greatest actor ever to play Indy's spiritual ancestor James Bond. It's a more cartoony movie than Raiders Of The Lost Ark, but it's easily the best Indiana Jones sequel, and many of its set pieces are a blast. Meanwhile, Lethal Weapon 2 added in a yammering Joe Pesci and some truly nasty South African villains, cranking up the bickering buddy-comedy elements of the first movie and leaving much of the despair behind. On its own merits, though, it's a blast. And speaking of Bond, Timothy Dalton gave his second and final shot at playing the role in License To Kill, which is not one single person's favorite Bond movie.
In Next Of Kin, the aforementioned Swayze played a Chicago cop embroiled in a Southern family feud. Jean-Claude Van Damme did a pretty great job recreating the Bloodsport magic in the strikingly similar Muay Thai odyssey Kickboxer, working in a truly immortal drunken dance scene, and he also played a futuristic mercenary named Gibson Rickenbacker in the wonderfully stupid Cyborg. Meanwhile, the actual kickboxing champion Don "The Dragon" Wilson attempted to make his own Bloodsport with Bloodfist. In Lock Up, Sylvester Stallone played a criminal in a deadly struggle against a vengeful warden. In Dead Bang, John Frankenheimer directed Don Johnson in a story of a cop looking for revenge against the white-supremacist underworld of Los Angeles. And then there was Collision Course, in which some brilliant studio head tried to make an action-comedy star out of Jay Leno.
A couple of movies—thrillers with serious action elements—probably deserve notice here. First, there was Black Rain, which had Michael Douglas and Andy Garcia fighting the Yakuza. It's got some great action scenes, but it's mostly memorable for the vivid, neon-lit way that director Ridley Scott shot Tokyo, almost equaling the visual power of his own Blade Runner by showing a city that already looked like that.
Meanwhile, Asian action cinema would've had a great year even without The Killer. With Pedicab Driver, Sammo Hung equalled the slapstick kung-fu insanity of everything his old friend and collaborator Jackie Chan was doing around the same time. With The Master, Jet Li moved his fluid and acrobatic kung-fu style into a modern setting. And with A Better Tomorrow III, the Hong Kong visionary Tsui Hark hijacked his estranged friend John Woo's franchise, giving more reasons for Chow Yun-Fat to shoot guns in slow motion.
More important than any of those, though, was a Japanese movie called Violent Cop. With that one, Takeshi Kitano, already one of Japan's most popular TV comedians, started a whole new career as a brutal, unflinching crime-movie auteur. In Violent Cop, Kitano directed himself as a traditional sort of Dirty Harry-esque loose-cannon police officer, but his whole style—long deadpan stretches of nothing happening, sudden eruptions of truly nasty bloodletting—would continue to evolve, to the point where he'd become one of our best and most distinct action auteurs.
Next time: Paul Verhoeven applies Philip K. Dick's narrative-pretzel logic to a freakishly violent sci-fi fantasia and gives Arnold Schwarzenegger one of his all-time great vehicles. Total Recall, baby!