Whatever one may think of Luc Besson's futuristic space opera Valerian And The City Of A Thousand Planets, the idea of spending a cool $225 million so that Rihanna can mount a stripper pole and recite some lines from the poet Paul Verlaine's "A Poor Young Shepherd" to an audience of one (in full high-tech space suit, sans helmet) in an extraterrestrial red light district named after a lesser-known Sylvester Stallone movie with a following among French cinephiles—all while being accompanied on keys by a leather-cowboy-hatted, multi-facial-pierced Ethan Hawke, as a character named Jolly The Pimp—has got to count as some kind of art. Because what's the point of making stupidly expensive, effects-smothered movies if you can't do things on a whim?

Valerian, which was adapted by Besson from Pierre Christin and Jean-Claude Mézières' long-running French sci-fi comics series Valérian And Laureline, is the sort of movie where the best and worst parts seem to happen on a whim. There is, for instance, an inspired but difficult-to-succinctly-describe chase sequence in which the space-man-special-agent hero, Valerian (Dane DeHaan, who sounds here weirdly like Keanu Reeves), gets his hand and blaster gun stuck in another dimension, which he is still able to see using a special pair of goggles; this leads him to run around an empty desert strip, dodging invisible walls and pedestrians, while his disembodied hand exchanges gunfire up and down bustling alleyways in another layer of the multi-verse. There, too, are the big-assed, Neanderthalic toad creatures who catch Valerian's partner and co-pilot Laureline (model-turned-sort-of-actor Cara Delevingne) with a human-sized fishing pole and cart her off to a feast. This, mind you, comes not long after she's had to stick her head into a memory-eating space jellyfish's anus on the advice of a trio of waist-high gargoyles who finish each other's sentences.
There are strange technologies—guns that cover the targets in magnetized ball bearings until they become so heavy that they fall through the floor, desert-skimming hover-jeepneys with the chassis of 20th century school buses—and the attendant alien planets: one where the pale, leggy inhabitants live in giant conch shells and harvest billiard-ball-sized pearls from their planetary ocean; another where clouds of different colors puff across the sky. And there's Alpha, the metropolis of the title, an interstellar melting pot of some 30 million inhabitants that grew over the centuries around what was once the International Space Station, large enough to support multiple biomes (including an internal sea) for its population of humanoids, amphiboids, aquatic giants, and cybernetic lifeforms. It's a lot to look at and even a little bit to think about. The generic MacGuffin-chase plot turns surprisingly political (it involves a covered-up planeticide, a refugee crisis, and unpaid reparations) and reads like a mea culpa for Taken and the other xenophobic action movies that Besson has spent much of the last decade writing and producing. In short, it's fun, provided viewers don't mind the lackadaisical pacing, sputtering climax, and the fact that DeHaan and Delevingne have no chemistry, and can stomach the sexual politics.
Besson's love of the great French sci-fi comics tradition is well documented. The influence is obvious in everything from his low-budget, black-and-white debut, The Last Battle, to his last foray into futuristic blockbusters, The Fifth Element, which was itself influenced by the Valérian And Laureline comics, with Mézières contributing to the production design. (Not coincidentally, much of DeHaan's flirty smart-aleck dialogue in this film sounds like it was written for Bruce Willis circa the mid-1990s.) And Valerian's back-to-origins vibe extends to its unfashionably hopeful view of space exploration, which is summed up in a long, almost touching opening montage of handshakes between docking spacecrafts, different countries, and, later, different species, spanning decades and eventually centuries, all set to "Space Oddity." Valerian and Laureline themselves are righteous special operatives of the Human Federation, introduced recovering a nearly extinct creature from the black market, and sent to Alpha as bodyguards for a general (Clive Owen, in full M. Bison get-up) at a security summit. This "when space men were space men" mindset extends to its very, very few female characters—especially Laureline, a gun-slinging Girl Friday whose dialogue is mostly limited to dresses, marriage, and the fact that she is, yes, a woman.
G/O Media may get a commission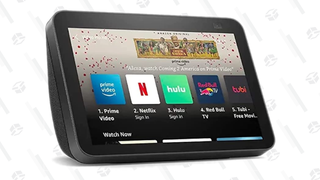 This might be more palatable if Valerian were more of an archetypal retro he-man (he isn't), or if Delevingne were a better actor. One almost wishes that it were Lucy's Scarlett Johansson in the role, or even the aforementioned Rihanna. She steals the movie as Bubble, a shapeshifter—she looks like a cross between a cuttlefish and a Christmas tree ornament in her true form—who yearns to do Shakespeare's Antony And Cleopatra, but has to make do with acting out erotic fantasies for horny spacemen. The role is memorable, but not big, and eventually recedes into Valerian's tapestry of bizarre creatures, offbeat cameos (jazz fusion wizard Herbie Hancock plays Valerian and Laureline's boss, for instance), one-off ideas, and grotesqueries. Besson, bless his heart, can't even imagine deep space without throwing in some dawdling, loud American and British tourists to ruin everything, which of course raises the question: Is the cosmopolitan Alpha supposed to be France? The movie almost supports that reading, but much like the 23rd century world of The Fifth Element, with which it shares both its macabre and sappy sensibilities, Alpha could just as accurately represent the inside of Besson's head.
It speaks to all of his visual obsessions, whether it's statuesque women with model looks (The Fifth Element was the breakthrough role for Milla Jovovich, who was Besson's wife and muse for a time) or the ocean, which is represented here by a beach planet and an entertaining submarine sequence set in the murky depths of Alpha's sea. Orson Welles called a movie studio the biggest electric train set any boy ever had, but in the tentpole-franchise-superhero-coming-soon era, the trains are expected to run on time. It's rare, then, to see a film this extravagant that also feels, for better or worse, like the work of a single personality. The longer action scenes may not always rank with Besson's early '90s highlights (Léon: The Professional, La Femme Nikita) or the mania of the more recent Lucy, but there isn't a moment in this ludicrous, lushly self-indulgent movie that doesn't feel like its creator is having the time of his life.