Neil Patrick Harris made his acting debut at age 15 in the 1988 Whoopi Goldberg movie Clara's Heart; since then, he's worked steadily, with dozens of roles in TV shows and movies, a stage career including a Broadway stint with Proof, and films roles in Starship Troopers, Undercover Brother, and more. But throughout the '90s, he was best remembered as the titular precocious underage doctor on Doogie Howser, M.D. In 2004, he picked up praise, laughs, and a new cult following as "Neil Patrick Harris," a strung-out, crazed, poon-hunting version of himself in Harold & Kumar Go To White Castle. His profile has been considerably higher since then: He's been co-starring as chipper womanizer Barney Stinson on the sitcom How I Met Your Mother since 2005, and he recently starred in Joss, Zack, and Jed Whedon's Internet phenomenon Dr. Horrible's Sing-Along Blog, as a mad scientist struggling with arch-nemesis Nathan Fillion and a crippling crush on do-gooder Felicia Day. Fall seems to be NPH season: How I Met Your Mother launches its fourth season on Sept. 22, with season three due on DVD in October. The Dr. Horrible CD just made its iTunes debut. And Harold & Kumar Escape From Guantanamo Bay just arrived on DVD, again with Harris playing "Neil Patrick Harris," in another inspired, creepy turn. Amid the Harrispalooza, Neil Patrick Harris spoke with The A.V. Club about playing a shoe fairy on Sesame Street, being a gay man with a series of womanizer roles under his belt, and being "75 percent technique and 25 percent Red Bull."
The A.V. Club: How did you first get involved with How I Met Your Mother?
Neil Patrick Harris: I had been auditioning, wanting to hop back into television as fast as I could, the season before it launched. The season of the casting of that show, I was trying to be particular about what I went in for. I didn't want to do sitcoms, I only wanted to do kick-ass, one-hour, ensemble-y Brothers And Sisters kinds of shows. This script came around, and I thought it was ridiculous, and thought there was no way I could get it. So I went in for it, and didn't seem to care very much about making an ass of myself, and they seemed to respond to that mentality. [Laughs.]
AVC: Did you just have the one script for the pilot episode at that point?
NPH: Yeah. I was friendly with the casting director, Megan Branman, so I got a call for it. But it was just very random. Reading the pilot to How I Met Your Mother, it's much funnier than most sitcoms, and not formulaic. So it was clever, but the character was written as a Jack Black, John Belushi type, so I thought, at 6 feet tall and 160 pounds, I probably would not be thought of as that guy. [Laughs.]
G/O Media may get a commission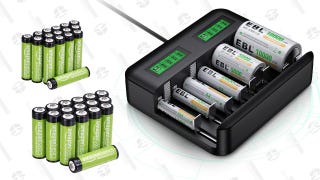 AVC: Did they retool the character at all once you were cast?
NPH: They didn't. As it turns out, they just didn't have a real strong visual opinion of what the character should look like. I think they were fans of things I had done in the past, and I went at it with reckless abandon, which is what they were looking for more than a physical type.
AVC: The creators have said that the other two male protagonists on the show are based on them. Is Barney based on anyone, as far as you know?
NPH: There is a friend of theirs that they sort of wrote Barney around, and I met him. He's not named Barney, but he does love Vegas, and cigars, and strip clubs. That kind of guy.
AVC: Is there any pressure for any of the three of you, "Play this a little more like me", or based on the real people?
NPH: Probably no pressure. But probably some subtle manipulation goes on. [Laughs.] I think Josh [Radnor] knows he can talk to Carter [Bays] in a very specific, intimate way, because they're probably one and the same. And in turn, I think Jason knows how to push Craig's buttons.
AVC: You mentioned just going for it. You do a lot more physical-comedy business than a lot of the other characters—
NPH: Hallelujah! And to that, I say amen! What's your question?
AVC: Do you think it's because you have that enthusiasm for it, or more physical training or stage experience, or just because it's how they see the character? Where does that come from?
NPH: Oh goodness, I don't really know. Probably a combination of them all. I was a huge John [Ritter] in Three's Company fan. That sort of comedy made me laugh. The "I can't skate but I'm on roller skates" type of thing that he did, always tripping and falling, made me laugh. I love Buster Keaton. I was a big fan of the stunt shows at Universal Studios. I'm a huge Cirque du Soleil nut. So physical stuff is right up my alley, and I keep begging them to write more. They started honoring that, and I get to do ridiculous things all the time. Now the other characters are just slapping me upside the face. I think they writers are offended by my requests for more physicality, so they just in turn have the rest of the characters slap me a lot. And I don't mind.
AVC: Have you had physical-comedy training, or acting classes? Formal music training, anything like that?
NPH: No. I didn't really take stage-combat classes, but… Oh my gosh, I don't know. I guess the serious answer would be that I sort of think of myself more as a technician than an actor. So the technical end of it, I'm really keen on. Whether it's a double take or a spit take or an extra-long pause before a reaction or a line, I try to be as cognizant as possible about the technical end of it. So I think the physical stuff works easier for me than maybe for others who are more just going on instinct.
AVC: How much of acting for you is like that kind of conscious process? When you're shooting, say, a reaction shot for the show, are you literally following through the order in your head, "Now I half-smile because I'm not quite getting the joke, now I lift my right eyebrow, now the half-smile becomes a smirk because they're looking at me"?
NPH: No. I used to do that a lot more, and then I got to work onstage with people who actively changed things up. If something worked one show, then they would just do something differently the next show, to see how that played. They wouldn't ever really set anything, which seemed horrifying to me in theory, but kind of amazing when you watch someone like Denis O'Hare in Assassins. Or Laurie Metcalf, she played my mom in All My Sons, and she's just outstanding in her ability to be within the character. I'm very envious of it. I don't do that as much.
But I don't know, on a sitcom, and in theatre especially, you have to really be listening to an audience. And if you're losing them, you can hear the sniffs, and and the playbills shuffling and whatnot. So you have to take an extra-long pause to make them think something's gone wrong, and then try and get them back. There's things to do. On a sitcom, you're listening for the crew's reaction, and sort of playing toward an editor. So I guess I do things similarly. I would say I'm about 75 percent technique, and 25 percent Red Bull. [Laughs.] You can draw your own conclusions as to how much of that is locked.
AVC: One consistent thing about your recent roles is that they all seem like a lot of fun. Is that just an illusion, because the finished products are fun to watch, or are you enjoying yourself as much as you seem to be?
NPH: Oh, goodness sakes, no, it's not an illusion. It's absolutely true. I marvel at that. I'm a very lucky man in this chapter of my professional life, 'cause I get to do jobs with wildly different skill sets. And I choose them just 'cause I enjoy them. Whether that be Barney Stinson, or an Arthur Miller play, or filling in for Regis, or a game show, being on Big Brother for a day, Dr. Horrible, I'm doing things that I really enjoy doing. And I'm in a lucky position to be able to make those calls.
AVC: What about working on Sesame Street?
NPH: Jim Henson was the only person I ever wrote a fan letter to, ever, when I was like 7 or 8. I grew up on Sesame Street, and Fraggle Rock, and Labyrinth, and The Dark Crystal. I'm all things Muppet. I'm a big fan of the ideal—Walt Disney's sort of my other idol in that sense—of making happiness, and education, and entertainment through means that aren't live. You know, felt and markers and ping-pong balls. I just think that's amazing, that you can create something that looks like Grover. And have that hand in a box interact with a 7-year-old, 6-year-old kid. That's just amazing to me. So I've always wanted to do Sesame Street. It was always on the East Coast and I was pretty much a West Coast guy. So through a friend of a friend, I now know someone who writes on the show, and he wrote this musical number. I was the fairy-shoe person, and it was almost an emotional experience. When Sesame Street writes something, and then asks if you want to do it, you don't have much choice in its content. You just say, "Absolutely" or "No thanks," and I was in the former.
AVC: Is that how roles normally come to you? Do you still audition often, or do people more often approach you through connections, from knowing your work?
NPH: Kind of a hodgepodge of both. I still audition a lot—it depends on the medium. For film, I audition just like everyone else, because it's a different set of casting directors. For television and theatre—well, for theater, there's some auditioning that has to happen, just for them to know that you can sing it, and how you'd take on the part. But for TV, things are getting a little better with, "Would you like to be a part of this?" But that's really for one-night things. It sounds like a pompous answer, if I say people are calling me to ask me to do things. I'm on a show right now, so I really don't know what the answer would be if I weren't working on a sitcom. [Laughs.] I'm sure I'd have to audition just like everybody else. Well, for some things. I'm sure people wouldn't be like, "Hey would you like to be in this Stand Up To Cancer event on Friday? Come audition for that."
AVC: With films, are you again playing to the crew on set, rather than the camera?
NPH: I'm not as well versed in the film world. I've done some nice movies, but they're few and far between. I find myself acting for an editor more, because there's a quick turnaround with television, so you want to try and seem like you're as frenetic as possible, while replicating your movement so you're giving the editor more opportunity to cut within the different takes. If you're so crazy that you're sitting in one take and standing in another, the editor can only choose one take or the other. But if you can wrangle yourself into the same spot over and over, then you give them more choices for you. Which in turn helps you. So I tend on TV to act more for the editor. On film, I would probably do the same. But I feel like I have a lot more time on film to light, and to practice, and try. I was amazed by Anne Heche and her ability to always do things differently every take, every performance. I think that's from a film background. She gives them everything they might want, and then lets them determine at what temperature and what pace it should all play out.
AVC: Was Dr. Horrible more like shooting for film or TV? What was the experience like?
NPH: That was crazy renegade filmmaking with the safety net of Joss Whedon underneath you. You knew whatever happened was going to be all right. It was a very skeleton crew. Everyone was working as a favor. We had to do the whole thing in six days, which was just outrageous. We had already recorded all the songs, so we all came in well-prepared. But you just had—sometimes it was three pages of dialogue without an edit, and sometimes [Whedon] had real specific shots in his mind. But we all knew in the back of our heads that it could be something cool. And we were all sort of striving for it to be as good as it could be. I know Felicia [Day] and Nathan [Fillion] both are big fans of Internet content, and that renegade idea that what we were doing could have its own life. So that was just filming it fast and trusting Joss. And I'd never worked with Joss, so it was a great experience to know he was on the other end of the camera, laughing at my face. [Laughs.]
[pagebreak]
AVC: How did you get pulled into Dr. Horrible?
NPH: I'm sort of friendly with Joss and Kai [Cole], his wife, in social circles. We almost worked together on another TV project of his, and it just didn't work out. I think we always kind of amuse each other when we're at dinner. And that seemed like a good fit. He does weird Shakespeare readings every month or two in his backyard, and casts different people in different parts. Sometimes you're "second page on the left," and sometimes you're Benvolio. So I admire that, especially in Los Angeles, which isn't really a city known for creative outlets. It's nice to have someone like Joss around that likes that bohemian way.
AVC: What was the hardest part of Dr. Horrible?
NPH: The musical numbers were tough, because I didn't want to look like I was lip-synching. So there were a lot of songs that had a lot of lyrics that I had to wrap my head around very quickly, because we didn't have the time to do eight takes of walking and singing. That musical element was the most challenging. It was a lot of fast shooting, and you had to be on your game. I think throwing songs in the mix, for the crew, that becomes easier, because they just hit "play," then walk away as we sing. But in order to sing, you have to really—if you mispronounce one word, you have to start over. So that was tricky. Tricky fun, through.
AVC: Are you personally working on the DVD extras yet?
NPH: I think Joss is mid-construction of the DVD extras. They're trying to get people to submit films of themselves applying to join the Evil League Of Evil. They've finished writing the songs for the musical commentary track, singing about the making of the film. [Laughs.] But I assume since Dollhouse is almost up and running, and he's dealing with Fox and that whole rigmarole, that it's become a bit back-burner.
AVC: There have been rumors a Dr. Horrible stage play, or a feature film, or at least a chapter four. Have you been in any serious talks about that?
NPH: Not serious talks. We all talked in grandiose terms while we were filming it, and again at Comic-Con. But scheduling is legitimately very tricky for something like that. For no one more than Joss, because they have to create the material, which takes time, and they're just mired with a giant one-hour show that's about to launch. So I think if all of our shows got cancelled in a week, we'd all go to New York and do Dr. Horrible: The Musical on Broadway. [Laughs.] I don't think we have the time to dedicate to that right now. But I'm sure it will have some sort of legs. It did surprisingly well on the Interweb.
AVC: Did you have any input into the character, or into the process of creating him?
NPH: No. I added a sort of blinky twitch, because I thought that a lot of the bravado statements he makes to Penny, if he had some sort of twitch, you would know he didn't mean what he said at times. But otherwise, the script was very specific in its beats, and ellipses, and "ums." All of that was written in. I honor Joss' writing style, and wouldn't want to diverge from it. That opening thing, where I'm blogging for the first song, that was all written very, very particularly. Joss told me how to juice it.
AVC: What about with How I Met Your Mother, or the Harold & Kumar movies? Have there been roles where you have a lot of say about what the characters are like?
NPH: That's what the relationship on How I Met Your Mother is now. As the seasons go on, the writers get to know you as a person and get to know how you deliver lines, for better or worse. So you can go to them and say, "This doesn't feel like something Barney would say." Or, "I really miss all of the Barney vernacular. He used to say, 'Suit up' and 'Wait for it' all the time, and I'm missing that in this one." They like those notes. But then again, as an actor on a show, it isn't really your job to give notes. It's your job to make the most of what material's given to you. That's your job description. So they like input, but I don't want to overstep my boundaries. Sometimes we'll pitch different jokes, and they'll say sure because we're not in front of a live audience, and we'll try stuff on-camera, and they'll look at it later, and almost exclusively use their own jokes, and not ours.
AVC: Would having input into a character, or more control, or the ability to participate in the writing, be factors for you in choosing one job over another?
NPH: I would say no, in roles that I'm playing. I'm very interested in starting to produce, and direct, and have an umbrella over an entire project in the future. I'd like to have control over what the characters do. I think as an actor, you get a little too caught up in the moment-to-moment, beat-to-beat stuff to have perspective. Sometimes I give random "I don't feel like I'd say this" comments, not because I've had a chance to think about it, but because there's too much going on in my head at that time. I don't know that that's the healthiest relationship, to have the actor be able to take ownership over what a character would do or not do. But then again, I'm on a wacky sitcom. If I were on a show with a lot more subtlety, I would probably care a bit more.
AVC: The Harold & Kumar movies are wacky too, but you're playing a character with your name. Doesn't that give you a sense of ownership over the character?
NPH: Yeah, but really just a cautionary one. I just didn't, and still don't, want to make derogatory jokes toward Doogie Howser. I don't want to disrespect Steven Bochco or that four-year chapter. I think it was a great time, and I got so much from it that I wouldn't want to, 15 years later, go back and talk shit about a job that I have recognition for. So I made sure what they wrote wasn't potentially demeaning. I don't care what they say about me. In fact, I think it's hilarious that Jon [Hurwitz] and Hayden [Schlossberg] have their own world in their mind of what Neil Patrick Harris is like. It makes me laugh. I will go full-tilt with that stuff. I just don't want to seem like I'm being a dick business-wise, you know?
AVC: Do you have any idea why they picked you in particular as the bad boy in those films?
NPH: I have no idea. I think they just liked the show back in the day and thought it was funny. They are very nice, and humble, and appreciative. [Laughs.] I think they just thought it was kind of funny, and that I would never say yes to it.
AVC: Doogie Howser gave you a big break, while at the same time it's followed you around. Over the long term, do you think it's been more of a liability or a blessing for your adult career?
NPH: I can't really gauge. I've managed to get to do lots of amazing, great things from it. Certainly people still call me Doogie. But in a weird way, it's beneficial, because I can play wildly against that image, and people think it's funny. It is a little odd when people still come up and say, "Hey, Doogie Howser, you're really great in that How I Met Your Mother show." [Laughs.] The disconnect is not really there. But what am I going to do? Being known for something that you did, and that people watched, is not worth concerning yourself over, to be honest. I'm very lucky with the theatre chops, and my ability to have theatre casting directors take me more seriously. All I have to do is hope that more chapters go by where I'm playing other roles, and Doogie will become an arrow in a quiver, as opposed to some albatross that I worry about. People are so nice. Doogie wasn't really a show that made people angry. I probably would be more bitter if I was playing a villain on a soap opera or something, and people kept coming up to me and saying how much they loathed me.
AVC: Child actors tend to have real problems continuing their careers into adulthood. Do you have any theories why that is, or why you escaped that curse?
NPH: Well as I said before, coming at the acting business as a technician, I really enjoy the process of working. I really enjoy being in a rehearsal room, starting a theatre piece for the first time. I really enjoy shooting in front of the crew, and I really love going on location. I think all that is just so exciting. So I've never really been drawn into the fame of being an actor, which in L.A., is part and parcel of the deal. I think for a lot of people, especially kids, it's hard to not get wrapped up in the world of the perks that the job brings. When your show is hot, it's exciting—you can get in anywhere you want, and go anywhere you want, and you're talked about all the time. When that goes away, and you don't have another job, you kind of go full-tilt because you're not being treated the same way you were before. And that's all circumstantial. I've never been a fame whore. I just like working.
AVC: You have a bunch of TV credits from 1988 to 1989, the year that Doogie Howser premiered. What do you remember about those first two years? Did it feel like you were hustling for a job, straining to break in? Or were you having fun because you were getting started?
NPH: I lived in New Mexico until I turned 18, so I had an agent in L.A.—she's my manager now. Because it was a feature film with Whoopi Goldberg called Clara's Heart, because I was in a movie, I got offered supporting roles in TV movies, because I had feature-film cred. So I'd just get some random call, "Hey, during the summer, do you want to go to Atlanta, Georgia and film a Hallmark Hall Of Fame movie for six weeks with amazing people?" And I'd say, "Okay, sure." That was sort of that chapter. It wasn't really hustling. In fact, it was just a lark until Doogie ended. Then I had to re-evaluate.
AVC: What were the years between Doogie Howser and Stark Raving Mad like? Was there any chance of you walking away from acting?
NPH: I got overwhelmed with Los Angeles. I was still figuring out who I was as a man, and that was a very bizarre magnifying glass, to be doing that. Especially having finished a job that I was recognized for. So I moved back to New Mexico, and lived up in the mountains in a little adobe house for a couple of years, and climbed rocks, and didn't stress about stuff, and then came back with a little perspective. Perspective's hard to have in L.A., and I think it's so important. So that's one to grow on. [Sings.] "The more you know…"
AVC: Would you be content if How I Met Your Mother turned into a Seinfeld-like phenomenon and went on for another 10 years, or do you think you'd want to get out before then?
NPH: I'm having the time of my life on the show. I really am. It's one of those rare, great parts that seem easy for them to write crazy things for. I love it. I have no intention of going away bitterly wishing I had a revived film career. I'm thrilled with this gig. I've acted plenty, so I'm looking ahead to producing my own Sesame Street show some day, and being a late-night talk-show host that does variety acts. I would be, yes, very happy to do this for as long as they would have us. I used to have this real conscious desire to be the big Oscar-nominated actor in the giant motion pictures. That would be fun too. But there's lots of other ways to stay creative and have impact. I'm lovin' what I'm doing.
AVC: You've talked about the desire to direct or produce someday—how abstract or specific is that? Do you have a file of actual projects in mind, or more like a vague desire to move into that area someday?
NPH: No, it's more concrete. I have actual strong ideas. You just have to wait for the right timing. Timing is pretty crucial here. I can't dedicate a lot of energy and efforts trying to, say, create a show that I want to produce while I'm currently on another show. I have a lot of things that I'm waiting for the right time on. But it's more concrete than abstract at this point. I need to find a first thing to direct to send to a film festival. And I put a lot of pressure on myself with that, because I feel like with actors wanting to direct, you really only have a shot or two. You can't just make a bunch of little independent movies, and then finally one gets noticed. You have to make a really good one right away, Zach Braff style. So I'm still trying to find the right material for that. When that happens, then hopefully I'll be able to keep on keeping on. It's a great question, and a weird one, because How I Met Your Mother is seven and a half months of the year, so you have to wonder what to do in those other months. Do you just keep working like a workhorse, and try and work as much as you can, or do you take a couple months off, and refresh yourself for the next season of the show so that you're not burnt out? I don't really know the answer to that.
[pagebreak]
AVC: Which way have you come down on it so far, four years in?
NPH: Well, I've put the directing, the production-company stuff, on the back burner just because I'm on contract, and I'm being hired for this one big gig. I don't want to give it short shrift. I don't know. I've been around—I'm 35. I started when I was 13. I've been around plenty. I'm not going anywhere. [Laughs.] If I do a kid show on public television, I think I have a couple decades to get that done.
AVC: Do you see yourself doing the Zach Braff thing as a writer-actor-director, or do you think once you move behind the camera, you're going to keep that separate?
NPH: Gosh, I don't know how it would be to act in your own movie. I haven't really even pondered that. I'm not the best writer. That's not my skill set. That's Jason Segel's line of work. So I'll probably produce and direct. It would be fun to not have to worry about random acne breakouts. [Laughs.] Just wear a baseball cap and be Ron Howard for a while. That would be cool.
AVC: We talked about your roles being fun, and how much you love production. What's most important to you personally: liking your own character and your role, enjoying the production experience and the people you're working with, or enjoying the way the final product comes out?
NPH: I would say, at the end of the day, the final product is probably the most important. But I've been lucky enough to be in multiple projects where everyone gets along, and it's an enjoyable experience. That seems to have the longest repercussions for me. I enjoy that. How I Met Your Mother is just an absolute lovefest. The cast gets along really well. Our director's exquisite. Carter and Craig are super-nice guys. The writing staff is as well. The crew, during the strike, didn't take other jobs, so they could come back to this one. That makes it a really great experience. I think that would be paramount. It seems a little egomaniacal to say it was for the one role that you were doing.
AVC: You've said that several times now, "It would sound egotistical if I said this or that."
NPH: You have to be careful when you're doing an interview. [Laughs.]
AVC: At the same time, one hallmark of your work is a lack of self-consciousness. You've said in other interviews that you've been re-watching Dr. Horrible a lot because you enjoy it. Most actors we talk to are too self-conscious to go back and watch their own work, or they aren't interested in the final product, because they have so little control over it.
NPH: I find that interesting, and strange too. I think it would be important to watch every single thing you've done. Which I try to do. Not 'cause I'm enamored with myself, but quite the opposite. If I'm doing some weird tick with my mouth, or not standing still or something, I'll be the first person to notice it, and then want to change that. I think it's important just to maintain trajectory, to not just use your same tricks over and over. Force yourself to watch stuff. I sort of pride myself in my dissatisfaction with my work. [Laughs.] I've always been concerned with buying the hype, and having that make your performances suffer. When you look at early Jerry Lewis—when Jerry Lewis broke up with Dean Martin and started doing The Errand Boy and his own stuff, he had a lot at stake in trying to be really funny. In turn, it was hilarious. But then once those movies became so wildly successful that everyone laughed at everything he did… You start to have a weird perspective of what's really funny, vs. what everyone is just thinking is funny. And the work suffers. I think if you look at the tail end of that stuff, it's inevitable. I mean, it's not a criticism toward him at all. It's just that I feel it helps to think that you're not very funny when you're trying to be funny. [Laughs.]
AVC: How does thinking you're not funny and being critical of your work function with going back and watching yourself? Do you think, "This is a good learning experience, but God, I'm doing that thing with my eyebrow"?
NPH: Sometimes. Then other times, I laugh at my own jokes. [Laughs.] Sometimes I think what I did is—I'm trying to think of a word that doesn't make me sound like a tool—is unique. And other times, I squirm. But it's the same to me as reading reviews and blog entries. If you're going to go there, you can't take all the good stuff really seriously and be offended by the bad stuff. If people are going to write bad things about you, then they will, and what are you going to do about it? And if they write wonderful things about you, they will, and what are you going to do about it? You just have to take it all at face value.
AVC: Have you ever gone back and watched any Doogie Howser?
NPH: Yeah, and I'm able to place myself right back where I was when it was being filmed. It's very strange, the way that works.
AVC: Is it fun to watch, or is it like going back to look at your junior-high yearbook?
NPH: It's very much like a yearbook. I would watch an episode, and remember random things like where that location was, and driving there, and working late that day. Weird memories come flooding back. It's not like I can watch it like it was just a show that was on TV.
AVC: Does it feel weird now, as an openly gay man, to be playing so many roles where the character's complete focus is getting with a woman, or a series of women? In Dr. Horrible, it's a romantic quest, and in Harold & Kumar and How I Met Your Mother, you play sex fiends. But in all cases, it's all about the women.
NPH: No. I don't know that that's necessarily true. I guess so with NPH and with Barney Stinson—they're both horndogs. But in most films and roles, the guy is after love, and trying to find the woman, or has been scorned by the woman. I think that's just the way parts are written. I guess I'm glad that I'm not only being asked to play the effeminate gay guy. I'm not making a conscious effort to play the womanizer role. The Harold & Kumar stuff came at me without my seeking it. Barney Stinson is just—he's crazy. I don't know. It's certainly not a concerted effort on my part to play those roles. But I acknowledge the irony.
AVC: People often try to connect your acting roles to your personal life. How do you feel about that?
NPH: It's off-base, but it's not offensive. People read about what people do, and that's separate from parts that they watch them play. I love the magic element, the smoke-and-mirrors way that one blends into the other. A lot of people see me as this crazy drug-addict, strip-club dude in Harold & Kumar, and they think that's who I am in real life. That makes me laugh. That's fine with me. And in turn, if they read or see something about my personal life, then I hope they wouldn't watch How I Met Your Mother and think, "Well, that's ridiculous. Barney wouldn't do that. I saw him with a boyfriend on the red carpet at the Emmys." [Laughs.] I've just got to live my life, and do my roles, and hope that everything falls into place, I guess. You can't really spend a lot of time being concerned about it.
AVC: You mentioned you're glad you're not typecast into effeminate roles, but does it bother you that there aren't more positive gay roles?
NPH: I'm wildly impressed with the diversity of gay roles right now. If you look at Brothers And Sisters, that's an amazing example of that element of the gay experience. Now there's whole channels dedicated to it. I think it's a pretty extraordinary time.
AVC: Are you interested in doing more drama?
NPH: I don't know that I'm interested in doing more drama on television. I think I'd be cool to do some independent film, where you could really get subtle in a close-up that was going to be projected on a giant screen. But it's just too hard to do that kind of work, week in and week out on a sitcom, or on a TV show. Although, with that being said, I'm thinking now about Mad Men, and Six Feet Under, and shows that had amazing drama. I would, of course, love to do that.
AVC: Do you have an ideal role or next step in mind from here?
NPH: I don't know about the next individual step. I have a bunch of stones that I'm willing to lay down. [Laughs.] We'll see where the pendulum shifts. If it leans toward good acting, I might hop onto a cool play. If this sitcom thing is working itself out, well, I might shift into hosting mode. I don't know. I'm like a plate-spinner, you know? [Laughs.] I've got a lot of little plates that I'm trying to keep spinning at the same time. I thankfully don't feel like the end is incredibly near. As I learned from chapters past, it's important to try and stay in the chapter that you're in, and enjoy it while it's lasting. Not be constantly worrying about where this step will take you—living in the potential future. Like a good meal. Like a good chef's tasting meal. You don't want to wonder what's next while you're eating the foie gras.