The announcement of a Muslim Pakistani-American Ms. Marvel made headlines at the end of last year, garnering a barrage of reactions ranging from praise for Marvel actively expanding the diversity of their line to anger that a minority legacy hero is being shoehorned into the Marvel Universe. This book was carrying a lot of baggage before it ever debuted, but now that Ms. Marvel #1 (Marvel) has hit the stands, it's clear why superhero comics need more characters like Kamala Khan and her family.
(Full disclosure: I have a letter published in this first issue praising Marvel's decision to publish this title and calling for more diversity in superhero comics. Because it was the first letter received, I'm also offered the position of president of the book's fan club, a role I have to turn down in the interest of journalistic integrity.)
The first issue of Ms. Marvel is all about establishing how different Kamala is from the typical superhero lead, specifically looking at how her religion separates her from the "normal" American teen experience. Writer G. Willow Wilson hits this idea hard, beginning the issue with Kamala drooling over the smell of a BLT at the local convenience store, longing for "delicious infidel meat" while her friend Nakia wonders why she puts herself through this kind of pain. Despite the cultural differences, this first issue actually feels very much like a Classic Marvel Origin, introducing an outsider who finds a way to escape her personal troubles by gaining superpowers. It's a very Peter Parker setup, although in this case Kamala's religious beliefs alienate her whereas Peter's intellect made him an outcast.
Beautiful blonde Zoe Zimmer fills the Flash Thompson role of school bully, taunting Kamala and Nakia under the guise of concern and loudly broadcasting her ignorance about Muslim culture in the process. The character is Wilson's way of countering a lot of the negative backlash when the book was announced, addressing public misconceptions of Muslims through a character that thinks she's being thoughtful but is just hugely offensive. Zoe's shtick works for this first issue in that it sets up an antagonist for down the line, but it becomes a bit overbearing by the end of the story, creating the impression that Kamala's peers solely define her by her religion. That kind of broad condescension fits for a comic written in the 1960s, but it rings less true in contemporary times, although reactions to the Ms. Marvel announcement and Coca-Cola's multi-lingual "America Is Beautiful" Super Bowl ad suggest that there are still plenty of people who share Zoe's uninformed worldview.

G/O Media may get a commission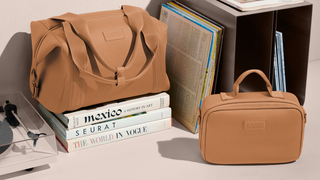 15% off
Dagne Dover Travel Kits
Kamala's religion constantly comes into play this issue, immediately setting it apart from other superhero titles, which rarely tackle the idea of spiritual faith. Understanding the character's Muslim upbringing is essential to understanding her desire to break free from the constraints placed on her, but Wilson wisely makes sure to show how different characters relate to their spirituality. Nakia and Kamala's brother Aamir are two young people who have embraced their Muslim heritage despite the protestations of their parents: Nakia's father thinks that her headscarf is just a phase, and Kamala's father thinks that Aamir's staunch dedication to his faith is his way of avoiding the responsibilities of adulthood. Aamir is pressured to experience the world while Kamala is kept prisoner in her home, and her parents' hypocrisy about her gender forces Kamala to act out by sneaking away to a party on the waterfront, an excursion that ends with the character inhaling a mysterious gas that helps her realize her deepest wishes.
While her religious background heavily connects Kamala to Muslim readers, her experience in this issue is universal. Ms. Marvel #1 is very much about Kamala discovering her identity and finding her place in the world, concepts that are relevant to people of all ages, races, and creeds, and her new powers are thematically tied to the narrative to introduce a load of storytelling opportunities for Wilson to expand on later. In her old Ms. Marvel identity, Carol Danvers is all the things that Kamala is not—white, blonde, and wearing a sexualized costume her parents would never approve of—so when Kamala has the opportunity to decide who she'll become after emerging from a Terrigenesis cocoon (see: Marvel's Inhumanity event), she chooses to model herself after her hero, who also happens to look a lot like Zoe Zimmer. As revealed in All-New Marvel Now! Point One, Kamala is a shapeshifter, and it will be fascinating to see how Wilson uses those abilities to comment on teenage identity crises, especially with a character that comes from a dramatically different background than most young heroes.

Adrian Alphona's work on Runaways established him as one of the industry's top artists of teen characters, showing an exceptional talent for drawing people that look young and dress in hip clothes that reflect their personalities. The script doesn't immediately state that Kamala is a Captain Marvel superfan, but it's clear thanks to her jacket, a trendy blue-and-white number emblazoned with the classic Ms. Marvel logo. The fashion helps these character become more fully formed people; Nakia is covered from head to toe, but that doesn't prevent her from looking stylish in a fluffy vest, a two-tone long-sleeved shirt, and burgundy pants. It's a considerably different kind of chic compared to Zoe's wardrobe, which shows off more skin to capture the character's diminished inhibitions.
Beyond his character designs, Alphona also does great work creating the book's various settings, bringing intense detail to environments like the Circle Q and Kamala's home. The waterfront party is teeming with energy and background gags, making it a stark contrast from Kamala's drab domestic surroundings, and things only get more extraordinary once the Terrigenesis bomb goes off. In a sequence that shows how Kamala's background puts a new spin on Marvel's superheroes, the heroine hallucinates Captain Marvel singing "Sakal Ban Phool Rahi Sarson" in Urdu while Iron Man and Captain Marvel stand behind her, surrounded by adorable creatures like a sloth with wings, a dove wearing the mask of superhero Mockingbird, and a hedgehog with a Hulk hand making a peace sign. With dreamlike colors by Ian Herring and an art nouveau-influenced design, it's a stunning splash page that offers a fresh take on familiar heroes, placing them within a new context that is visually captivating and unlike any other superhero comic on the stands. Superhero stories can always use innovative new voices, and this first issue shows that the creative team of Ms. Marvel is dedicated to doing something different while telling a story that still appeals to a broad audience. [OS]

---
It's hard to make a new zombie project stand out in the current post-Walking Dead comic-book landscape, but the involvement of Night Of The Living Dead luminary George A. Romero makes Empire Of The Dead #1 (Marvel) a must-read for fans of lumbering, rotting human corpses. Set five years after the film that made Romero's career and within the same continuity, Empire Of The Dead looks at how New York City has changed since the rise of zombies, turning the bustling metropolis into a dystopian urban wasteland where humans have found a way to coexist with their undead neighbors. As if that weren't enough, this first issue also introduces a new kind of living dead with the reveal that vampires have also started to appear in the Big Apple, suggesting an upcoming battle that won't bode well for the human race. In the immortal words of the AVP: Alien Vs. Predator tagline: "Whoever wins, we lose."
Romero handles the script with Alex Maleev on art and Matt Hollingsworth on colors, and the creative team's greatest strength is cultivating an eerie atmosphere, depicting a city-wide emptiness that is just waiting to be filled by monster-fueled chaos. The artist specifically thanks Jorge Zaffino for influencing the look of the title, and the sketchy realism of Zaffino's work pushes Maleev to enhance the texture and shading of his already gritty line. Maleev did outstanding work capturing New York City in the pages of Daredevil, and that skill is invaluable to this title, where the setting is as much a character as the humans, zombies, and vampires. There's an incredible double-page splash of Central Park early in the issue that is terrifying in its depiction of a sprawling city almost entirely devoid of life, beautifully setting the stage for future carnage. Hollingsworth's colors move fluidly from hot to cold throughout the issue, evoking the chilly lifelessness of zombies and vampires with bright blues while giving the city a desert-like quality with the use of orange and yellow. It's a stunning first issue, with a story that shows Romero can still deliver chills almost half a century after he first brought zombies to cultural prominence. [OS]
---
Eight years after the film Serenity put a cap on Joss Whedon's cult TV series Firefly, Captain Malcolm Reynolds and his crew return to continue their story in comic-book form like their fellow Whedonverse brethren. It's surprising that it took Dark Horse this long to revive the property with an ongoing series after their success with continuations of Buffy: The Vampire Slayer and Angel, and Serenity: Leaves On The Wind #1 (Dark Horse) does impressive work recreating the tone of the live-action adventures on paper.
Writer Zack Whedon, who penned the Serenity Free Comic Book Day special and The Shepherd's Tale graphic novel spotlighting Shepherd Book, has a firm handle on the voices of these characters, expertly mimicking the cadence and vocal quirks of actors like Nathan Fillion and Summer Glau in his dialogue. The story picks up after the events of the film, with the crew of Serenity on the run and the Alliance facing off against a newly revived resistance, and there's already a sense that Whedon is using the opportunities afforded by comics to greatly expand the scope of this sci-fi Western.
Artist Georges Jeanty joins Whedon after handling the majority of the artwork for BTVS: Season 8 and Season 9, and he does much better work here capturing actor likenesses. His design for new player Bea is a bit too close to the look of Buffy supporting character Satsu, but otherwise he does strong work drawing expressive people and environments that spotlight the show's signature blend of Eastern iconography within a Wild West environment. With the Star Wars license moving from Dark Horse to Marvel next year, the publisher could use a new sci-fi license to fill the void, and this new Serenity series provides enough space-faring thrills to suggest it's a fitting replacement. [OS]
---
The first of two February one-shots spotlighting female DC characters with largely female creative teams, Joker's Daughter #1 (DC) dives into the damaged psyche of the breakout character of last year's Villains Month, following a troubled 16-year-old girl infatuated with the Clown Prince Of Crime. Like the Joker-centric "Death Of The Family" arc that inspired this twisted new version of the character formerly known as Duela Dent (in pre-New 52 continuity), this issue isn't a very pleasant read. It's solely focused on showing how sadistic the villain is without offering any pathos to make her even a little sympathetic. The script from Marguerite Bennett paints the Joker's Daughter as a total cipher, skimming over the character's past to show her insane present, and while her lack of a concrete backstory plays into the story, it prevents the reader from fully investing in her experience.
There's a lot of rambling narration with repetitive, obsessive talk about becoming the Joker's heir and prophet, but it's not enough to elevate the central figure beyond her one-note grim and gritty bad girl characterization. Meghan Hetrick-Murante's artwork is very much within the same style as cover artist Georges Jeanty, but with a looser line that adds a sense of instability to the art that fits the character. The creative team is rounded out by Michelle Madsen on colors and Saida Temofonte on letters, and while it's nice to see DC actively working to bring more female voices to their comics, this issue ultimately fails to make Joker's Daughter a more captivating character. [OS]
And…
Though it loses a bit in the transition from webcomic to ComiXology digital offering (namely, flashing, neon colors in GIF-format pages), Trip Fantastic #1 (self-published) is as kinetic and dynamic as comics get. Telling a tale about the titular bullheaded stuntman insisting on doing a stunt he is repeatedly told is impossible, writers Mac Hamilton and Jason Baxter craft a wild adventure/revenge story while artist Derek Charm washes pages in neon and in-your-face depictions of the title character smashing his way through windows, covered in bandages. Beyond the book's 1980s sheen, Charm injects the book with an immense amount of swagger and near-limitless energy. Trip Fantastic's overconfidence comes through in every facial expression and pose. Hamilton and Baxter largely eschew backstory—throwaway lines mention Trip's journey to being the world's most famous stuntman and that he's starting the third season of a mega-popular TV show—in favor of diving straight into a story about him being dumped by his management after a stunt goes awry. But the backstory isn't necessary. Everything readers need to know about the character is right there in his face, which alternates between delightfully rad and eminently punchable, making him an easy hero for readers to hate and love simultaneously. This comic is a throwback, but it's a markedly modern one… [MDW]
The first several volumes of Johnny Ryan's Prison Pit series of graphic novels were a lot of things—innovatively, ever-increasingly hyper-violent; morbidly scatological; brutally sexual. One thing that they weren't was plot-heavy. That changes a bit with the newest entry in the series, Prison Pit Book 5 (Fantagraphics), which has a surprisingly traditional hero's-journey narrative for a comic featuring someone being impaled through the head with an erect crystal penis. Ryan opens the book with an honest-to-grossness antagonist, The Prison Boss, ordering his ultimate weapons, the Holocaust Brothers, to kill the embattled hero of the series—if he can be called that—Cannibal Fuckface. What follows is a journey to find a secret artifact, a heroic transformation, and a vanquishing of a mid-boss on the way to the final challenge. Also, there are hundreds of severed limbs, gallons of blood, and that crystal-penis-through-the-head thing. Ryan's art is as disturbingly amusing as ever, and he continues to find ways to gross readers out (The Prison Boss' addiction to cat ejaculate is inspired) and choreograph ghoulish fights to the death in eye-catching ways. If it didn't appear that Ryan had an endgame in mind in the next few volumes, it would seem he could keep this up forever… [MDW]
Judge Dredd has found himself outside his home base of Mega-City One a few times in his long history of stories, but seeing the character cope with being a fish out of water still makes for an enjoyable read. It's a big part of the appeal of double-coloned Judge Dredd: Mega-City Two: City Of Courts #1 (IDW), which finds the character in the West Coast equivalent of his northeastern stomping grounds. Artist Ulises Farinas and colorist Ryan Hill immediately establish just how different Mega-City Two is, depicting a city full of highways stacked on top of themselves, named for historical figures like Sylvester Stallone and Van Halen. Hill's colors are impossibly bright, almost flat, to give Dredd's temporarily adopted city a look that seems to verge on hyper-reality. Notably, a flashback scene explaining Dredd's transfer west has far more muted colors. Douglas Wolk's plot finds Dredd playing a pawn for Mega-City Two's celebrity-obsessed chief judge, who uses the transferred veteran to get around rules that prevent local judges from appearing on a Cops-like reality show. That's enough to make Dredd feel out of place. Add a few not-so-strict drug laws into the mix, and something is sure to explode… [MDW]
By their nature, anthologies are a mixed bag, but a strong unifying concept can go a long way to ensuring success. Unknown Origins & Untimely Ends: A Collection Of Unsolved Mysteries (Hic & Hoc) brings together a wealth of cartoonist talent to tell short stories about true events that have left the world baffled, and the unsolved nature of these real-world puzzles adds extra mystique to each narrative. The book is a visual feast highlighting a massive range of graphic storytelling styles, and it's fascinating to think about why the artists choose to apply their specific aesthetic to their respective mysteries. The pairings are often inspired: Tod C. Parkhill uses old-school vector graphics to tell a tale of an arcade game that may have been used by the federal government to perform experiments on the country's youth; Jackie Roche's lush nature illustrations beautifully build the world that the Leatherman wanders through; Melinda Tracy Boyce brings an adorable creepiness to a canine suicide story; Jenn Woodall's woodcut-like linework adds a striking rawness to a story about a skeleton found in Aokigahara Forest. That list barely scratches the surface of what's offered in Unknown Origins & Untimely Ends. It's one of those rare anthologies where nearly every installment shows promise, which is a testament to the work of editor Emi Gennis, who also contributes a story within. [OS]