Here's what's up in the world of TV for Sunday, July 24. All times are Eastern.
Top picks
Survivor's Remorse (Starz, 10 p.m.): Starz raised a few eyebrows this year with their decision to move its original programming from Saturdays to Sundays, and while it's not yet clear how much benefit they've reaped from doing so, they've earning the coveted Top Pick honor two weeks in a row. Last week they brought us the return of Power, and now they're following up with season three of Survivor's Remorse. Once again, it's a show that Joshua Alston thought very highly of in its last episode, which took Uncle Julius away in a car crash that completely upended the show's status quo. (A move that didn't work out so well for Mike Epps in real life either, who went on to play another uncle on a worse show that died a mercifully swift death.) With the shadow of that loss hanging over this "light, bubbly, slice-of-life… blue-sky comedy," what's next for Cam Calloway (Jessie T. Usher) and his family?
The Night Of (HBO, 9 p.m.): Two questions to be asked here: 1) Are you watching The Night Of? and 2) If not, why the hell not? We're only a couple episodes in, and HBO seems to have another contender for the Best Of 2016 lists on its hands, from "its ability to depict the murder investigation with a verisimilitude and attention to detail not typically seen" to "sure hand in detailing each of the dumb mistakes and brutal coincidences," and now that Naz has been moved to Rikers Island, things are about to get even darker. Alasdair Wilkins is already turning up his office lights to strike a balance.
Geeking Out (AMC, 10 p.m.): Just in case Comic Book Men and the plethora of SModcast offerings didn't scratch your itch to hear Kevin Smith go off on nerd culture tangents ad infinitum, AMC's got you covered. Smith teams up with Greg Grunberg (Heroes, Alias, The Force Awakens, and so many other nerdy things) for a talk show featuring "celebrity interviews, discussion and out-of-the-studio segments." Tonight's special episode covers all the events of San Diego Comic-Con, and we expect Grunberg and Smith's combined networking abilities will lure in a few prolific guest stars. Or possibly a roundup of favorite Smith cosplayers.
Premieres and finales
Food Paradise (Travel, 8 p.m.): The sixth season finale takes viewers to both the Wisconsin State Fair and the State Fair Of Texas. How many things can be deep-fried, barbecued, coated in chocolate, and then put on a stick? The answer is: all of them! But seriously, if you haven't had a chance to eat a cream puff from the Wisconsin State Fair, your life is empty and hollow. They are majestic things.
G/O Media may get a commission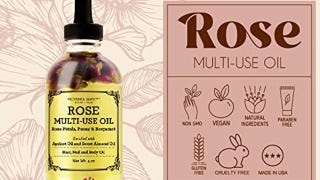 Provence Beauty Rose Multi-Use Oil
The Rise And Fall Of El Chapo (History, 8 p.m.): Earlier this month, there was scuttlebutt that notorious drug lord Joaquín Archivaldo Guzmán Loera had escaped from prison a third time. Rumors were swiftly quashed, but the timing couldn't have been better for History, which releases this two-hour documentary tonight. No word on whether or not Sean Penn will chime in with words on his favorite interview subject.
2016 MTV Fandom Awards (MTV, 8 p.m.): Coinciding with the end of San Diego Comi-Con, MTV's latest award ceremony selects the best in fan culture through a five-tier voting process of Facebook, Tumblr, Twitter, Instagram, and Snapchat. Legend has it that Nate Silver tried to write an algorithm to predict the winners and his computer collapsed on itself black-hole-style. Also, a random thought: When you string together all of the nominees for the most popular ship of the year (Stydia, Westallen, Stormpilot, Olicity, Clexa, Malec, and Stucky), it sounds a lot like the character lineup for the latest original series of Syfy's interesting new frontier.
Ozzy And Jack's World Detour (History, 10 p.m.): Just in case America's presidential election and various rebooted film franchises didn't persuade you that ours is a culture stubbornly unwilling to do anything that doesn't have at least one comfortingly familiar detail, here's a reality show with Ozzy Osbourne and at least one member of his family. Here, Ozzy and Jack take a father-son road trip through "a bucket list of iconic and historically significant spots that includes Mount Rushmore, Stonehenge, The Alamo, Roswell, The Jamestown Settlement and Sun Studios." Hopefully the stops will have more relevance than Ozzy's Ghostbusters cameo, which was so pointless we have no qualms about spoiling it. (But go see Ghostbusters because it's awesome.)
Regular coverage
BoJack Horseman (Netflix, 4 p.m.)
Preacher (AMC, 9 p.m.)
Power (Starz, 9 p.m.)
Vice Principals (HBO, 10:30 p.m.)
Streaming pick
The Office, "Basketball" (Netflix): Survivor's Remorse makes it look easy, but centering a comedy around the sport of basketball is a tricky thing to do. Look no further than this early episode of The Office, which features what Erik Adams dubbed "the one scene of the series I have a truly hard time watching."