Quibi, the forthcoming short-form streaming service with the dumb-yet-catchy moniker, hasn't put on a flamboyant presentation like its Disney+ or Apple TV+ competitors (yet), but that hasn't stopped the billion dollar-infused platform from announcing an assemblage of star-studded future programming. Headed by DreamWorks co-founder Jeffrey Katzenberg and former Hewlett Packard Enterprises President Meg Whitman, Quibi will be the home of over 7,000 short, chapter-like videos, or "quick bites," in its first year of service. While the platform isn't expected to land until April 2020 (the same month that NBCUniversal launches its own streaming service, in case you've embarked on the fool's errand of keeping track of the inevitable stream-pocalypse), it is already touting a robust slate.
We've reported on some of the upcoming content, including horror from Spielberg, a comedic crime procedural starring Paula Pell, Punk'd and Singled Out revisits, a small claims courtroom show from Chrissy Teigen (which...okay, sure), a "suicide comedy" from Green Book's Peter Farrelly (which...god, no) and, at the time, unspecified projects from Guillermo del Toro, Sam Raimi, Paul Feig, Veena Sud, and Antoine Fuqua. Yet, there is still a lot more to come, thanks to major backers like Disney, 21st Century Fox, Lionsgate, Metro Goldwyn Mayer, Entertainment One, NBCUniversal, Sony Pictures Entertainment, Viacom and Warner Media.
Here's a rundown of the rest of the quick bites Katzenberg and friends are offering thus far. Head here to watch all the trailers that have dropped for the streamer so far.
Scripted
50 States Of Fright, created by Sam Raimi
Sam Raimi brings a horror anthology where each episode is inspired by a form the folklore of each state.
G/O Media may get a commission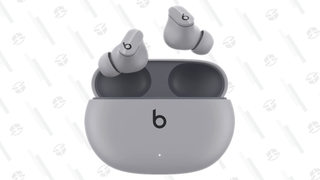 Action Scene, from Kevin Hart

Based on the wild opening scene of his 2016 concert film What Now?, Action Scene will star Hart as a fictionalized version of himself who, while pursuing a leading role in a big-budget action film, finds himself facing a number of real-life action sequences. Expect lots of cameos.
Agua Donkeys, a Funny Or Die production
MP Cunningham and Jeremy Jackson are behind this comedic series, which is based a short film from the pair with the same name. According to Deadline, the two star as chill pool cleaners who get into hijinks while servicing some of the "sickest" backyard pools in Utah.
Cancelled, starring Nikki Glaser
Comedian Nikki Glaser is the star and co-writer of Cancelled, which follows a stand-up comedian who goes viral for all the wrong reasons after a "questionable" set. With her career on the rocks, she moves back to St. Louis to live with her parents, sort through her shit, and plan her comeback.
Crazy Talented, directed by Doug Liman
Liman, the director behind films like Edge Of Tomorrow and The Bourne Identity, will helm this short-form riff on superheroes, who, in a twist, are actually patients in a psych ward being led to believe they're powerful by "a charismatic leader." Alphas creator Michael Karnow will write the series based on a short story by Jumper's Steve Gould.
CURS_R, produced by Ridley Scott
Ridley Scott is producing this horror series, which mines horror from a 1980s survival computer game and some kind of $100,000 prize related to it. A broke student in pursuit of the cash finds themselves cursed by the game and encountering "life-altering challenges" in real life.
Dead Spots, based on the book by Melissa F. Olson.
Produced by Blockers director Kay Cannon, this adaptation is "an urban fantasy dramedy about a lowly janitor for Los Angeles' supernatural community who cleans up their messes in order to keep the Old World hidden from humanity. She's completely under-appreciated and under-paid until… she embraces her ability to turn the powerful, powerless."
Don't Look Deeper, directed by Catherine Hardwicke
Set "15 minutes in the future," Don't Look Deeper is a sci-fi drama about a high schooler who discovers she's not human, after all. Don Cheadle, Helena Howard, and Emily Mortimer star in the series, which comes from Lost co-creator Jeff Lieber. Hardwicke, late of Twilight and This Is Us, directs.
Dummy, starring Anna Kendrick
Deadbeat co-creator Cody Heller is behind this odd-sounding "buddy comedy," which follows "an aspiring writer and her boyfriend's sex doll." Prolific TV director Tricia Brock (The Walking Dead, Lodge 49) directs Kendrick in the series.
Emma, directed by Mary Harron and starring Mira Sorvino
Rory Culkin, Hannah Murray, and Michael Gaston co-star in this horror series, which follows "the dark journey of a young woman down on her luck and pregnant under mysterious circumstances."
Frat Boy Genius, based on Elissa Karasik's Black List script
According to The Hollywood Reporter, Frat Boy Genius is a "deeply unflattering portrayal of Evan Spiegel," the 28-year old founder of Snapchat. Comparisons to The Social Network abound. Head to THR to hear just how unflattering it really is.
Flipped, starring Will Forte and Kaitlin Olson
A bored couple (Forte and Olson) looking to become home makeover superstars stumble upon a horde of cash in an abandoned house. Surprise, it's drug money! And now they're being tasked with renovating the home of an angry drug lord. Eva Longoria and Andy Garcia co-star.
The Fugitive, based on the 1993 film and '60s TV series
Nick Santora, who's also developing other projects for Quibi, is writing this modern take on The Fugitive, which is said to explore the impact of "tweet-now, confirm-later" journalism and social media-driven misinformation on a falsely accused bomber. Kiefer Sutherland stars.
Good Boys And True, from Riverdale's Roberto Aguirre-Sacasa
Roberto Aguirre-Sacasa, the creative force behind the CW's Archie spinoffs and Netflix's Chilling Adventures Of Sabrina, is co-writing and executive producing a high school drama with Riverdale writer Greg Murray. Set in 1988, it centers on a "disturbing videotape" that brings together six people for a story exploring the "dark side of privilege."
Hardflip, produced by The Chainsmokers
Pop outfit The Chainsmokers will produce this skateboarding drama alongside Snowfall co-creator Eric Amadio professional skateboarder Nyjah Huston. Set in L.A., the series follows a successful 16-year old competitive skater as he navigates the highs and lows of fame.
How To Lose A Guy In 10 Days, based on the 2003 film
The Mindy Project's Guy Branum is developing this adaptation of the Kate Hudson and Matthew McConaughey comedy. Like the movie, it will follow "a young online columnist and an oversexed advertising executive who both need to prove they're capable of being monogamous."
Just One Drink, starring Laura Dern
Laura Dern leads the cast of Just One Drink, playing a booze-shilling den mother for patrons in "various states of emotional disrepair." Nick Hornby, the An Education writer who also penned the book High Fidelity is based on, created the series, and will structure the episodes as "one-act vignettes." He and Dern will both serve as producers.
Kirby Jenner, starring Instagram personality Kirby Jenner
Further proving that there are more than a few different paths to stardom, Kirby Jenner—who gained fame by photoshopping himself into pictures of "fraternal twin" Kendall Jenner—is getting his very own Quibi series based on the premise that made him famous. Kirby Jenner will follow the life of Kendall's fictional sibling in a parody reality show. Naturally, it'll be produced by Kris Jenner.
The Last American Vampire, from 12 Monkeys creator Terry Matalas
Matalas, who created the 12 Monkeys series that was adapted from 1995 neo-noir, developed this series originally at NBC. A mix of horror and crime, it follows "a young female FBI agent who is partnered with a 500-year-old vampire in a bid to protect the world from a dangerous threat."
Micro Mayhem, produced by Seth Green
Micro Mayhem is a stop-motion animated series based on Eric Towner and John Harvatine IV's viral short of the same name. "The series combines miniature filmmaking and stop-motion artistry in a wild (and comically violent) ride like no other!" reads the logline. Seth Green executive produces alongside Jon Favreau's Golem Creations.
Most Dangerous Game, starring Liam Hemsworth
Luke, one of the not-Chris Hemsworths, will play the hilariously-named Dodge Maynard in a series from Prison Break veteran Nick Santora that, per The Hollywood Reporter, finds him playing "a deadly game where he discovers he's not the hunter, but the prey." Aside from the character being terminally ill, the story doesn't sound all that different from Stephen King's The Running Man novella, which, it should be said, is nothing like the 1987 movie.
Nikki Fre$h, starring Nicole Richie
Nicole Richie stars as a heightened version of herself in Nikki Fre$h, a mockumentary in which she lampoons wellness culture via her rap persona, who makes "conscious trap" for everybody, but mostly "moms and gays." Bill Nye guest stars, as does her dad, Lionel Richie, and husband, Joel Madden of Good Charlotte.
The Now, starring Dave Franco
Based on the title and this summary from Deadline, this appears to be a more fleshed out and far less horrific-sounding version of the earlier reported "suicide comedy": "Written by Oscar winner Peter Farrelly (Green Book), Steve Leff (The Ranch) and Pete Jones (Hall Pass), The Now is a comedy that examines what exactly makes life worth living. For Ed Poole (Dave Franco), clarity comes when a secret from his past has seemingly destroyed his future. He soon realizes the only thing that will make his life worth living is to forget the past, screw the future and just live in The Now." Bill Murray co-stars.
Reno 911!, reboot of the Comedy Central series
Original series creators and cast members Robert Ben Garant, Thomas Lennon, and Kerri Kenney-Silver are returning to write and star in Reno 911!'s seventh season for Quibi.
Royalties, starring Darren Criss
Per EW, "the satirical series follows the ascent of a ragtag songwriting duo, Sara and Pierce, as they navigate the strange and hilarious challenges of creating a truly great song, week after week." Criss will write the series with fellow Team StarKid alumni Nick and Matt Lang. We'd like to casually note that The Flash's Carlos Valdes is also a former Team StarKid creative who can sing his butt off, in case there's still room on the guest roster.
Skinny Dip, based on Carl Hiaasen's novel
House and Altered Carbon writers Russel Friend and Garret Lerner adapted this take on Carl Hiaasen's best-selling 2004 novel, which "revolves around a woman whose husband throws her overboard during a cruise to celebrate their anniversary."
The Stranger, written and directed by Veena Sud
Almost guaranteed to put your worst Uber experience to shame, Veena Sud brings a thriller about a shady rideshare passenger and a young drive who end up in a 12-hour sojourn to the seedy underworld of Los Angeles.

Survive, starring Sophie Turner and Corey Hawkins
Based on the novel by Alex Morel, Jane (Turner) and Paul (Hawkins) must find a way to survive as the only survivors of a deadly plane crash.
Tomie, from director Alexandre Aja
Alexandre Aja, who just scored a critical and commercial hit with the gator-centric Crawl, is teaming up with Aquaman writer David Leslie Johnson-McGoldrick for an adaptation of Juni Ito's horror manga. It's story of a dead high school student and the pieces of her body that strewn throughout town—sounds gruesome as hell.
Transmissions, created by Jed Mercurio
Mercurio, a hot property after the success of BBC's Bodyguard, will helm a science fiction thriller that, per Deadline, is set at "a remote radio observatory where a lone scientist begins receiving eerie signals from deep space."
Trill League, produced by 50 Cent
An adaptation of Anthony Piper's graphic novel, the 50 Cent-produced superhero series "combines the worlds of superheroes, anime, and hip hop culture." Per a press release: "In an era of social injustice and internet trolls, a league of black superheroes, Trill League is tasked with saving the world from monsters, super villains and haters of all kinds."

Trips, starring Joel Kim Booster
We barely got a chance to enjoy Booster's comedic chops with NBC's short-lived Sunnyside, so it's a good thing that Quibi has plenty of room for this Fire Island comedy series. Trips is a "modern day com-com centered around two best friends who set out to have a legendary week-long summer vacation with the help of cheap rosé and cadre of eclectic friends."
Varsity Blues, based on the 1999 film
Stuber writer Tripper Clancy is writing this remake/reboot/??? of the 1999 movie, which will see its original producers Mike Tollin and Tova Laiter return. Anne Fletcher (Step Up, Dumplin') will direct.
We're Never Getting Married, from Co-Ed's Mason Flink
Mason Flink, a writer on Netflix's Special and Snap's Co-Ed, will develop this romantic comedy about "two friends forced to confront their perpetual singlehood during an extravagant wedding weekend." Set in Martha's Vineyard, the series tracks the pair as they wreak havoc amongst the festivities.
When The Streetlights Go On, starring Queen Latifah
A "coming-of-age murder mystery" adapted from a Black List script, When The Street Lights Go On is most notable for its stacked cast, which includes Latifah, It's Chosen Jacobs and The Dark Tower's Sam Strike, as well as Mark Duplass and Tony Hale.
Winos, from Thomas Lennon
Reno 911!'s Lennon is the creator, writer, and star of Winos, a drunken comedy about a Silicon Valley fuck-up who retreats to wine country. There, he tries to rehabilitate a failing vineyard and its staff, a presumably lovable, definitely not-so-smart rabble.
Wolves And Villagers, from Blumhouse TV
Jason Blum is behind this under-wraps story from Stuart Blumberg (The Kids Are All Right) that's been described as "Fatal Attraction 2.0." Naomi Watts will star.
#Freerayshawn, produced by Antoine Fuqua
Stephen James stars as Rayshawn, an Iraq War veteran who ends up in a high-profile police stand-off after a drug deal gone wrong. Laurence Fishburne plays the cop who tries to negotiate his surrender
Unscripted
&Music, produced by Scooter Braun
A docuseries chronicling the teams behind famous artists like Ozzy Osbourne, Anderson .Paak, Ariana Grande, YG, Martin Garrix, and J Balvin. "From light directors to choreographers, audio engineers to songwriters and beyond," reads a press release, "the series follows subjects who not only enhance music, but experience it from entirely different perspectives."
Bad Ideas, hosted by Adam Devine
Adam Devine will host this "wacky celebrity reality series," in which the Workaholics and Righteous Gemstones star will link up with a famous friend to "add their own extra special sauce" to already perilous adventures. Someone is going to die.
Barkitecture, hosted by Bachelor runner-up Tyler Cameron
Tyler Cameron, who's become a sought-after heartthrob in the wake of his runner-up appearance on The Bachelorette, will co-host a show exploring the lifestyles of rich and famous dogs. The series will chronicle the world's most elaborate dog houses, and the animal lovers who invest so much in their pet's comfort.
Beauty, from Tyra Banks
Banks leads this docuseries, which, according to the model, will "expand and redefine the definition of beauty as we know it, challenging why we accept certain beauty parameters and reject others, and examining the beliefs behind those judgments."
Benedict Men, from Stephen Curry
Curry is producing this deep dive into St. Benedict's Prep in Newark, New Jersey, an all-boys school with a lauded basketball program and a shockingly high graduation rate. Per Deadline, it will "follow the brotherhood of young men who seek to balance life in complicated surroundings."
Biggest Little Cook-Off, hosted by Andy Samberg
Alas, all the intensity of Dishmantled (see further down), right at the literal tip of your tongue. Quibi brings a comedic competition where, per a recent press release, "two top chefs will battle to create the most delicious, salivating, mouth-watering, scrumptious" tiny bite of food. Your level of interest will depend on whether or not you find doughnuts smaller than a bottle cap adorable or infuriating. (Either way, you are correct.)
Blackballed, a docuseries about Donald Sterling
Donald Sterling was forced to give up his ownership of the Los Angeles Clippers after an audio recording of the mogul spitting racial slurs was unleashed on the world. According to Deadline, "Chris Paul, Doc Rivers, DeAndre Jordan, and JJ Redick, along with some of the biggest names from the worlds of sports, politics, business and media, explain how they asserted their power, leading to the most definitive and unprecedented punishment in sports history."
Centerpiece, executive produced by Rashida Jones and Will McCormack
It's literally about centerpieces: Each episode a celebrity create a unique flower design with floral artist Maurice Harris.
Chrissy's Court, starring Chrissy Teigen
Chrissy Teigan will do her best Judge Judy impression as the overseer of a small claims court featuring real plaintiffs, defendants, and disputes. According to Quibi, Teigen's rulings will be binding. This has got some real Mock Trial With J. Reinhold vibes.
Cup Of Joe, featuring Joe Jonas
An eight-part travel series in which the Jonas Brothers' Joe Jonas explores different locales with the help of a local guide. Deadline notes it's inspired by his Instagram account and will fold in the singer's passion for photography.
Dishmantled, hosted by Tituss Burgess
Imagine, if you will, if Chopped mated with a case of Mountain Dew: Per Deadline, former Unbreakable Kimmy Schmidt star Tituss Burgess will host a culinary competition that starts with the blindfolded chefs getting blasted in the face with a mystery dish shot out of a cannon. They will then have to suppress the trauma long enough to identify the dish by taste alone and recreate it from memory.
Elba Vs. Block, starring Idris Elba
Idris Elba, in addition to being talented, gorgeous, and a dang DJ, is also into stunt driving, apparently. On this show, he'll compete in a series of driving stunts against professional rally driver Ken Block. Idris, please don't die.
FaZe Up, developed with eports team FaZe Clan
FaZe Clan is a hub for gaming personalities, and this competition series wants to invite one Quibi viewer to join their ranks. Per a press release, "Six contestants, selected and voted upon by the Quibi audience, will get the opportunity of a lifetime: a chance to live the FaZe lifestyle, game competitively, and win life-changing money." Sounds like a good deal to us.
Fierce Queens, narrated by Reese Witherspoon
Reese Witherspoon presents and narrates this nature documentary series, which centers on the females of the animal kingdom. Prolific nature producer Jo Shinner serves as an executive producer.
Fight Like A Girl, from WWE Studios
Women's wrestling's come a long way since the bikini-clad '00s, with talent like Charlotte Flair, Becky Lynch, and Alexa Bliss redefining how it's viewed in the mainstream of sports entertainment. Stephanie McMahon, WWE executive and daughter of Vince McMahon, pairs female wrestlers with young women in the series, which is about overcoming obstacles.
Fresh Dressed, featuring celebrity tailor Fresh
Produced by 3 Arts Entertainment and Magical Elves, the producing company behind Top Chef, this reality series follows Fresh, a celebrity tailor with clients that include Kevin Hart, John Legend, Dwayne Wade, and Gabrielle Union.
Gayme Show, hosted by comedians Matt Rogers and Dave Mizzoni
In each episode of this fabulous competition series, two straight-identifying contestants compete to see who will be crowed "gay as fuck" by a panel that features guests like Rachel Bloom and Trixie Mattel.
Gone Mental with Lior, featuring Israeli mentalist Lior Suchard
Lior Suchard, a mentalist who we're sure is totally on the level, will do live reads of the minds of celebrities like Ben Stiller, Rob Gronkowski, James Corden, and Zooey Deschanel. Suchard has appeared on a number of late night and morning shows since breaking through in 2006 on Israel's The Successor.
Hollywood & Sex, from documentarian Marina Zenovich
Marina Zenovich (Roman Polanski: Wanted and Desired) is behind this look into the culture of sexuality as it's existed in the entertainment industry. Actors, agents, writers, producers, and more will speak on how sex impacts casting and on-set behavior.
How We Met, from Oscar-winning Undefeated filmmakers
Undefeated filmmakers Dan Lindsay and TJ Martin will helm How We Met, a documentary series that will explore the origin stories of several different relationships to "explore the complicated nature of love, romance and the human connection."
I Promise, featuring LeBron James
I Promise is an inspirational documentary series following the first academic year inside the I Promise School in Akron, OH, founded in part by LeBron James. Per Variety, it will explore the "day-to-day trials, triumphs and life-changing impact of the school staff, students and families working together in a family-first educational environment that embraces the trauma and challenges many face in Akron."
Killing Zac Efron, starring Zac Efron
Zac Efron goes "off the grid" in this series, which plunks him on a "remote island" with a guide partner and some basic gear for 21 days. "I tend to thrive under extreme circumstances and seek out opportunities that challenge me on every level," said Efron.
Legends Of The Hidden Temple, reboot of the old Nickelodeon game show
It's Legends Of The Hidden Temple, that game show that was way too difficult for children! It's being played by adults in an actual jungle in the Quibi reboot, but Olmec is back, at least.
Let's Go, Atsuko! A (woke) Japanese Game Show, produced by National Lampoon
Based on a podcast and live show from comedian Atsuko Okatsuka, this eight-episode series tasks contestants with sharing something they love and something they fear, the likes of which are then exploited in "comic scenarios to humiliate them and test their "wokeness." National Lampoon, which celebrates its 50th anniversary in 2020, is behind the series.
Memory Hole, hosted by Will Arnett
Will Arnett will dig into "the archives of the most cringe-worthy events in pop culture," with the first season focused exclusively on Canada's most embarrassing pop culture touchstones. Patriot Act with Hasan Minhaj writer Scott Vrooman is behind the series.
Mind/Trip, from documentarians Heidi Ewing and Rachel Grady
Jesus Camp documentarians Heidi Ewing and Rachel Grady explores mental illness via experimental films that, per Indiewire, "attempt to take illness off the page of medical textbooks and into real life."
The Minutes Before, from documentarian Morgan Neville
Twenty Feet From Stardom director Morgan Neville will use first-person storytelling to immerse viewers in the rituals and routines of "remarkable people in the minutes before they do something extraordinary."
Murder House Flip, a morbid home renovation show
Bones and Penny Dreadful producers are behind this spooky spin on the home renovation show, which finds homeowners calling upon forensic specialists, spiritual healers, and, of course, renovators to both remodel homes while also excavating their dark paths. As noted in a press release, "cleansing renovations remove the stains of the past and take these homes from morbid to marvelous." Um, we don't think the ghosts will like that much.
Nightgowns, from Rupaul's Drag Race season nine winner Sasha Velour
An eight-episode adaptation of the drag queen's monthly revue, Nightgowns is described as "the biggest drag showcase of her life" and will apparently focus on a different performer in each episode.
The Pet Project, from documentarian Amy Berg
Amy Berg, who previously helmed the searing Deliver Us From Evil about sex abuse in the Catholic church, will set her sights on the homelessness crisis in Los Angeles for The Pet Project. The series will center specifically on individuals experiencing homelessness and the pets that keep them company.
Pillow Talk With Demi Lovato
Now that the singer is firmly reclaiming the spotlight, Demi Lovato is heading over to Quibi to chat up fellow celebrities and experts about sex, body positivity, activism, and whatever else strikes her fancy. "I've always considered myself someone that speaks honestly about issues that face my generation," said Lovato. "We're excited to bring those frank conversations to a public forum, where people can have the opportunity to relate to the topics and guests, while finding room for laughter and learning."
Poly, from documentarian Chris Moukarbel
The culture of polyamory and open marriages will get unpacked in this hyper-modern documentary from Me At The Zoo's Chris Moukarbel.
Prodigy, hosted by soccer champ Megan Rapinoe
Megan Rapinoe, who's known for both her soccer skills and her LGBT advocacy, will host an 8-part docuseries profiling young athletes who, per Deadline, "are set to become the next superstars in their respective sports." Rapinoe will provide on-camera commentary into the stories, which encompass basketball, track and field, swimming, football, and more.
Punk'd, hosted by Chance the Rapper
It's Punk'd. And it'll be hosted by Chance the Rapper.
Q Talks, hosted by comic James Veitch
Comedian James Veitch hosts this talk show, which comes with a TED Talkian twist. Per Deadline, celebrity guests visiting the set are tasked with giving an "expert talk" on "topics they've never heard before, from a script they've never seen before, presented to them via a rigged teleprompter. Bridesmaids director Paul Feig is an executive producer, and Regina Hall, Lisa Kudrow, Niecy Nash, Jimmy O. Yang, and Kristen Schaal are confirmed as guests.
Rapper Warrior Ninja, hosted by Eric Andre
Actor and comedian Eric Andre will host this rap battle series, which amusingly incorporates aspects of American Ninja Warrior. The result is some of hip-hop's brightest stars attempting to freestyle as they navigate absurd obstacles. The show is an extension of a similar segment from The Eric Andre Show, which he co-hosts with Hannibal Buress.
Run This City, executive produced by Mark Wahlberg
Directed by Brent Hodge (I Am Chris Farley, A Brony Tale), Run This City follows Jasiel Correia II, the youngest mayor ever elected to office. The politician, who was elected mayor of Fall River, Massachusetts, in 2016, also faced charges of fraud and extortion, and the documentary will explore his efforts to fight the charges.
Sex Next Door, a docuseries
Directed by Anthony B. Sacco, Sex Next Door follows the lives of four sex workers in Seattle. Watch along as this docuseries aims to challenge the stigma surrounding this industry by examining their personal and professional relationships.
Shape Of Pasta, from award-winning chef Evan Funke
As its title might imply, this travel series will find Funke traveling around Italy in an effort to contextualize the most unique shapes of pasta. The carbs, they will be out of control.
Singled Out, hosted by Keke Palmer and Joel Kim Booster
The bygone MTV dating show is getting a 20-episode reboot that will encompass "all genders and sexual preferences," per a press release. "Reflective of today's dating landscape, where everyone is connected, the series will bring online dating to life with a twist—the main dater is linked to the pool of diverse singles through social media." Hustlers star Keke Palmer hosts alongside comedian and podcaster Joel Kim Booster.
SKRRT WITH OFFSET, starring Kiari "Offset" Cephus
A noted auto enthusiast, Migos' Offset will show Quibsters just how much he knows about cars while hanging out with "highest profile names in pop culture," boasts a recent press release.

Thanks A Million, from Jennifer Lopez
Lopez and nine others will gift one personally influential figure in their lives $100,000, as reported by THR. The lucky recipient will then identify an influential person in their lives and hand them $50,000. The newest honoree will give someone $25,000, and that will likely continue until someone is left with a half-stamped frequent customer card for free fro-yo (but they're out of strawberry and topping are excluded, obviously).
This Joka, hosted by Will Smith
This Joka, a stand-up comedy showcase, combines sets from up-and-coming comics with one-on-one conversations with its host, Will Smith. Featured comics include Baron Vaughn, Megan Gailey, Punkie Johnson, and Sean Patton, while George Wallace, Demi Adejuyigbe, and Shawn Wasabi will make "special appearances."
You Ain't Got These, from Lena Waithe
Per The Hollywood Reporter, Waithe's unscripted series will explore today's sneaker culture through the lenses of "race, politics, class, gender, creativity, commerce, addiction and self-expression that goes into every pair." Guests include Carmelo Anthony, Billie Jean King, Hasan Minhaj, Questlove, Nas, Kerby Jean-Raymond, Mike Epps, Jemele Hill, and Eric Koston.
Untitled Cara Delevingne practical joke series
Actor, model, and musician Cara Delevingne will get her Punk'd on by executive producing and hosting an all-female practical joke series. With some friends in tow, Delevingne will make mischief via stunts and goofs.
Daily Essentials
The news arm of Quibi, Daily Essentials so far includes shows from NBC News, BBC Global, CBS, and even a series centered around meditation. See more info on other Daily Essentials below.
Fashion's A Drag, hosted by drag queen Willam
A daily fashion review talk show hosted by the acid-tongued Drag Race alum Willam. A panel of fellow drag queens will join Willam each day, as will a fashion expert from Elle magazine.
Hot Off The Mic
From a recent press release, Hot Off The Mic will be "a new daily show showcasing today's hottest established and emerging comedians and their takes on the latest headlines." This is great news for those who yearn for yet another another voice to chime in on Trump's daily tweet storm.
Late Night This Morning, a late night recap show
Since one can't watch every late night show each evening, this daily series will break down the monologues, interviews, and sketches it deems worthy of your eyes.
Morning Report/Evening Report, produced by NBC News
Morning Report is a "fast-paced" breakdown of the major headlines from NBC news that provides key context to world events. Evening Report, meanwhile, will go more in-depth. "We are going to break out one essential story and make sure the audience has the context they need, that they can learn something," says executive producer Madeleine Haeringer. Correspondents include seasoned anchors Paul Gerke and Valerie Castro, WBZ's Michelle Fisher, Now This News' Dan Lieberman, and Vice News Tonight's Antonia Hylton. Episodes run five to eight minutes.
The Nod With Brittany & Eric, hosted by podcast duo Brittany Luse and Eric Eddings
A daily black culture show, The Nod follows "the headlines, pop culture trends, and obsessed-about topics that have everyone talking."
Saturday Report/Sunday Report, produced by NBC News
Saturday Report is said to offer "an important story driven by characters," while Sunday Report zeroes in on a single issue and provides detailed analysis. Correspondents include seasoned anchors Paul Gerke and Valerie Castro, WBZ's Michelle Fisher, Now This News' Dan Lieberman, and Vice News Tonight's Antonia Hylton. Episodes run five to eight minutes.
Sexology With Shan, featuring intimacy expert Shan Boodram
A "millennial-focused" series exploring "the realities of sex, dating, and relationships today."
This Day in Useless Celebrity History, hosted by Adam Rippon
Per a recent press release, the daily show "will take viewers on a ride down memory lane, revisiting the wildest and most outrageous events in celebrity history that have probably been forgotten, but shouldn't have."
Your Daily Horoscope, hosted by Will Arnett
More high-concept than several of the other Daily Essentials shows, Your Daily Horoscope will "track the daily mishaps of twelve millennial zodiac characters who work at a technology start-up, Estrella." It will air five days a week, with 12 personalized segments dropping each day. An astrologer will be on hand to ensure it's not all fun and games.
We will update this post as more Quibi news is released.