The BBC is reporting the death of Raphael Ravenscroft, the man behind one of the best saxophone riffs ever created, as heard on Gerry Rafferty's "Baker Street." Ravenscroft died of a suspected heart attack at the age of 60.
Over the years, Ravenscroft's swaggering sax could be heard on work by numerous artists, everyone from Pink Floyd to Daft Punk, Abba to America, Marvin Gaye to Robert Plant, Bonnie Tyler to Duffy. He also cut a solo album, 1979's Her Father Didn't Like Me Anyway, composed the soundtracks to numerous advertisements and a handful of TV documentaries, and wrote several instructional books on saxophone playing.
But he will be remembered first and foremost for "Baker Street," a song whose saxophone hook is arguably the greatest in pop history—and at the very least, right up there with contenders like George Michael's "Careless Whisper," Glenn Frey's "You Belong To The City," and Hall And Oates' "Maneater." And it's quite possible none of these would have existed had Ravenscroft not set the bar so incredibly high. You can probably trace an entire generation of melancholy '80s pop right to Ravenscroft's lips.
Gerry Rafferty had already composed "Baker Street" with a long instrumental break, unsure of what to fill it with, when his producer suggested a saxophone. Their first choice, Pete Zorn, was unavailable, and reportedly it was Ravenscroft's unusual name that landed him the audition. The hook he came up with—a moody blues riff that evoked lonely city nights, dark alleyways, and steam billowing from sidewalk gutters—absolutely carries the song, making all of Rafferty's pop melodies feel more like the filler. In one of the great injustices of rock history, Ravenscroft received £27 for his services, in a check that bounced. Rafferty went on to collect some £80,000 a year in royalties.
Still, there were no hard feelings for Rafferty—Ravenscroft went on to a successful session musician career thanks to his work on "Baker Street," and he later recorded a tribute for Rafferty's funeral in 2011—though he often expressed a dislike of the song that had made him famous. "I'm irritated because it's out of tune," he said in a radio interview. "Yeah, it's flat. By enough of a degree that it irritates me at best." But he eventually came around to it, with his daughter telling the BBC, "I think he was very proud of 'Baker Street' and that it made people feel good. I'm sure a lot of people will put on 'Baker Street' and smile today."

G/O Media may get a commission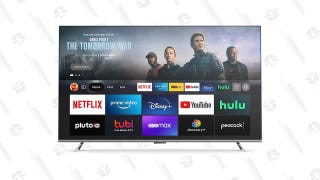 Save 46%
Fire TV 55" Omni Series 4K UHD Smart TV