Members of a rainforest charity have issued an ultimatum to actor Leonardo DiCaprio, asking him to either return illegal funds he allegedly received for starring in Martin Scorsese's The Wolf Of Wall Street, or step down from his position as a United Nations Messenger Of Peace with a special focus on climate change. The demand comes on the same weekend that DiCaprio's high-profile climate change documentary Before The Flood is set for its European premiere, and has its roots in a multi-billion dollar corruption scandal in Malaysia.
Sharon Stone made a fraction of what Michael Douglas did for "Basic Instinct"
Back in July, the U.S. Department Of Justice announced that it was investigating links between the Malaysian 1MDB scandal—in which the country's prime minister, Najib Razak, was accused of funneling $3.5 billion from an economic development fund into the pockets of himself and his friends—and Wolf's Red Granite production company, which is run by Razak's stepson. At least part of DiCaprio's salary presumably came out of that money; he's also alleged to have received contributions to his charity, the Leonardo DiCaprio Foundation, from that same laundered pile of cash.
DiCaprio was named a UN Messenger Of Peace back in 2014, by secretary-general Ban-Ki Moon. Since then, the actor has attracted the ire of the Indonesian government for his work protesting the country's ongoing deforestation, a stance that actually gives him a lot in common with the group that's been asking him to return the Wolf money for months now, Switzerland's Bruno Manser Fund. The group was founded back in 1991 by Manser, a Swiss activist who became an enemy of the Malaysian government after living with a "lost" tribe, the Penan, in Malaysia's Sarawak region, and seeing first-hand the effects of deforestation on their way of life. Manser spent the next several years loudly protesting, getting arrested, executing elaborate and dangerous aerial stunts, and generally acting like the lead character in a Leonardo DiCaprio movie.
The group alleges that at least part of the 1MDB money has gone to the governor of Sarawak, who it holds responsible for the region's ongoing environmental damage. Its current director, Lukas Straumann, called for DiCaprio to become "part of the solution," accusing the actor of "cynical hypocrisy" for protesting Indonesia while accepting money from figures in the Malaysian scandal.
G/O Media may get a commission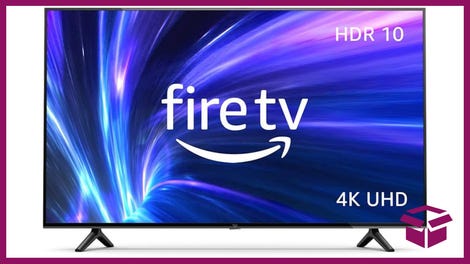 42% Off
Amazon Fire TV 50" 4K Smart TV