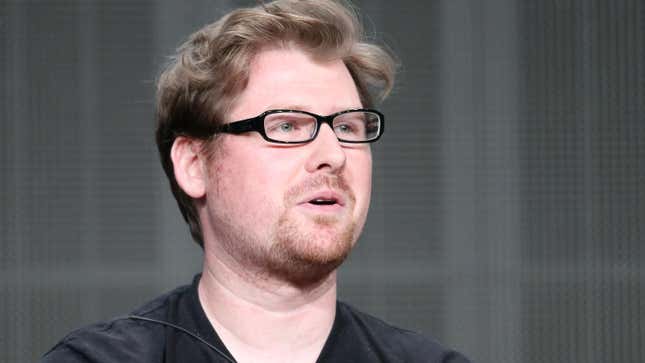 Though domestic violence charges against disgraced Rick And Morty creator Justin Roiland were dismissed earlier this year, he is now facing accusations of using his fame to coerce young women and teens into sex. NBC News' Kat Tenbarge published text messages and social media DMs between Roiland and his various accusers in a revealing and disturbing report that includes accusations of sexual assault, grooming, and coercion.
Ryan Reynolds and Rob McElhenney are doing the race car thing now
Roiland has denied the charges through his lawyer, saying the allegations were "false and defamatory." After the charges were dismissed, he posted online that he was "determined to move forward and focus both on my creative projects and restoring my good name."
Between Rick And Morty's premiere and Roiland's firing from the show, the once-venerated animator used his fame, influence, and money to fly young women and teenage girls to his Los Angeles home. Three of the 11 participants in NBC's reporting say Roiland first messaged them when they were 16. Roiland reportedly would often break off communications with the girls upon learning their age, only to reemerge months or years later.
One person, Janna Waters, who is nonbinary, says they were a 16-year-old high school student when Roiland first messaged them. Roiland was 35 at the time. Waters believes Roiland was "grooming" her. When Waters was 17, they told NBC, Roiland offered to fly them to Los Angeles. When Waters again reminded him they were not 18, Roiland responded, "Haha holy shit! I assumed you were." He dropped the trip until 2019, when he flew a 20-year-old Waters to L.A. Waters said that while they were reluctant to drink alcohol, Roiland encouraged them to drink and kiss a woman at the party. Waters refused.
In another instance, Roiland sent a 19-year-old artist living in Pennsylvania a message after she had tweeted about Rick And Morty. He contacted her about her artwork, saying she was "better than" he was at her age. The two continued communicating until, as before, Roiland offered her a trip to L.A., agreeing to call the young woman's father and assure him of her safety on the trip. Roiland and his accuser had the following text exchange after Roiland's phone call with her father:
"Ahhhh I didn't know your whole family was so concerned about this trip!" Roiland texted her after the call.

"They just didn't believe me lmao," she replied.

"But like, are they concerned that it wasn't actually me or are they concerned no matter what- (by the way, I totally understand it)," Roiland wrote.

"I mean they just love me a lot and don't want anything bad to happen to me!!" the woman replied.

"I will make absolute 100% sure nothing bad happens to you," Roiland wrote.
Ahead of the Rick And Morty premiere in 2017, Roiland flew the fan out to Los Angeles for a party celebrating the new season. After the party cleared out, she changed into a bathing suit and joined Roiland and another woman in a hot tub. Roiland encouraged her to have sex with the woman before he had sex with his young fan, who says she was then and still is uncomfortable with group sex. She called a friend crying later that night as Roiland sent numerous text messages apologizing for making her feel uncomfortable. He expressed a desire to sleep with her and sent her a picture of a man with several penises in his mouth, 14 times.
Two years after the trip, she posted: "he's lucky i'm not the type of person who wants to be famous or well known or anything like that bc he would've been ~exposed~ by now probably. idk!!!! it fucks with my head a lot!! like literal trauma!!"
One accuser has text messages between herself and Roiland in which he tells him that she did not consent to sex. In 2019, a 20-year-old who went on a Tinder date with Roiland said he bought her alcohol and brought her back to his hotel. She says Roiland forced her to perform oral sex on her. Months later, she wrote to Roiland:
"The sexual stuff that happened with us was not handled by you in the best way and i just want you to take that into account in future dates. I know it was not black or white but verbal consent is important."

"Shit yeah, I didn't??" he responded. "I'm really sorry! Fuck […] That's not cool at all — jeeeesus That is not me whatsoever… I literally didn't get consent??"

"I mean you said after that you thought it turned me on to be forced," the woman replied. "I told you that i wouldve preferred it didnt happen."