The first "RuPaul Roast" was one of the best episodes of season 5, so I had high hopes for the return of the roast. Alas, the second "RuPaul Roast" is a pale shadow of its predecessor. This season's queens haven't fared very well when given repeat challenges: Snatch Game and the second "Night Of 1000 Madonnas" were both disappointing, the trip to the library at the top of tonight's episode is uninspired, and the roast is mostly a mess. The repeat challenges invite comparisons to past groups of queens, and the comparisons haven't been favorable to the current contestants.
Snatch Game and Reading Is Fundamental are two recurring challenges that serve as reliable evaluations of the overall quality of a season's queens, and both of them have been underwhelming in season 9. There are a couple good digs in the library, but in general it's a tepid affair that feels very restrained. Drag is an artform that is all about going over the top, and as the show goes on longer, the bar keeps getting lifted. With both season 8 and All Stars 2, we had groups of contestants that understood that they needed to be big and bold if they were going to captivate viewers, but I don't sense that grandiosity with most of the season 9 crew. Shea, Valentina, and Trinity have done the best at bringing that exaggeration in both their looks and their personalities, and it's a shame that we lost Eureka early because I think she would have given this season that extra push in the character department.
Alexis Michelle is the only queen that gets huffy about comments made during the mini-challenge, and no one has any patience for that, including RuPaul and Ross Matthews. They tell Alexis that she needs to let go of that baggage and learn to laugh about the things that she's insecure about, but as we've seen throughout the season, Alexis is extremely sensitive and often lets her emotions get the best of her. The competition for the season's most annoying queen is tight between Alexis and Farrah Moan (an appropriate last name given how much she whines), but Farrah has had some ingratiating moments in Untucked whereas Alexis has used that extra time to become even more obnoxious.
I will not forget Alexis' Untucked meltdown over the other queens not telling her that her runway look was basic, and in that moment it felt like she had forgotten the stakes of this game. When Alexis complains to Ru and Ross about the other queens' reads, she refers to them as her sisters, but Alexis hasn't been listening to the immortal words of Lashauwn Beyond. This is not RuPaul's Best Friend Race. You should not expect the other girls to help you or go easy on you when the challenge is to call out your flaws, and Alexis needs a reminder that this is a competition, not a family reunion of 13 new sisters. She gets that wake up call when she fails miserably during the roast of Michelle Visage, closing out the show with a joyless, unfunny set that does nothing for the crowd or the judges.
G/O Media may get a commission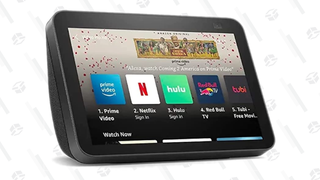 Alexis' look is also a disaster, and the only reason she's green is for a quick joke about wearing Michelle's favorite color. She doesn't do anything else, and the judges are as confused by her appearance as they are by her roasting. Both Alexis and Farrah get very mean with their comments, and they don't understand that so much of the success of a roast lies in the delivery and finding a way to present these insults in a way that is playful rather than cruel. It's a tough dynamic to get right, and I expected Farrah to have trouble because comedy isn't her strong suit. The judges pinpoint the problem with Farrah when they talk about how much she reminds them of other people: she doesn't have a personality of her own. She doesn't know who Farrah is as a character, and she's been defined by her cute looks and pretty clothes.
That's boring to watch, and after a rough lip sync to Dolly Parton's "Baby I'm Burning", Farrah ends up going home. The lip sync is the final disappointment in an episode that is underwhelming throughout, and neither one of the queens makes a strong connection to the music. Country lip syncs tend to be the least entertaining, and it's difficult to bring a rousing energy to a song that is pretty understated compared to most drag standards. They lip sync the words and try to move as best as they can to the beat, but given that the first "RuPaul Roast" ended with one of the show's best lip syncs (Alyssa vs. Roxxxy's double wig), this showdown leaves a lot to be desired.
Valentina has stepped up to every challenge, but we discover this week that stand-up comedy isn't her strong suit. She's the winner of the library mini-challenge, but her performance at the roast is much shiftier. She follows the lead of the winner of the first "RuPaul Roast," Coco Montrese, by presenting a crass, exaggerated character on stage, but it's an inconsistent performance that feels forced and gets in the way of the jokes. Trinity Taylor's country character derails her set in a similar way, and given how strong Trinity has been with performance challenges, I was surprised to see her fumble her roast. She still fares much better than Alexis and Farrah, but landing in the bottom three forces her to check her ego, which is at its most inflated at the start of the episode.
The top queens this week are Shea, Sasha, and Peppermint, with Peppermint winning the challenge because the judges are desperate for something good after suffering through a series of rotten roasts. Shea does a really good job getting the audience warmed up, and the comic instincts she's shown throughout this season are very helpful this week. Sasha prides herself on doing more intellectual drag, and her brains have helped her stand out with the comedy challenges this season, first with her clever Snatch Game impersonation of Marlene Dietrich and this week with her roasting of Michelle, Ross, and even guest judge Tamar Braxton. Sasha's roast structure of "Michelle Visage is so Jersey that ______" isn't the most imaginative, but it works with the audience and the judges so she sticks with it. When one of those jokes doesn't land, Sasha points out the lack of laughter and turns that into a comedic beat. She's smart, and being smart helps people get far in this competition.
Peppermint is one of two queens that doesn't have a win at the start of this episode, and her performance impresses the judges most because it's the moment when she really lets her star power shine through. Her hair, makeup, jewelry, and gown are all on point, and she carries herself with a casual confidence that gives her roast a very relaxed, friendly quality. The judges need this after watching Valentina, Trinity, and Farrah, and they're relieved when they get an assured, comfortable, and jovial performance from Peppermint. She understands that a roast is a celebration disguised as a barrage of insults, and she makes Michelle and the other judges feel good when she's tearing them down. This is Peppermint's big moment, and if she can maintain the momentum she builds in this episode, she could be one of this season's top competitors.
Stray observation
Painting time is the time to discuss heavy issues, and this week Sasha and Peppermint share their stories as a drag queen and trans woman in Moscow. With so much conversation about the connection between the U.S. and Russian governments, it's chilling to hear how Russia is suppressing queer voices, and both queens had trying experiences overseas.
The judging panel is great this week. Tamar Braxton clearly loves being invited to Drag Race and takes full advantage of this opportunity to ham it up, and Fortune Feimster offers insightful critiques that can help the queens grow.
My major quibble with Shea this week is that her wig and top on the runway work against the female illusion by drawing attention to her broad shoulders.

The voice Valentina uses for her roast character is so bad, but at least she commits to the choice and doesn't look uncomfortable doing it.

Nina Bo'Nina Brown is lucky that there were queens that did worse than her in the challenge, because she deserved to get read for her old age makeup, especially those painted-on glasses. Nina is really creative with her makeup, but the busier it gets, the sloppier it looks on camera. I would have liked her look much more if she was just wearing a pair of huge glasses, which would have also allowed her to spend more time refining the old age makeup.

How in the world did no one make any comments about Merle Ginsberg during that roast? Maybe there was one that got cut.

If I was roasting Michelle, I would definitely talk about how obnoxious it is when she babbles on and on about eating healthy on the What's The T? Podcast.

"Shea Coulée, you remind me of my favorite movies. Your fashion: Coming To America. And your smile? Jurassic Park."

"I'm so happy that we have, on loan from Madame Tussaud's, RuPaul's statue…and Miss Trinity Taylor."

"Farrah, you really are the social media queen. Too bad you can't get a filter for that personality."

"Trinity Taylor, I once told you that you were so beautiful, inside and out. I lied, you ugly stripper."

"Peppermint. You need one."

"You're 12. What kind of integrity do you have?"

"Michelle, we know you for being a kind, patient she-ro. And gonorrhea clinics know you as Patient Zero."

"Girl, you have had more dicks in you than a urinal at Dodgers Stadium. The only difference is: they get cleaned up after a grand slam."

"If you liked my performance, my name is Shea Coulée, and if you hated it, it's Nina Bo'Nina Brown."

"Ross Matthews has the face of a young gay man, and the voice of an adult woman. So the opposite of Tamar Braxton." Tamar: "Biiiiiiiiiiitch. Gonna get yo' ass."

"A queen that combines all the excitement of smiling with the thrill of just standing there."

"Just a secret: we all poop." Cue the failure music!

"Not since Destiny's Child has a Michelle become so famous for riding somebody else's coattails."

"Michelle says no to everything. Michelle, you like my dress? No. You like my makeup? No. Bitch, where the hell were you when somebody asked you if you wanted to write that book?"

"What's your name, baby?" I love a good "who are you" roast.

Fortune: "You looked like you were about to throw up. And you still kind of have that look." Trinity: "It's the Botox, I promise." I'm fairly certain this exchange saved Trinity from the bottom.

"Trinity Taylor, your barnyard humor did not make us go, 'Hey, girl, hey.'"