Welcome to Random Roles, wherein we talk to actors about the characters who defined their careers. The catch: They don't know beforehand what roles we'll ask them to talk about.
The actor: Stacy Keach got his start in the theater, receiving acclaim for performances both off-Broadway (MacBird!) and on (Indians), but he quickly built a strong collection of film credits in the '70s with his ability to work equally well with John Huston and Cheech & Chong. Keach earned his biggest mainstream fame from playing Mickey Spillane's famous gumshoe, Mike Hammer, throughout the '80s and '90s, but he continues to work steadily in both film and television. Currently, Keach can be seen starring Encore's new miniseries, Hindenburg: The Last Flight.
Hindenburg: The Last Flight (2011)—"Edward van Zandt"
Stacy Keach: One of the most interesting things about the Hindenburg phenomenon is the mystery that still exists as to why the Hindenburg went down. I've always been curious about that. When this script came my way, I was fascinated by the fact that the character that I was asked to play was a character that presumably was responsible for the Hindenburg going down, because of the dichotomy between helium and hydrogen. It was very confusing for me in the beginning, because I wasn't sure if Edward van Zandt was promoting hydrogen or he was promoting helium as a means of dealing with the German hierarchy at that time, and in playing it… I was playing that he was a helium guy. He wasn't a hydrogen guy. And we know that helium caused the Hindenburg to go down. But the story as characterized in our version, which is a very interesting slant to take on that whole issue, is the personal story, which appealed to me. Even though I'm the bad guy, because I'm willing to sacrifice my own wife for my political greed.
But I found it to be an interesting project, not only from the point of view of that whole phenomenon, but also to be able to shoot a film in Germany. I've worked in Germany a couple of times, and I love working over there. It was great working with German actors who were very… I was amazed at how well most of them spoke perfect English and could act in English as well. I feel badly for myself, in a way, because I can only really act in English. [Laughs.] Even though I have played characters in French and in German. But only phonetically. There's just no way I can visualize the German language and speak in German like I speak in English. I think that's true of most American actors, and I think it's because of our isolation here, perhaps. I don't know. Many actors are bilingual in terms of Spanish, but that's fairly common. Beyond that, we're pretty much imprisoned by the English language.
The A.V. Club: Given your comments a moment ago, it sounds like you're a bit of a history buff.
G/O Media may get a commission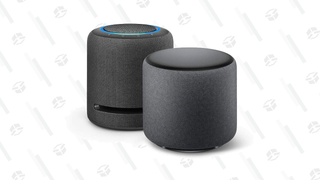 25% off - Prime Exclusive
Echo Studio + Echo Sub Bundle
SK: Yeah, I am! One of the things that's great about being an actor, I feel privileged not only to be able to explore the history of the character, the personal biography of the character, but also the times that they were living in. That's always fascinating to me. This particular story, in terms of what was going on in Germany at the time of the Hindenburg, was really, I have to confess, something of an anathema, because I didn't have a grasp on that at all. And, quite frankly, having discovered some aspect of that time, I'm still confused. [Laughs.] I'm not sure who was in charge and who was controlling what. I think that that comes out to some extent in the movie. It's not a didactic polemic on why the Hindenburg went down and who was responsible. It wasn't exclusively because of political reasons. There were other reasons, I think. Some personal reasons as well. But by and large, it gives us a glimpse into the alternative situations that could've existed at that time, and in a very dramatic way.
Twelfth Night (1966)—"Feste"
The Winter's Tale (1967)—"Autolycus"
Macbeth (1968)—"Banquo"
AVC: In trying to determine your first on-camera performance, it appears to have been in a production of Shakespeare's The Winter's Tale for public television.
SK: Oh, my goodness. You've done your homework. [Laughs.] Did you happen to find a clip of that? The reason I'm asking is because, even as we speak, I'm in the process of penning my memoir, and I've been trying to get hold of sequences from that particular [performance]. It was with Barry Boys, and we did three Shakespeare shows for public television in New York: Winter's Tale, Twelfth Night, and Macbeth.
MacBird! (1967)—"MacBird"
AVC: You started your acting career in the theater. In fact, speaking of Macbeth, you actually got some of your first fame from a play that was a Macbeth parody of sorts, a satire called MacBird!
SK: [Laughs.] Yes, that's true. I sort of started with Shakespeare, at the Oregon Shakespeare Festival in my college days. Between my junior and senior year, and then after my senior year, I spent a couple of summers up there and cut my teeth, my theatrical chops, at the Oregon Shakespeare Festival. I had been acting in school plays in both college and high school, and I'd done quite a few plays there. But, yes, theater is where it all started for me.
AVC: It's been reported that Morgan Freeman says you taught him more about acting than anyone else.
SK: Oh, well, he's such a sweet man. He's very gracious, God bless him. We started together! We were in a play together called The Niggerlovers, the title of which is somewhat… you sort of have to say "The N-Word Lovers" now. George Tabori wrote it for his wife, Viveca Lindfors, and it was about racial fear in New York City, in the streets. Viveca Lindfors' character is killed by blacks who come to rob me. It was two one-act plays. It didn't last long. But that was right after MacBird!
Cheech & Chong's Up in Smoke (1978)—"Sgt. Stedenko"
Cheech & Chong's Nice Dreams (1981)—"Sgt. Stedanko"
SK: Sgt. Stedenko was definitely one of my favorite characters. I loved working with Cheech and Chong, and we had a lot of fun. Everyone thinks that everyone was stoned on the set, but that's not true at all. Everybody was straight as an arrow when we were working. After work… well, who knows what goes on? [Laughs.] But on the set, they were absolutely very professional and were hard workers. We had a great time.
AVC: Where does turning into a lizard rank among your career achievements?
SK: I loved it. It was hard, though! The hardest thing was that I had to get onto a flat, and they had to lift the flat up to look as though I, as a lizard, was on the wall, trying to catch flies. I don't know if you remember that shot, but it was agonizing, because I had my hands in these two metal stirrups, holding me, and I had to stay in that position for a couple of hours, because we had to do a series of shots. So that was the hard part of Sgt. Stedenko. Even though it may not be the funniest, I think that lizard scene is my favorite.
Murder Me, Murder You (1983) / More Than Murder (1984) / Mickey Spillane's Mike Hammer (1984-1985) / The Return of Mickey Spillane's Mike Hammer (1986) / The New Mike Hammer (1986-1987) / Mike Hammer: Murder Takes All (1989) / Mike Hammer, Private Eye (1997-1998)—"Mike Hammer"
SK: Me and Mike Hammer started with Murder Me, Murder You. We didn't know it was going to be a series. It was just a two-hour movie. But it turned out to be a backdoor pilot, and that was ultimately the beginning of that series.
AVC: Mickey Spillane's name prefaced that of Mike Hammer, but how interactive was he with the series?
SK: He was pretty active in the beginning, because Jay Bernstein, who produced the series, was his very best friend, and he'd given Jay the television rights to Mike Hammer for a dollar. One dollar. While they were on an airplane. [Laughs.] True story! I became very good friends with Mickey myself, and we shared a lot of stories about the show. His primary concern was that I wore the hat. He wanted to make sure that I wore the hat, because one of the other Mike Hammers—I can't remember if it was Darren McGavin, or it might've been Kevin Dobson—didn't wear the hat, and Mickey wasn't happy about it. I was something like the seventh or eighth person to play Mike Hammer. Several wonderful actors preceded me… including Mickey himself! He played him in The Girl Hunters. Yep, that was a fun series. I enjoyed playing an Old Testament kind of guy. A moral vigilante, I always thought of him.
AVC: Has there been any talk of bringing Mike Hammer back again with you playing the part?
SK: Not with me playing the part, but there is a Mike Hammer movie in the works, with the possibility of my playing Mike Hammer's father. Or grandfather. Depends on how long it takes 'em to get the movie made.
Man With The Screaming Brain (2005)—"Dr. Ivanov"
SK: Bruce Campbell! He's a crazy man. [Laughs.] I love Bruce. We had so much fun doing that. He's a mad man. It was a lot of fun, and I loved working in… I think we shot that in Bulgaria! Yeah, Sofia, Bulgaria.
Titus (2000-2002)—"Ken Titus"
SK: Well, that was probably one of the best-written comedies on television at the time. It was so much fun to play that character. He was so irascible and impossible. I just loved it. I was very proud of the fact that I was chosen the worst dad of the year by some TV consortium. [Laughs.] Most unpleasant dad, worst role model… But that was what Christopher [Titus] wanted! I had the great pleasure of meeting his dad. He passed away during the shooting of our show, actually.
AVC: What did he think of you playing him?
SK: Actually, I said to him, "How do you feel about being so maligned week after week?" Of course, we forget that Christopher had been doing this on the road as a stand-up act for 15 years before he ever got the show. But talk about a loving dad: He said, "As long as it's funny and people laugh, I'm happy." He didn't mind! He didn't mind being the butt of all those jokes. I guess it made him kind of feel good, actually. That's the feeling I got from him, anyway. It didn't bother him at all. Quite the contrary. He was very supportive of Christopher and his work. Very loving man. But I guess the qualities he gave to that character had to be based on him some way, some level of truth. I just don't know how much.
Road Games (1981)—"Patrick 'Pat' Quid"
SK: Working with Jamie Lee Curtis was just delicious. I had a great time with her, and also working with Richard Franklin, the director, who was a Hitchcock aficionado. He had gone to the USC Film School, and he knew every shot—not just every film—that Hitchcock ever made, and I think he was trying to emulate Hitchcock in that movie. It was great being in Australia, although we actually drove across the Nullarbor Plain, from Adelaide to Perth, and the accommodations were… We had to live in these gas-station motels that they had in Australia. We had to take salt-water showers, I remember that, too. But it was great. And it's a fun movie. I enjoyed it. I had a really good time.
[pagebreak]
Prison Break (2005-2007)—"Warden Henry Pope"
SK: Well, I was very disappointed that everybody got out after the first season. I was hoping that they'd be able to stay in jail for another two years. [Laughs.] So I only really had one year on that show. But it was so well-written. The characters were so clearly delineated, beautifully cast… It was a joy to work on that show. And in terms of my own experience with Warden Pope, I, uh, had some problems in England which were rather well publicized, and I was in Reading Prison. And the warden there was a man who believed much more in rehabilitation than he did in punitive punishment. He thought that the people there should be given a chance to rehabilitate themselves. He was a very liberal warden—or the captain, as we called him—and, as a result, he was my role model for Henry Pope.
The Neighbors (2012-present)—"Dominick Weaver"
SK: Oh, yeah! I love The Neighbors. That's a fun show. He's sort of a knock-off of Ken Titus, but not quite as extravagant. Nevertheless, I like working with Lenny Venito. Yeah, that's a good show. Some wonderful writers on that show, I think. And it seems to be doing pretty well.
Two And A Half Men (2010)—"Tom"
Anger Management (2013)—"Ray"
SK: That was great. [Laughs.] That was one of my faves, yeah. I had a lot of fun with John Amos. We had so much fun together. And Charlie [Sheen], he was absolutely perfect. All the bullshit about him being trouble, it couldn't be further from the truth, in my experience. He's one of the most professional, likeable, generous actors I've ever worked with. It was great. And I just did a quick blurb with him on Anger Management, his new show. But I really enjoyed working with him and John Amos. Being able to play a gay who's not swishy-gay with John was a lot of fun.
Fat City (1972)—"Tully"
Lights Out (2011)—"Robert 'Pops' Leary"
SK: I loved playing Pops Leary because I had boxing experience many years ago, when I did Fat City with John Huston. And having been trained by José Torres, I felt very much at home with Pops Leary, because he was a dad/trainer. It was great getting back in the ring. It felt good. I was just so disappointed when it didn't take off [as a series]. Holt McCallany's not just a wonderful actor, he's also a great guy. As a matter of fact, it was on Lights Out, and with Holt, that I met Stuart Miller, a journalist, who said, "If you ever want to do a memoir, you should get in touch with me." And he just happens to be the guy who's sitting with me now, even as I'm speaking to you. [Laughs.] And it was all because of Lights Out. So Lights Out is a very special project for me in more ways than just playing Pops Leary.
AVC: How was the experience of working with John Huston on Fat City?
SK: He was one of those directors who was just magical, because he's not only an actor and a wonderful director but also a writer. So working with him, I was very much at home. He would let the actors direct scenes themselves, or at least stage them. The scene with Susan Tyrrell in the apartment, where we're having dinner, he said, "All right, you guys work out where you're gonna move and what you want to do in this scene, then come and call me, and I'll come and take a look at it." He did that with a number of scenes. He said, "Figure out what you want to do, then show me what it is." Then he'd come in, and he would tweak it here and there and make little changes. But it was wonderful, because everything was very organic in that respect. It came out of the actors themselves rather than something that our director told the actors to do. And it was really wonderful working that way.
During the fight sequence, after we choreographed the fighting, he said, "All right, boys, I've seen how it's staged, now I want you to get in the ring and box. Just get out there." And Sixto Rodriguez [no relation to this Sixto Rodriguez —ed.], my sparring partner in that scene, was a professional fighter who'd had 87 professional fights. He was a light heavyweight. He never got a shot at the title, but he was at one point a contender. And he was built like a… he had these arms of steel, and he said, "Man, you can hit me as hard as you want!" And I hit him in the stomach one time, and he had a natural reaction as a boxer: a right hand came flying out of nowhere and knocked me out. Knocked me cold. And that's the shot John Huston used in the movie. [Laughs.]
The Killer Inside Me (1976)—"Lou Ford"
SK: Well, you know, I've always been a Jim Thompson fan. I love his stories, so I was familiar with the book, but they were concerned that everybody would know right away that this sheriff was a psychopathic killer. So they wanted to change the title of the movie to The Nicest Guy In Town. [Laughs.] They actually talked to me about that. I, uh, told them I didn't think it was a good idea. I enjoyed working with Susan Tyrrell again, having worked together on Fat City, and I found the character fascinating. I also got to work with some of the best character actors in the business at that time: John Dehner, Charles McGraw, Keenan Wynn, and, of course, the inimitable John Carradine. So I had a great time with those guys, and they taught me a lot, as I knew they would. They were so much fun, to listen to their stories and just to be around. It was a great experience from that point of view.
The Ninth Configuration (1980)—"Col. Vincent Kane"
That Championship Season (1982)—"James Daley"
SK: I've been very much into That Championship Season as of late because I just finished doing Nebraska, with Alexander Payne. Bruce Dern is the star of that film, along with Will Forte, but it was like a reunion between Bruce and I from our That Championship Season days, and we reminisced about our dear friend Jason Miller, God bless him, who is no longer with us. But Jason and I had a history that went back to The Ninth Configuration, or Twinkle, Twinkle, Killer Kane, as it's also called.
That Championship Season was a disappointment in this respect. We were in Scranton, Pennsylvania, shooting all of the scenes that took place around the school and the exterior of the town. That's where Jason was from, and that's why we sort of based that story out of Scranton, Pennsylvania. Given that we did it with Robert Mitchum, Paul Sorvino, Martin Sheen, and Bruce, we were so excited about the possibilities of this becoming a wonderful film. And we got a call from the executive producer, Menahem Golan, saying, "We're not gonna do the flashbacks. We're not gonna see the team as they were in their heyday, when they were champions." And that was a big part of the script, these flashbacks; it made it a movie. But those scenes were deleted. So we came back to California, we went to the studio, we shot all of the interior stuff in the house, but it never quite got out of the proscenium arch. It was always sort of too much of a play. It should've been more of a movie. It had all of the potential to be. So that was a bit of a disappointment.
Nebraska (2013) —"Woody's Friend"
Sin City: A Dame To Kill For (2013)—"Wallenquist"
Hopefully Bruce's and my new movie, Nebraska, is going to be an interesting piece of work. Having shot it with Alexander in Nebraska, in these small towns, in black and white, I think it's gonna be interesting. And speaking of black and white, very close on the heels of Nebraska, I went to Austin to do this crazy character in the new Sin City film. I just finished that, in fact.
AVC: Frank Miller told Variety that your character is "the one man who can't be redeemed in Sin City. He is pure evil."
SK: [Laughs.] Well, that's good. I enjoy playing irredeemable guys on occasion.