Reversing a decision it made earlier this week to cancel a pair of panels focused on the cultural hurricane that's been hovering malevolently over the world of video games and their attendant online discourse for more than a year, SXSW has announced a day-long summit to address the topic of online harassment. Dubbed the Online Harassment Summit, the event will take place on March 12—during the longer SXSW convention—and will feature revivals of both of the canceled panels, which were abruptly removed from the schedule after the conference received "numerous threats of on-site violence."
Now, SXSW has apologized for that decision, releasing the following statement:
"Earlier this week we made a mistake. By cancelling two sessions we sent an unintended message that SXSW not only tolerates online harassment but condones it, and for that we are truly sorry.

The resulting feedback from the individuals involved and the community-at-large resonated loud and clear. While we made the decision in the interest of safety for all of our attendees, cancelling sessions was not an appropriate response. We have been working with the authorities and security experts to determine the best way to proceed.

It is clear that online harassment is a problem that requires more than two panel discussions to address."
The statement didn't go into many more details about what the summit will look like, but did mention that representatives from both panels—SavePoint and Level Up, which sit on opposite sides of the shitshow of journalistic ethics, misogyny, and the politics of powerlessness known as GamerGate—will be involved. Attendees can also expect to hear from a number of confirmed speakers from outside the immediate controversy, including Facebook's Monika Bickert, Vice's Sarah Jeong, and former Texas congresswoman and filibuster hero Wendy Davis. (You can see the full list of confirmed speakers here.)
Anyway, now that there's a summit planned to address all this stuff, it looks like online harassment's days are finally numbered. Everyone involved will presumably say their piece, shake hands, and we'll get this thing licked by April. Hooray!
G/O Media may get a commission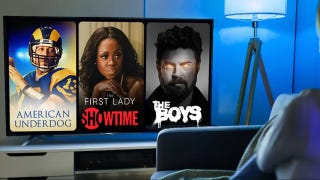 UNDER $1
99¢ Prime Video Channels