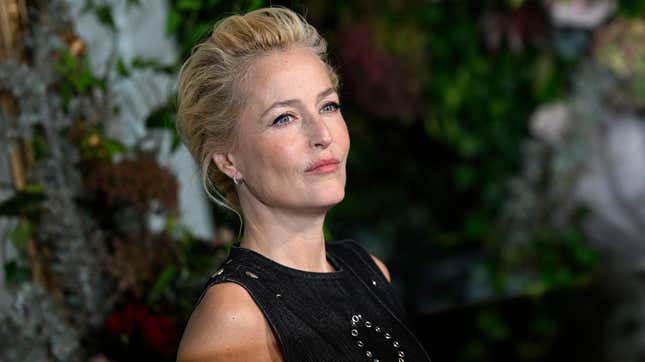 The Crown has enough real-life drama to deal with—both in front of the camera and behind the scenes—that it is really entirely unnecessary to manufacture fake drama around it. Nevertheless, The Sun attempted to stir the pot with a dubious news item regarding Gillian Anderson, who won an Emmy for her portrayal of Margaret Thatcher on the Netflix series.
Gillian Anderson wants women to send her their sexual fantasies
The U.K. tabloid claimed that The Crown wanted to bring Anderson back in the sixth and final season for a scene where Thatcher would share dinner with Queen Elizabeth and Prince Philip. "It had been hoped she would be able to make an appearance in scenes around the golden wedding but sadly that has not been the case due to scheduling issues," said an anonymous source. "As ever with the series, clever scripting will mean viewers will be none the wiser. But it's been another blow for producers in what's already been a fairly dogged production."
Except there were no scheduling issues, according to a rep for the actor, who commented to Metro, "Gillian Anderson was never intended to return as Margaret Thatcher." Or as Anderson herself put it on Twitter: "Absolute bollocks."
Of course, this story was pretty clearly bollocks to begin with, even without The X-Files alum pointing it out. For one thing, Anderson exited the series after the fourth season, after which the show recast its main players and moved forward in time past Thatcher's term as prime minister. If The Crown really wanted to bring Thatcher back, the show could have done so with a different actor, just as the role of Queen Elizabeth passed from Olivia Coleman to Imelda Staunton. Further, coming up with an idea for a script that doesn't pan out would hardly qualify as a "blow for producers." That's just a normal part of the writing process.
The person doing the writing, of course, is Anderson's on-again, off-again partner Peter Morgan. (The long-term couple broke up in 2020 after Anderson played Thatcher, apparently reconciled briefly in 2021 before splitting again, and are supposedly back on as of February of this year, per The Daily Mail.) Anderson told Harper's Bazaar that for their "own sanity," the pair agreed not to talk to each other about the scripts or her performance. "Somehow we managed to stick to it, which is unbelievable because neither of us can keep from expressing our opinions the rest of the time!" She told TV Week in 2020. Obviously, she's not afraid to express her opinion about tabloid rumors, either.