In Hear This, A.V. Club writers sing the praises of songs they know well—some inspired by a weekly theme and some not, but always songs worth hearing.
Pete Drake's 1964 country hit "Forever" exists in the overlap between two daily A.V. Club features. Give a listen to the track without any visuals, and it'll make a fleeting impression: Drake's use of "talking steel guitar"—a technique he'd lifted up from big-band leader and Arcade Fire grandfather Alvino Rey—is novel, but "Forever" is a sleepy little number otherwise. Remove the bandleader's robo-voice and it's a fairly anonymous easy-listening shuffle, a song with a whole lot of atmosphere but little in the way of personality.
Experience "Forever" as an excerpt from the Nashville-flavored B-movie Second Fiddle To A Steel Guitar, however, and it irreparably warps the entire enterprise. The clip is one of my favorite things on the Internet, and a glance at other online reactions to the video indicate I'm not alone in my main reason for loving it: The lip-synced and pantomimed performance is like a two-and-a-half-minute transmission from the mind of David Lynch. What's minutely unorthodox about "Forever" in audio form becomes starkly unsettling in the Second Fiddle footage: The process of making Drake's guitar "talk" is laid bare, mutating into an intimate relationship between man and machine that feels like we shouldn't be witnessing it. Not to mention that the amplifier that feeds the sound of Drake's instrument into his mouth—which he then bends and modulates by moving his lips—just looks so sinisterly out of place among the Grand Ole Opry trappings of the film's stage set.
It also feeds into the notion that there's something slightly off about every other aspect of the performance: The way Drake reaches for the tube as if it would be weird not for him to practically swallow it; the seemingly sedated extras; the four male vocalists who appear to hit some challengingly high notes. Removed from its original context and subjected to the opinions of viewers in the 2010s, a non-offensive bit of Southern-fried easy listening transforms into something unknowingly monstrous. The effect is absolutely fascinating, though it's unfortunate that countless music fans primarily know Drake—a session wizard who backed up Bob Dylan, George Harrison, Tammy Wynette, and many more—as "that weirdo with the tube in his mouth." But that type of novelty certainly is one way to make a song live "Forever," isn't it?
G/O Media may get a commission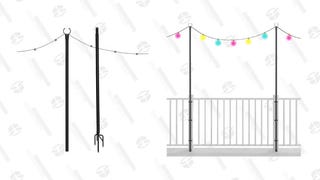 Up To 49% Off
Holiday Styling String Light Poles