Forget things like speedy reflexes and a mind for complex puzzles. Fittingly, given its nearly decade-long development, the attribute The Last Guardian demands most is patience. This is a game that's frustrating by design, where, part of the time, you have little control over how you move forward or whether you move forward at all. It often puts you at the whims of a giant beast with a mind of its own, and although you're bestowed a set of simple commands, there's no guarantee it'll listen. But that lack of control is the entire point. It's what makes Trico, the huge bird-dog that stars in the game, feel like a living animal and not some feathered flying machine. That it acts and moves as genuinely as it does is an undeniable accomplishment and the heart of the game's detached, naturalist disposition.
The Last Guardian is meant to be lived in and experienced at a languid pace that forgives the beast's infuriating independence and treats it as a necessary reminder to slow down, take in the serene vistas of its decrepit setting, and just enjoy the ride. Between its deliberate pacing and Trico's disobedience, it's easy to fall into the lull it so desperately requires, but somewhere during its prolonged creation, even The Last Guardian seems to have gotten fed up with its vital, lifelike apathy and adopted several means of nudging you along. They clash with its otherwise gentle gait and make your lack of control over Trico that much more obvious and irritating.
You first meet your reluctant companion at the bottom of a massive chasm. Pierced with spears and covered in broken armor, the beast is scared and hostile. Any attempt to calm it ends with you, a young boy who's found himself far from home, getting flung across the room and knocked the hell out before waking up and trying again. After pulling the spears out and feeding it a couple of glowing barrels, which the fickle animal will only eat if you're standing far enough away, Trico finally relents and helps you out. It's a preview of everything that's to come on the adventure ahead of you, a taste of all the coaxing you'll be doing to make this thing cooperate and the climbing and lever-pulling needed to open up paths big enough for it to continue along with you.
All the while, there's a voice-over—your future self retelling the story of your escape from this ruined fortress inside a massive caldera—telling you what to do if you display even the slightest hesitation. It continues beyond the opening meet-cute, popping up every once in a while to provide narrative context and explain the obvious puzzles you find yourself up against rather than giving you the freedom to just wander around and figure it out yourself. These fade as the game goes on, but there's an even more obnoxious disruption that never goes away: tutorial pop-ups telling you which buttons to press to climb a ledge or pull a lever or tell Trico where to go. It's not just some minimalist drawing of a PlayStation button integrated into the world, either. It's an entire diagram of the PlayStation controller that pops in and out of view as you walk near interactive objects. And as far as I can tell, there's no way of turning them off.
While there's nothing wrong with the occasional nudge or reminder of what buttons do what, the constant barrage of tips goes against everything the game is trying to accomplish. As director Fumito Ueda himself said in an interview with Eurogamer, this game is not about constant action and progression. It's about mood. It's about the slowly building bond between the boy and the beast. It's about being okay with the occasional detour. To then go and fill it with these hints—which, when they're telling you how to instruct Trico and it just won't do what you need it to do, serve as a reminder of just how frustratingly little control you have over the beast—is antithetical and harmful to its delicate pace. Their occasional, unwelcome arrival is a downer every time and sticks out like a focus-test mandated sore thumb in a work that is otherwise confident enough to know its greatest strength is leaving players be.
G/O Media may get a commission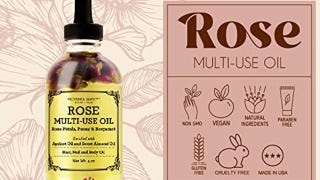 Provence Beauty Rose Multi-Use Oil
When everything's clicking, The Last Guardian is a powerful game that evokes the same quiet wonder of Ueda's past masterpieces and, thanks to your bond with Trico, carries a unique emotional rhythm. It's based on a carefully calculated cycle of rising and falling action, where its satisfying puzzles—all of which require realistically manipulating the objects or physics of the world around you—lead to scenes of harrowing danger and eventually long, aimless stretches that give you a chance to relax with your feathered friend among the fortress' ruined beauty.
It's the comedown that does the trick. You can feel it most nakedly after every battle, when the fortress' armored guards are defeated, the rousing soundtrack subsides, and you have to pet Trico until its rage disappears, as if saying, "It's okay now. They're gone. It's just me." Those moments are mandated, but it's easy to find yourself taking a break to reward Trico even when you don't have to, using the game's dedicated "pet" button to scratch its head after jumping across a crumbling bridge or tracking down a congratulatory snack. At a certain level, this is what the beast's defiance is for as well. As you stand on Trico's back yelling and pointing at the ledge you need it to jump to, its refusal builds an artificial frustration that makes its eventual obedience worth rewarding.
It's hard not to feel charmed by Trico, but the question is: Does your relationship with the beast grow beyond infatuation as the game goes on? Does Trico become more affectionate and obedient as you experience all the wonders and dangers of this mysterious place? That certainly comes through in scripted moments, where the creature will overcome tremendous odds to come to your aid, but I never quite felt it while actually trying to control him. By the end of our time together, it felt like there wasn't a single thing I could get him to do even remotely reliably. Maybe that was Ueda's intent, another way of hammering home the game's apparent message about the futility and evil of humanity's attempts to dominate nature. But intentional or not, frustration is still frustration, and Trico's refusal to do something like pull off the game's dramatic final leap, even after I'd put all the pieces in place and the soundtrack was swelling, is a jarring and deflating disappointment. The struggle is only made worse in certain scenes where technical difficulties, which usually manifest as a niggling occasional slowdown, bring the game to a crawl, and suddenly, you're fruitlessly trying to boss Trico around in slow motion.
[Note: I played the game on a standard PlayStation 4. It's possible that these frame rate problems aren't as bad on the more powerful PlayStation 4 Pro, but 99 percent of people will be experiencing it the way I experienced it, unless Sony issues an update to fix this problem that it couldn't overcome with nine years of development and a switch from the PlayStation 3 to 4. No such update has been announced at the time of publication.]
The Last Guardian is a game about nature, with natural puzzles and a natural pace and starring a simulation of a natural animal. It often makes you feel small and pointless in the way that only nature can, by taking control out of your hands and being content to let you dawdle while it sits back and ignores your existence. That's a humbling feeling and is so subversive in this medium where the player is often the coddled end-all-be-all hero who's meant to subjugate or overcome. But achieving that sensation and maintaining it without destroying the player's interest requires a delicate touch and a dedication to an icy remove that The Last Guardian too often breaks when its atmosphere is pierced. It's as if the game's themes have manifested in an unintentional way. This is such a beautiful, naturalistic creation—in aesthetic and spirit—and this tendency to help the player along feels like some outside force that's latched onto it and exerted its control. After waiting nearly a decade to play this captivating labor of love, it would've been safe to assume its audience has the patience needed to appreciate it.
Purchase The Last Guardian here, which helps support The A.V. Club.