One day in the early 1990s, as Simpsons writers Bill Oakley and Josh Weinstein were working on a script in their office, Matt Groening appeared at the door and blurted out an idea. "We should do an episode like 'Who shot J.R.?'" Weinstein remembers the creator of the show saying, "but with Mr. Burns."
By then, the series had since evolved from a magazine-cover-gracing, T-shirt-moving, Cosby-toppling phenomenon into the best, most subversive sitcom on television. While ascending to a creative peak higher than the Murderhorn, The Simpsons parodied (and paid homage to) horror movies, musicals, political fables, and blockbusters. It was only natural that the show would take a crack at a mystery.
"Who Shot J.R.?", the smash-hit whodunit that unfolded across the third and fourth seasons of primetime soap Dallas in 1980, provided the perfect template for The Simpsons. The key was to come up with something that stayed both true to the show's ethos and to a beloved genre. After all, Oakley said, "Procedural mysteries have a certain visceral appeal to people that you just don't get when you're doing satirical jabs."
A seemingly gimmicky cliffhanger probably should've veered off into "Worst. Episode. Ever" territory. But one important plot point, endorsed by a legendary figure in Simpsons history, helped ensure that the two-part "Who Shot Mr. Burns?" became a classic. Fox's comically relentless marketing campaign helped turn it into an event.
G/O Media may get a commission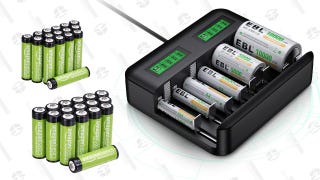 On May 21, 1995, part one aired as The Simpsons' sixth-season finale. It's a moment then-showrunner David Mirkin will never forget. "People in the United States have the kind of lives where they say, 'I can always remember where I was when Mr. Burns got shot,'" he deadpans. "It's kinda sad."

---
The practically nonstop production schedule of The Simpsons has now fuzzed their memories, but Oakley and Weinstein think that Groening planted the seed for "Who Shot Mr. Burns?" in late 1993 or early 1994. At that point, the two old friends—who while attending St. Albans School in Washington, D.C. in the 1980s teamed up to start a humor magazine—had co-written several memorable Simpsons episodes. (To name two: "Marge In Chains" and "Lisa Vs. Malibu Stacy.") The duo loved the thought of someone taking down Springfield's liver-spotted plutocrat.
When Oakley and Weinstein pitched the idea at a season-six story retreat, The Simpsons writing staff liked the concept—except for the proposed ending. The original plan was to make boozehound Barney Gumble the shooter. Oakley and Weinstein thought jokes about the town drunk had grown stale; if Barney did it, he'd go to jail and not reappear for a few years.
"It didn't appeal to me at all," says Mirkin, the showrunner for seasons five and six. "I figured that it would be really funny and good and comical and interesting in a Simpsons way if it turned out to be Maggie." When he proposed that the baby should shoot Mr. Burns, executive producer James L. Brooks cracked up. "It was a big deal to get him to laugh," Mirkin says. "He was a mentor and god to me, so I always remember that moment. And I knew this was probably a good thing."
From the beginning, Brooks had championed The Simpsons and helped shape its sensibilities. His philosophy was simple: The heart of the show should be the titular characters. "That's why he's Brooks," Oakley says. "He has a knack for these kind of things. It's a Simpson. It has to be a Simpson. And, who's the least likely Simpson? Well, it's the baby." Still, neither Oakley nor Weinstein were sold on Maggie as the culprit. A clever suggestion about her motive by Mirkin ended up convincing them: The pacifier-sucking infant had to have a logical reason for shooting the old man.
Long before the big reveal, Oakley and Weinstein had to build a solvable mystery. This, Weinstein says, was a welcome challenge for two "super anal writers." First, they devised a scenario in which the entire cast had good reason—beyond the mere fact that he's a heinously malevolent billionaire—to attack Mr. Burns.

The plot of "Who Shot Mr. Burns?" begins with Groundskeeper Willie discovering an oil well underneath Springfield Elementary. Burns promptly bogarts the newly found reserve by employing slant drilling. (Mirkin says writer Jace Richdale suggested the real-life method.) "A non-profit organization with oil?" Mr. Burns says early on. "I won't allow it!" In the process of robbing the school, the increasingly evil Burns fires Mr. Smithers, alienates Homer, wrecks Bart's treehouse, injures Santa's Little Helper, forces the closure of Moe's, gets Willie laid off, cuts funding to Lisa's Tito Puente-helmed music program, and destroys Springfield Retirement Castle. After unveiling a contraption that will block out the sun's rays and make citizens rely only on energy from his nuclear-power plant, a Godzilla-like Mr. Burns gleefully stomps out a scale model of the town.
"You can't beat a story like that, when everybody comes together versus a single villain," Oakley says. "It's The Walking Dead. It's people banding together against an unstoppable force, you know?"
There are also clues. Two decades ago, hardcore Simpsons fans equipped only with VCRs and dial-up internet connections spent hours cataloging the show's endless freeze-frame gags. The episode was a tribute to those amazingly sharp-eyed nerds.
In addition to obvious red herrings like Homer threatening to kill Burns and Barney holding a derringer, the writers filled "Who Shot Mr. Burns?" with a treasure trove of much subtler hints. Mr. Burns talks about stealing candy from a baby. The box of chocolates Homer sends Burns is lined with a Simpsons family photo, and as Burns and Smithers gorge on the candy, Maggie is the first Simpson the audience sees. Most importantly, the initials "MS" (Maggie Simpson) and "WS" (Waylon Smithers) appear in various scenes. "I purposely wanted to construct it so that it made you think that Smithers had done it," Mirkin says.
Working the initials in took a bit of ingenuity. A shot of Principal Skinner's high school diploma reveals that all of a sudden his full name is W. Seymour Skinner. And until "Who Shot Mr. Burns?", Moe didn't even have a last name. Oakley and Weinstein had heard that Gilligan's Island creator Sherwood Schwartz plucked the title character's name from a Los Angeles phone book, and the writers did a similar thing for Springfield's favorite surly barkeep, scanning the "S" section, settling on "Szyslak," and displaying it on Moe's liquor license in "Who Shot Mr. Burns? (Part One)." When Mr. Burns is shot, he collapses on top of a sundial with his arms pointed West and South. This was by design. From Burns's perspective, his arms correspond to "M" and "S" not "W" and "S." Throughout the episode, in a sly attempt to get viewers to read the sundial upside down, certain clocks had been set either to 3 o'clock or 9 o'clock.
---
That spring, Mirkin met with Fox executives to pitch a "Who Shot Mr. Burns?" contest. His first idea involved awarding a million dollars to whoever solved the mystery first. "You never heard so much silence in a room at Fox," Mirkin says. "I said it just for the fun of saying it." They eventually decided on a far cheaper prize: The winner would be animated into an episode of The Simpsons. Then-ubiquitous (and still in business) 1-800-COLLECT sponsored "The Simpsons Mystery Sweepstakes," so the only way to enter was via the collect call service. Twenty years later, Weinstein calls it "delightfully dated."
After part one aired, Mirkin embarked on a one-man misinformation operation. He anonymously called local TV stations and comic book stores claiming to know which character—without ever saying Maggie—shot Mr. Burns. Mirkin hoped somebody would pass along a bogus tip to Entertainment Tonight.
"It was the only time in Hollywood where I really needed dishonest people and I couldn't find any," he says. "Generally they're all over you like a cheap suit." Mirkin quickly realized that everybody loved the show. The feeling, he recalls, was: "'We wouldn't do that to The Simpsons!' It was very sad. Otherwise the evil is just pouring off this city."
As spring gave way to summer, Fox, 1-800-COLLECT, Pepsi, United Artists Theaters, and 7-Eleven launched a reported $10 million "Who Shot Mr. Burns?" ad blitz. The network even commissioned Sun Microsystems to create Springfield.com, which featured the "Bullet-In Burns Bulletin Board" and dossiers of all the suspects. "Using Sun Netra Server computers," gushed one news story, "'Who Shot Mr. Burns?' will be one of the first home pages on the internet to feature fully animated sequences rather than static images or text."
Meanwhile, Fox managed to keep the ending of "Who Shot Mr. Burns?" under wraps. "It hasn't leaked out yet," Groening said at a press event in July 1995. "Not that many people know. Most of the people who work on the show don't know. Some of the people who we think have big mouths think they know, but they don't."
The Simpsons writers knew Maggie was the shooter, but Mirkin says "that's kind of all they knew." Weinstein remembers that the final five pages of the script for part two weren't widely circulated, even among the staff. At first, not even part-one episode director Jeffrey Lynch was aware of the conclusion. "It drove him a little bit crazy, because he's animating all these great details," says Mirkin, who went as far as ordering the production of several dummy endings.
When it came to identifying the culprit, the public didn't fare terribly well. Other than a crack alt.tv.simpsons message board user who the Simpsons staff never could track down, seemingly no one else solved the mystery. Mirkin recalls being sent the initial batch of 1-800-COLLECT contest entries. Every single one was wrong. "We had succeeded, but we succeeded too well," he says. And in a twist befitting a Simpsons episode, the contest's convoluted rules stipulated that the winner had to be selected from the first 1,000 guesses. Mirkin says that the winner, a Washington, D.C., woman who Fox picked randomly, didn't guess Maggie and never actually made it onto the show.
"I instantly sent a couple of goons out to Washington, D.C., with a lot of money," Mirkin deadpans. "She either took the money or they made her disappear. I don't know what happened and I can't really comment."
---
On September 17, as the lead-in to part two of "Who Shot Mr. Burns?", Fox aired what in hindsight feels like The Simpsons' equivalent of the Star Wars Holiday Special. Hosted by America's Most Wanted's John Walsh, Springfield's Most Wanted presented potential motives for a variety of suspects in Mr. Burns' assault. Being broadcast in 1995, the special included celebrity cameos from Courtney Thorne-Smith and Andrew Shue from Fox's Melrose Place, as well as NYPD Blue detective Dennis Franz. (Coincidentally, Oakley's first job out of college was at America's Most Wanted. "I didn't even know it was happening until it was done," he says of Springfield's Most Wanted.) One pious-sounding newspaper critic claimed that for Walsh "to work with Fox on this silly promotional special is to weaken his, and his program's, seriousness and credibility."
The special was an irrefutably cynical and silly publicity stunt—an ad for it shows Grampa looking at a photo of Walsh and saying, "Hey, that's not Matlock!"—but that was the point. "You were not forced to watch it," Mirkin says. "It was only for you if you were completely into this mystery of which cartoon shot another cartoon."

As it turns out, the mystery stood on its own. Part two of "Who Shot Mr. Burns?" focuses on the crime being pinned on Homer after Chief Wiggum finds Simpson DNA (the concurrent Trial Of The Century already had alerted Americans to the existence of such a thing) on Mr. Burns' suit. Before Homer is exonerated in the denouement, the writers managed to squeeze in a Twin Peaks parody, a dream sequence starring Smithers and Burns as undercover race-car-driving detectives, a Burns-bashing song by guest star Tito Puente and his Latin Jazz Ensemble, and a lie-detector gag for the ages. (After watching the episode during The Simpsons marathon on FXX last summer, Oakley realized that the bit actually was an accidental homage to a scene in "Treehouse Of Horror III.")
The writers originally hated the ending: After attempting to take a lollipop from Maggie, Burns' gun falls out of its holster and into the hands of the baby, who pulls the trigger. "She accidentally shot him?" Oakley remembers thinking. "We're gonna waste everybody's time." Mirkin placated the staff by making sure that in the final shot of the episode, Maggie's eyes dart side to side. It's as if she's saying, "This was no accident." "That," Weinstein says, "totally sold us."

Fox's marketing push paid off. The second installment of "Who Shot Mr. Burns?", The Simpsons' seventh-season premiere, finished first in its Sunday night time slot, beating fellow mid-'90s time-capsule objects Lois & Clark, Cybill, and Mad About You.
For Oakley and Weinstein, who had just become Simpsons showrunners, the success of "Who Shot Mr. Burns?" wasn't immediately satisfying. The premiere party, Oakley recalls, was stocked with disinterested middle-aged suits. "You know the joke in the 'Poochie' episode where Homer says, 'Quiet, you're missing the jokes!'?" Weinstein says. "It's just like, you're watching an episode with a big crowd of people and they're not gonna be paying attention. It's bound to be anticlimactic."

"It was such a big fucking letdown," Oakley says. "I think there's a massive disconnect, and I think there always was, between the audience of kids and teenagers who love The Simpsons and grown-ups. Not only the grown-ups who watch it, but the grown-ups who are involved with it. If I had been at this party as a teenager I would've been like, 'Oh my god, this is the most amazing thing that I've ever attended.' We were at this party with 300 people from Fox. All this hype, all this promotion. It was like, 'Huh, the baby did it.'"
It wasn't until much later, Weinstein says, that they realized that they'd written something that people, most of whom probably were kids at the time, loved. The show has attempted nothing like it since.
"That was definitely a singular experience in this incredibly ridiculously long show, and has never been repeated," says Mirkin, who went on to direct Romy And Michele's High School Reunion. "And so I'm proud of it for that reason and also proud of the fact that we haven't slavishly gone back and tried to repeat it again and again."
The Simpsons has produced funnier, more emotional moments, but this was a bona fide media event. Mirkin's just glad parents didn't revolt after Fox spent a summer pushing 64-ounce sodas and collect calls on their children. "They forget the anger and it eventually becomes a pleasant memory," he says. "And we depend on that."