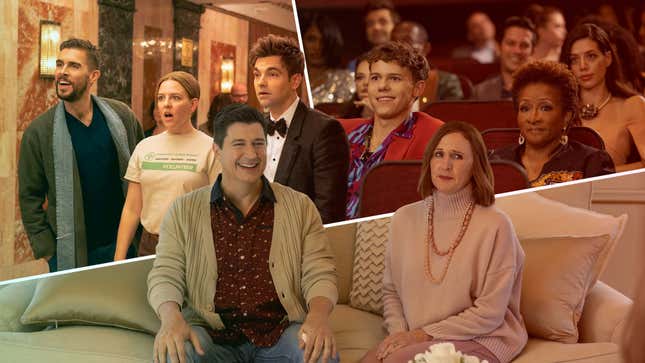 Defining The Other Two as a mere laugh-out-loud comedy would be unfair to Max's audacious, unfiltered series. It's actually howl-out-loud levels of funny in its third season, which wraps on June 29. Compared to other recent hits in the genre, from the overlong Ted Lasso to the darkly serious Barry, from the quietly sublime Reservation Dogs to the anxiety-inducing The Bear—each impactful and funny in their own ways—The Other Two far surpasses those series in terms of its farcical tone.

The feud between Howard Stern and the world's smuggest man, Bill Maher, has come to a tentative ceasefire
In its latest batch of sharply written and performed episodes, The Other Two hits its stride with cultural and political jabs, packing in a ton of timely satirical commentary. You will uncontrollably guffaw at its takedown of Disney's surface-level commitment to representation and billionaires obsessing over space, which both happen within the same delirious half-hour. And that's not nearly it. A never-ending Broadway play about AIDS? A Pleasantville spoof about insufferable artists? Examining toxic fandom culture with the help of an Ann Dowd cameo? Yeah, the show isn't shy about prodding trends or morphing them into a barrage of unforgiving jokes that skewer the current state of Hollywood, or "the industry," as Brooke Dubek (Helené Yorke) affectionately calls it.
To be clear, The Other Two was always a gem. It began as an underrated one on Comedy Central in 2019, gaining popularity primarily due to word-of-mouth; Twitter and the internet were beneficial for once, and the cult favorite moved to HBO Max with season two. It helps that the series hails from talented Saturday Night Live alums Chris Kelly and Sarah Schneider, with an ensemble that includes vets like Molly Shannon, Ken Marino, and Wanda Sykes. The show's real stars, though, are breakouts Yorke and Drew Tarver. They play forgotten siblings Brooke and Cary, lingering on the periphery as their teen brother and mother achieve unparalleled success in Hollywood.
They're desperate for a similar fate, helplessly watching Chase (Case Walker) turn into the show's version of Justin Beiber, and their mother, Pat, transform into basically a genuinely nice Ellen DeGeneres type. Meanwhile, Brooke and Cary grow increasingly maniacal as they try to establish careers as a manager and an actor, respectively, floating on their family's connections but often failing spectacularly. Through this unique perspective of being almost invisible, The Other Two discerns precisely the chaotic absurdities of trying to make it in Hollywood.
In anyone else's hands, it would be limiting to constantly poke fun at Brooke and Cary's professional environment. How many Scientology quips and celebrity cameos can you throw in before they get repetitive? Yet, Schneider and Kelly have found a coherent narrative so the running gags don't feel like an overextended SNL sketch. Just look at Cary's outrageous season-three relationship—he dates Lucas (Fin Argoy), a fellow actor obsessed with method acting. So when he's in an AIDS play, a Christmas movie, or playing a serial killer in an excellent Dahmer reference, Lucas won't sleep with him. A selfish Cary is painful to watch, but a sexless Cary? He's a real villain.
He eventually triumphs with his film, Night Nurse, a voice role as Disney's first gay amoeba, Globby. (The correlation to Elemental is chef's kiss, timing-wise), and a legal procedural with Dana Delaney (The black-and-white set of Emily Overruled finds color once the ensemble realizes they don't need to rattle off a mundane script.) So what if Cary dismisses his supportive best friend along the way? At least he got to wear an outfit similar to Billy Porter's 2019 Oscar gown. (The clothes are a perfect parody because Cary sports the polo made famous by Chris Evans once Disney traps him in its contract-heavy claws.)
The minutiae of Brooke and Cary's lives become the butt of extraordinary jokes. Brooke is committed to "doing good" to feel worthy of her perfect himbo nurse boyfriend, Lance (Josh Segarra). It means hosting an all-day marathon for mental health that delivers riotous insults ("Up next, three performances from John Legend that will make you think, 'Huh, he just doesn't like to be home'") and Brooke locking up an "expert" in the closet, something The Idol unironically does with an intimacy coordinator in its premiere. Perhaps the co-creators can see into the future, or maybe they're just incredibly aware of the industry's next missteps. The Other Two often feels like a spiritual successor to 30 Rock.
While this happens, Chase and Pat retcon what it means to be popular if they can't even date the normies they like. Instead, they're paired up with Kiernan Shipka and Simu Liu, respectively—the latter is up for various wisecracks at his expense, standing sadly as Shannon's Pat admits to her family that Marvel hero Liu is terrible at oral sex. (Side note: The cameos this season are unreal).
Yet as much as The Other Two mocks the Dubeks, the show can be oddly grounded. Pat's wistful monologue in episode eight, realizing she can never live normally or move back home to Ohio, is surprisingly hard-hitting. And that's how the show remains stable even while delivering mile-a-minute jokes. The comedy and insights into media, Hollywood, and politics are accurate and surreal, yes. But this is also a layered family—one that just happened to get swept up in the glossy allure of fame and its perks, like being able to boast at your high school reunion or getting to hang out with Ben Platt and Alessia Cara. (Before you ask if those are real perks ... that's the joke!).
Who knows if The Other Two will get a fourth season with everything happening at HBO? If David Zaslav does one thing right, the streamer will renew this. If he doesn't, we'll know The Other Two went out in a blaze of glory.