What do Instagram, the Ghost In The Shell movie, and (most likely) your high school history class all have in common? A propensity for whitewashing. Instagram's preset photo filters do not really take into account the variations in people's skin tone. Most darker skin tones end up getting washed out, lightened, or otherwise distorted in unflattering ways. But a badass team of designers and developers have answered with Tonr, a more inclusive photo filtering app that celebrates dark skin instead of erasing or whitening it. Vox Media's senior designer Alesha Randolph, designer and illustrator Brittany Holloway-Brown, product engineer Aidan Feay, designer Scott Kellum, and coder Pamela Assogba created Tonr during a 2016 Vox Media hackathon. According to the app's website, Tonr was created to address photography's long history of racism and its effects, including social media photo filters that "emulate film but do not correct for the racial disparities" of the industry.
With tonr, our team wanted to create an inclusive app with a variety of photo filters that amplifies how beautiful a variety of skin tones are instead of washing them out. The goal of tonr is to create filters that affirm that black, brown and other skin tones are beautiful. We looked towards deepening the subjects' skin instead of lightening, emphasizing the richness and saturation of melanin and playing with interesting color overlays.
Tonr is by and for people of color. Randolph told Mic that she, Holloway-Brown, and Assogba all had a photoshoot to test the filters on themselves as black women before later trying them out on photos of celebrities of color. "I think just knowing that the app was created by people of color feels empowering to the community," Randolph said.
Holloway-Brown told Mic that when she was designing the filters—which boast affirming names like Cotton Candy, Golden, Glow, Sorbet, and Strut—she started by creating filters for darkest skin tones and then working her way back. "I'm a medium-toned black woman, and often times I'm the last point of reference used, from media to makeup to TV, etc.," she wrote in an email. "I think it's very important to think of the margins of marginalized communities."
The Tonr team will continue to work on making the app more user friendly. They're working toward allowing users to log into personal accounts and share photos with other users à la Instagram. For now, users can upload photos, play around with the filters, and save the finished product. The app is open source, and the Tonr team hopes other coders and designers of color will contribute to the project.
"With this app, we wanted to showcase that our skin is not something to be ashamed of, especially since there is a long history of toxic beauty standards placed on us," Holloway-Brown said. "We want to create a space for all types of faces and tones to be accepted and showcased."
G/O Media may get a commission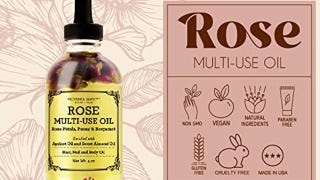 Provence Beauty Rose Multi-Use Oil