Throughout its first season, The Girlfriend Experience has been subtly defining itself from one episode to the next. With every new episode bits of information are revealed, causing the story to consistently change shape and challenge our preconceived ideas of what this story is and where it's going. It's storytelling reminiscent of Bloodline in a way, where new plot and character details would change the way we understood previous episodes and influence how we watched going forward. Where Bloodline's bloated episode runtimes occasionally hindered that type of storytelling though, The Girlfriend Experience thrives largely because of its tight 30-minute structure. This is crucial to the show's success, and that's evident in this week's episode, "Access."
The relatively compact runtime is suited to what the show is trying to do long term, which is essentially present a tense cat-and-mouse game. The first few episodes of The Girlfriend Experience were all about establishing mood and character. Now the show has grown into something more propulsive and less meditative. Sure, the camera still lingers longingly on architecture, and glances should be analyzed with scrutiny, but there's a sense of urgency to the plot that suggests this show is as much an unnerving thriller as it is a fascinating character study.
As unsettling as last week's episode was, "Access" manages to up the ante. There's a tension coursing through this week's episode that never lets up. What's remarkable is how much of the heavy lifting is done by Riley Keough and director Lodge Kerrigan. Shane Carruth's score is practically absent for most of the episode, only swelling in the most tense of moments, so that leaves Keough and Kerrigan with the job of making us as uncomfortable and paranoid as Christine is. The discomfort is established right off the bat. There's Christine finishing the call from Jack that ended "Boundaries," followed by the physical discomfort displayed in the next scene during Christine's Pap test. That discomfort is amplified by the fact that Kerrigan shoots the early scenes her as if Christine's stuck behind bars, trapped in something of her own making.
G/O Media may get a commission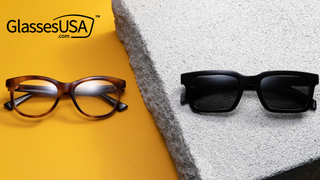 60% off frames
GlassesUSA.com Back to School Sales
"Access" executes a brilliant slow burn from there. Anxiety kicks in when Christine comes home to her apartment to find flowers from Jack at the front desk. She asks the security guard to stand by her apartment door while she turns on all the lights, and while we know nothing is going to jump out and scare us like in a horror film, the fervent pacing from room to room works to build the tension that will ultimately lead to the emotional climax that closes out the episode.
After the surprise delivery from Jack, Christine changes the locks on her doors and installs security cameras throughout her apartment, and this is where the show once again shifts its focus. Where the initial threat of the episode lingers from "Boundaries," with Jack still representing the oncoming menace, the sudden use of surveillance changes everything. Surveillance, at its core, provides a sense of control and comfort. It purports to predict the unpredictable, to warn of incoming danger and perhaps keep it at bay. It's all a façade though. This is why films like Paranormal Activity are so haunting; they explicitly show us that surveillance doesn't keep us safe, no matter what fear-mongering politicians might tell us.
So, Christine installs security cameras, but what does it achieve? Nothing. Simon Burcher, a Private Investigator hired by the children of Michael Cilic, still manages to track her down and find out about her job as an escort. Christine still ends up alone with him while he poses as a client before her alarm bells go off. He still shows up at the end of the episode to threaten her with exposure if she doesn't call the Clilic children's lawyer to revoke her claim on a fraction of Michael's estate. So Christine gets no comfort from her surveillance. She still gazes out car windows and tenses when she sees people looking in, and she has to ask her coworker to share a cab with her because she doesn't know what else is lurking outside the office. The surveillance achieves nothing; Christine stares blankly at the recording of herself masturbating.
The moment where Christine's false sense of security is truly shattered happens right at the end of the episode, and it's a stirring scene. Burcher shows up at Kirkland and proceeds to tell her what she's going to do about the estate. Then, he lists off a number of things he knows about her, including her real name, where she goes to school, and the names of family members. It's just a list of facts, but Paulino Nunes turns it into a chilling threat. Kerrigan makes sure that the emotions experienced by Christine, and wonderfully portrayed by Keough (look at her neck tensing up with rage and fear), are underscored through the direction. The camera cuts back and forth between Christine and Burcher, and with each cut Christine's face is framed ever more tightly. It's part of the show's visual language, using tight spaces amongst the expanse of towering Financial District buildings to show how threats are closing in on Christine. There are no secrets in this world. Everything will come to light.
Stray observations
The only thing keeping this episode from getting an 'A' grade is the narrative contrivance that leads to Christine potentially gaining access to David's XHP files. It's a little too neat and tidy for a show that trades in ambiguity.
I'm still not exactly sure what Christine wants with those files and why she wants them so badly. Just to get back at David? Something more?
The search term Christine enters when looking through the server: Quorta. You can Google it.
Bringing Jacqueline back into the fold was a nice touch.
I don't have anything smart to say about the below screenshot, but The Girlfriend Experience just keeps turning out these gorgeous, compelling exterior window shots.