Permanent Records is an ongoing closer look at the records that matter most.
Despite Kurt Cobain's avowed feminism, grunge ended up primarily a masculine movement—from the lumberjack fashion on down to the hoary classic-rock influences. But the genre's mainstream ascent didn't exactly banish women to obscurity; in 1992, The Sugarcubes, 10,000 Maniacs, and Suzanne Vega had No. 1 Alternative/Modern Rock songs, while iconoclasts such as Annie Lennox, Enya, Neneh Cherry, and Concrete Blonde also had modern rock radio hits. In fact, when Tori Amos crashed the alternative music charts with her debut solo record, 1992's Little Earthquakes, she was helping ease this '80s college rock hangover more than anything—in solidarity with a motley crew of women upstarts that included Lush, Sarah McLachlan, and L7.
When Amos released Under The Pink just two years later, the tide had decidedly turned toward the future, especially where female artists were concerned. The diversity of women making noise was perhaps most impressive: Belly, Liz Phair, Polly Jean Harvey, and The Breeders had broken out during the previous year, while Sugarcubes leader Björk had a newly minted solo career and rock bands such as Hole and The Cranberries were surging. Amos' cheerfully free-form personality—which led NME to once rather derisively describe her as "a 24-karat fruitloop"—and wildly creative, book-smart approach to art and songwriting had plenty of company.
In interviews, she made it clear that she was all about this sisterhood. "It's funny for women, because journalists pit women against each other," Amos remarked to Q in 1994, during a joint interview with Harvey and Björk. "If you think about Jimi Hendrix, Jimmy Page, and Eric Clapton, they were all much more similar to each other than we are. We have tits. We have three holes. That's what we have in common. We don't even play the same instruments. It really disappoints me when some sort of competition has to be manufactured for their little minds and fantasies. That's not growing; that's not support." (Ironically, the article's descriptions of the trio inadvertently pit them against each other; they're dubbed "The Elfin Eskimo, the Kooky American chick, and the Mad Bitch Woman from hell.")
Instead of competing against other contemporary artists, Amos was challenging herself on Under The Pink. The somewhat-dated production and arrangements of Little Earthquakes vanished, replaced by spiderweb-like piano compositions interspersed with moments of unexpected weirdness: the detuned and deconstructed off-kilter chords of "Bells For Her"; the minor-major key shifts on "Cloud On My Tongue"; the sudden rock 'n' roll flashbomb during "Pretty Good Year"; and the strangled, seagull-like programming on "God." Under The Pink's bevy of collaborators also added subtlety. Meters bassist George Porter Jr. and New Orleans drummer Carlo Nuccio performed on most of the record, notably adding slight funk and jazz tinges to the haywire piano of "Space Dog" and ominous low-end rumblings to "The Waitress." Brazilian percussionist Paulinho Da Costa contributes rattling, sizzling rhythms to "God," while Trent Reznor murmurs shadowy backing vocals on "Past The Mission." Plus, the record contains hints of Amos' future electronic direction—for example, "The Waitress" has gulping, dank programming on the verses—and the crashing strings and mincing interlude of "Yes, Anastasia" and the more delicate "Baker Baker" presage her orchestral and classical excursions.
Still, Under the Pink was more subdued and far less theatrical than Little Earthquakes, an approach that suited this record's subject matter. After the harrowing confessions and emotional catharses she'd unleashed previously, Amos focused on the more universal experiences of women: how they related to religion, negotiated power dynamics, explored their sexuality, and navigated through relationships with men and with other women. Drawing from her own observations and memories—as well as Alice Walker's Possessing The Secret Of Joy and stories about Russian Grand Duchess Anastasia Romanov—Under The Pink subverted patriarchal expectations and espoused sexual freedom.
G/O Media may get a commission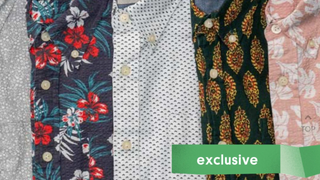 Grab three styles!
JACHS NY Summer Pack
"This record was in a way more exhausting for me," she said on a pre-LP promo interview, dubbed Tea With The Waitress. "Because the last one [Little Earthquakes] was very liberating 'cause I was just beginning to acknowledge things that I had hidden for so many years. That's me allowing that. It is. So I was a victim in a situation. If I keep allowing that memory to run my life, then who's doing that? I can turn that around. And I'm turning it around."
Like Amos, Under The Pink's female characters take control of their own lives, thoughts, and desires. On "Pretty Good Year," the woman is the one asking her man, "What's it gonna take till my baby's all right?" The provocative "Icicle" renounces the idea that being a sexual person and being religious are mutually exclusive: "And when my hand touches myself / I can finally rest my head / And when they say take of His body / I think I'll take from mine instead." Most of all, Under The Pink is concerned with correcting societal and cultural imbalances through purposeful action; for example, the take-charge protagonist of "God" isn't messing around: "God sometimes you just don't come through, babe / Do you need a woman to look after you?"
Yet Under The Pink also examines the psychology of instability—in particular, the insidious nature of female friendships. Insecurity hampers a character in "Bells For Her" ("I said, 'You don't need my voice, girl, you have your own'" / But you never thought it was enough") and eventually crumbles her relationship with a best friend: "You have her face and her eyes / But you are not her." "The Waitress" is a darkly funny (and slightly terrifying) song about the subtle violence underlying competition between women. And "Cornflake Girl" is about betrayal by a fellow misfit—an especially cruel blow, since the narrator figured "hanging with the raisin girls" was safer. According to Amos, that was a true story. "I was betrayed by someone, a girlfriend, who gave me a pretty shitty deal," she told The New Review Of Records. "I think the disappointment of being betrayed by a woman is way heavier than being betrayed by a man. We expect it from you guys. It hurts, but I'm not shocked." Amos recognized that all women deal with disintegrating relationships and two-faced frenemies—and acknowledged the emotional toll they wrought.
With the benefit of hindsight, it's easy to view Under The Pink as one of the more visible mainstream musical champions of third-wave feminism. When discussing "The Wrong Band" (which tackles a sex worker's enlightenment), Amos came out as a staunch supporter of sex workers. "People don't think of hookers as people, but I quite like them," Amos once told Illinois Entertainer. "I find their story really interesting, and when people start judging [them], they should just shut up because they have no idea what it's like to be on the other side." She was equally passionate when talking about reclaiming religion: "For centuries the Church has slammed a crucifix between a woman's legs and even masturbation obviously is a way of dislodging that cross, of self-empowerment," she explained to Hot Press. "And how dare anybody say that my honoring my woman-ness in that way, my relationship with my own body and my opening to this energy between my legs is a 'sin against God,' is 'blasphemous.'" And on a song about a failed romance, Amos invokes her right to choose: "In 'Baker Baker,' not blaming… that's where gaining my power is coming from, being able to say I am the one who has not been able to be intimate, I'm the one who pushed him away." Amos was never associated with the riot grrrl movement, but her ideologies certainly aligned with it.
Under The Pink was a revelation, a series of bold statements from a woman unafraid to speak about taboos and confront ugly truths. She made it clear that being perfect was overrated; one could be both religious and sexual, or have wicked thoughts about a co-worker, and it didn't make her a bad person. These moments most of all cemented her as a big-sister figure who spoke to a generation of teenagers, someone who provided a comforting voice of reason and sanity within the chaos. But Under The Pink endures because it's also a vivid reminder that adulthood is just as messy and traumatic as being a teenager—the problems are just more complex. Amos addressed her youthful powerlessness on Little Earthquakes; on this record, she took big steps toward becoming a woman of strength.