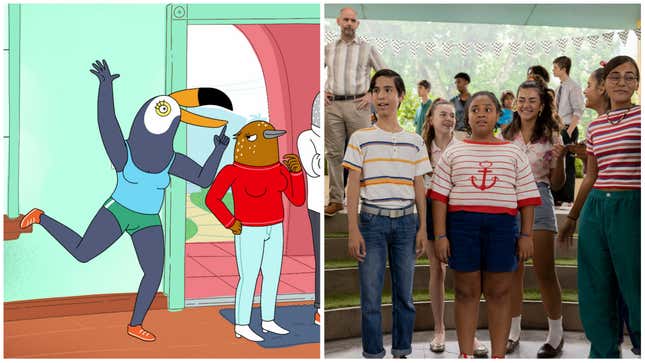 It's another stomach-churning day in the streaming wars. With networks and streamers canceling shows before they air and pulling shows off platforms, it's dark times for fans of America's greatest export: Entertainment. However, that doesn't mean artists are taking the near-constant doom-and-gloom of the streaming news cycle sitting down. Per Deadline, the Writers Guild of America, West, released a statement about the disturbing behavior of one conglomerate in particular: Warner Bros. Discovery.
Why Tiffany Haddish and Ali Wong never gave up on Tuca & Bertie
"Less than a year [after the merger], the company has instead canceled, pulled, or written off $2 billion in content and laid off hundreds of workers in what appears a frantic attempt to justify the consolidation and mitigate the company's $50+ billion in debt," the WGA, West, wrote in their "Broken Promises" bulletin. "The company has cut content ranging from Snowpiercer, one of the last scripted series on TNT, projects in pre-production or development including JJ Abrams' Demimonde series at HBO and Kill The Orange-Faced Bear at TBS (canceled a week before production), and already-filmed features such as Batgirl. The company also pulled dozens of already-released features and series from HBO Max entirely."
Specific creators were also included in the WGA's statement. Among them were Gordita Chronicles creator Claudia Forestieri and Tuca & Bertie creator Lisa Hannawalt. HBO abruptly canceled both shows without being given a chance to succeed after the merger.
"I got into television to counter the negative mainstream stereotypes about Latino communities and tell stories like Gordita Chronicles, which features a young Dominican girl who immigrates with her family to Miami," Forestieri said. "The showrunner and I did everything in our power to set the show up for success, and the first season was showered with positive reviews and strong viewership numbers. But after the merger, HBO Max was given a new mandate from its Discovery leadership to cut costs and Gordita Chronicles was canceled just five weeks after first airing, and will now even be removed from the platform."
G/O Media may get a commission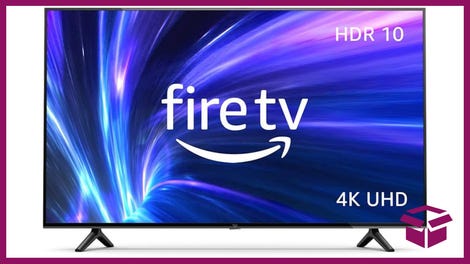 42% Off
Amazon Fire TV 50" 4K Smart TV
Forestieri says, "Executives claimed the cancelation reflected HBO's rebranding," which she read as moving "away from shows about Latino families" and that these mergers can "contribute to the erasure of U.S. Latinos."
Lisa Hanawalt's Tuca & Bertie was saved by Adult Swim in 2020 and saw viewership increases over its two seasons on the network. However, it became another tax write-down for Warner Bros. Discovery last November when the network suddenly canceled it. She wrote:
I originally created Tuca & Bertie for Netflix, but when they canceled it after just one season, we fought to get the series picked up at Warner's Adult Swim network. The women-led series had been a cult hit and a critical darling–the Warner execs knew it needed advertising support and time to grow viewers in the male-dominated adult animation space. But the merger went through right before the most recent season launched, and almost everyone who worked on the Tuca & Bertie marketing team was laid off. Then several of the show's main executives at Adult Swim and HBO Max left in the turmoil. Planned marketing projects to promote the new season didn't happen. Then we learned the show had been cancelled. It's already harder for shows centered on women, and this merger cost us the support we needed to thrive.
With the news that Showtime is getting folded into Paramount+, full seasons of Snowpiercer and 61st Street getting axed before airing, and the steady stream of shows being removed from platforms, it's safe to say that something needs to change.