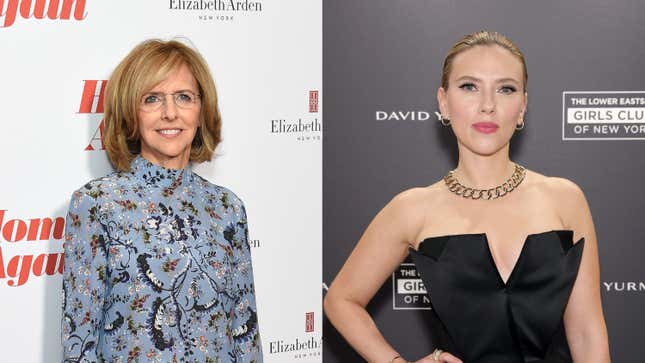 After the news broke earlier this week that Netflix had parted ways with a new Nancy Meyers movie, the project may still live on at Warner Bros. According to The Hollywood Reporter, talks have started over bringing the rom-com from streaming to the big screen. Of course, Warner Bros. has recently become more known for canceling films and TV shows than producing them, so who knows how this will go. But hey, the studio said that's all over with now!

After being announced about a year ago, the Netflix deal reportedly fell through after the director asked for a budget of $150 million and the streamer set the cap at $130 million. Currently only known as Paris Paramount, the film was set to star Scarlett Johansson, with Penélope Cruz, Owen Wilson, and Michael Fassbender also circling the project.
The comedy is apparently a semi-autobiographical story for Meyers, and follows a writer/director who falls for a producer. The two go on to make a number of films together before splitting up both personally and professionally. Naturally, they're eventually forced to work together again, to presumably hilarious effect. Given Meyers' track record, luxurious knitwear and enviable kitchens are probably also involved.
In real life, the filmmaker's partnership with Charles Shyer produced enduring favorites including The Parent Trap, Father Of The Bride, and Baby Boom. Their daughter, Hallie Meyers-Shyer, followed in her parents' footsteps and helmed the 2017 Reese Witherspoon vehicle Home Again, which Meyers also produced.
Per THR, part of the draw for Warner Bros. is how there's already an A-list cast on track to enter production this summer. If Paris Paramount does get picked up, it's inevitably going to bring up some uncomfortable questions about why the studio couldn't have made a theatrical push for a streaming movie that had already been filmed and featured Michael Keaton and Brendan Fraser. (You know, that guy who won an Oscar last weekend?)