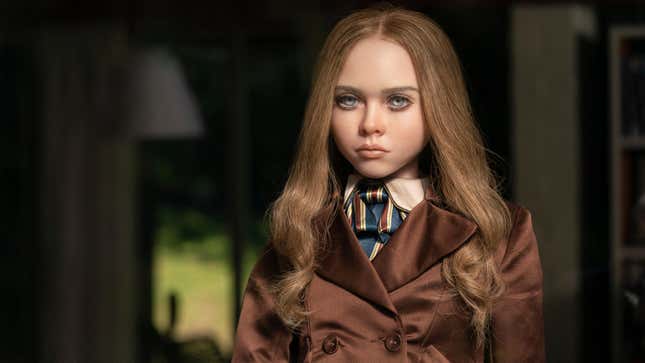 As we've officially entered the theatrical season lovingly known as "Fuck you, it's January," a traditional dumping ground for studios to discard films seen as unsuitable to kick it with the heavy hitters to come later in the year. The first of these for 2023 came in the form of Universal's M3GAN, about a killer AI doll who becomes overly attached to the child she's programmed to protect.
A film like M3GAN would normally capture the attention of fans interested in the constantly expanding mass-murdering-doll corner of the genre or your unemployed friend looking to pass time on a Tuesday afternoon. However, M3GAN has been coded to serve. Along with the innocuous star power of Girls alum Allison Williams and a wicked meme-ified marketing campaign, M3GAN slayed the box office, bringing in $30.2 million its opening weekend.
For an original, not-yet-franchised film, M3GAN surpassed expectations, and per Variety, had a January theatrical debut not seen for a horror film since 2012's Devil Inside.
However, The Way Of Water refuses to be outdone, earning $45 million in domestic box office sales over the weekend. It inches closer and closer to the $2 billion mark, with $1.7 billion earned worldwide. With over $500 million in domestic sales, The Way Of Water joins the ranks of Top Gun: Maverick and Spider-Man: No Way Home, the only two other films to pass this threshold since the beginning of the pandemic.
The result of these two's success is a 70 percent increase in sales compared to the same weekend in January 2022. M3GAN and The Way Of Water's solid performance which helps alleviate the aches and pains of this year's holiday season, which unfortunately resulted in more flops than triumphs. Coming in third and fourth place out of the weekend are Dreamworks' Puss In Boots: The Last Wish, and the Tom Hanks vehicle A Man Called Otto. Don't worry, there's more to come from January, with Teen Wolf: The Movie, Shotgun Wedding, Skinamarink, and more on the way.
Here's the full top 10, courtesy of Box Office Mojo:
1. Avatar: The Way Of Water
2. M3GAN
3. Puss In Boots: The Last Wish
4. A Man Called Otto
5. Black Panther: Wakanda Forever
6. Whitney Houston: I Wanna Dance With Somebody
7. The Whale
8. Babylon
9. Violent Night
10. The Menu