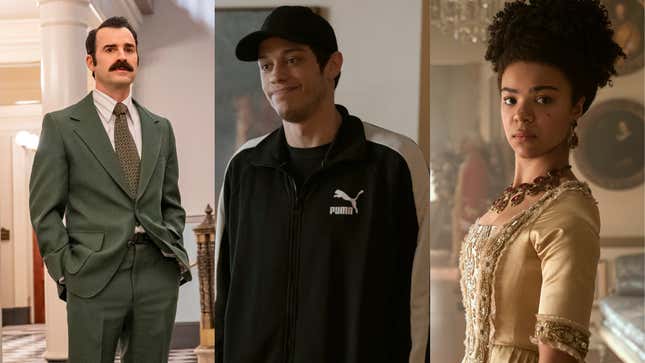 Welcome to What's On, our weekly picks of must-watch shows. Here's what you need to watch from Sunday, April 30, to Thursday, May 4. All times are Eastern. [Note: The weekend edition of What's On drops on Fridays.]

Netflix plans to make you freeloaders finally cough up the dough
---
The biggies
White House Plumbers (HBO, Monday, 9 p.m.)
Justin Theroux and Woody Harrelson play G. Gordon Liddy and E. Howard Hunt, respectively, in HBO's latest political satire. David Mandel's White House Plumbers follows these Nixon operatives, who were responsible for plugging press leaks by any means necessary—but accidentally shattered a presidency in the process. Lena Headey, Kiernan Shipka, Judy Greer, Domhnall Gleeson, David Krumholtz, John Caroll Lynch, Kathleen Turner, Toby Huss, and Yul Vazquez co-star.
---
Bupkis (Peacock, Thursday, 3:01 a.m.)
If there's one thing Pete Davidson will do, it's talk about his personal life and upbringing. After opening up often in SNL's Weekend Update segments and creating The King Of Staten Island, he's now helming Bupkis, an eight-part series on Peacock. Here, he plays a heightened version of himself as he deals with fame in his twenties. Edie Falco and Joe Pesci star as his mom and grandfather, and a roster of celebs drop in, including Ray Romano, Bobby Cannavale, John Mulaney, Brad Garrett, Jon Stewart, and Sebastian Stan. Look out for The A.V. Club's review and our interview with Falco this week.
---
Queen Charlotte: A Bridgerton Story (Netflix, Thursday, 3:01 a.m.)
We might have to wait longer for Bridgerton's third season to dive into Colin and Penelope's love story, but Shonda Rhimes is tiding us over with a spin-off. This series is a prequel about Golda Rusheuvel's character from the original and how a young Charlotte (played by India Amarteifio) fell for King George III (Corey Mylchrees). While Rusheuvel reprises her role, along with Adjoa Andoh and Ruth Gemmell, the show is squarely set before Bridgerton. The A.V. Club's review and primer on Charlotte publish this week.
---
Hidden gems
A Small Light (Nat Geo, Monday, 9 p.m.)
The biographical drama A Small Light unpacks the story of Miep Gies (Bel Powley), who sheltered her employer Otto Frank (Liev Schriber) and his family during World War II. She also hid Anne Frank's (Billie Boullet) diary with Otto's help and later released it to the world. Joe Cole and Amira Casar co-star. The four-episode series will stream on Hulu and Disney+ the day after airing on Nat Geo.
---
The Other Two (HBO Max, Thursday, 3:01 a.m.)
The Other Two might just be one of the funniest TV shows right now. Co-created by Chris Kelly and Sarah Schneider, the HBO Max series centers on siblings Cary (Drew Tarver) and Brooke (Helené Yorke), aspiring Hollywood insiders whose teen brother is a famous singer. And their mother, Pat (Molly Shannon), eventually becomes a popular talk-show host. In the third season, Cary and Brooke find their respective careers (as an actor and a manager) starting to soar. Keep an eye out for The A.V. Club's review and our interview with the creators this week.
---
More good stuff
Fatal Attraction (Paramount+, Sunday, 3:01 a.m.)
If Fatal Attraction had to get a reimagining, at least they chose a talented cast. Lizzy Caplan and Joshua Jackson star in this modern take as Alex Forrest and Dan Gallagher, two coworkers who start an affair. Once he stops showing interest in her, Alex tries to get closer to him again by inviting herself into all aspects of Dan's life. Check out our review.
---
Jimmy O. Yang: Guess How Much? (Prime Video, Tuesday, 12:01 a.m.)
Silicon Valley and Crazy Rich Asians star Jimmy O. Yang drops the comedy special Guess How Much?, his second for the streamer after 2020's Good Deal. This time around, he tackles love languages, loser friends, and negotiating with his parents.
---
Jewish Matchmaking (Netflix, Wednesday, 3:01 a.m.)

Indian Matchmaking wasn't enough for Netflix, so they've expanded on the reality docuseries with Jewish Matchmaking. This show's version of Sima Aunty is Aleeza Ben Shalom, an Orthodox dating coach from Philadelphia who currently lives in Israel and claims to have helped more than 200 couples get to the chuppah. Her single clients are from both Israel and the U.S., and, yes, as expected, the trailer boasts a heavy amount of cringe.
---
Can't miss recaps
Succession (HBO, Sunday, 9 p.m.)
Barry (HBO, Sunday, 10 p.m.)
Somebody Somewhere (HBO, Sunday, 10:30 p.m.)
The Real Housewives Of New Jersey (Bravo, Tuesday, 8 p.m.)
Ted Lasso (Apple TV+, Wednesday, 3:01 a.m.)
Top Chef (Bravo, Thursday, 9 p.m.)
---
Arriving now
Star Wars: Visions (Disney+, Thursday, 3:01 a.m., season two premiere)
---
Ending soon
The Good Doctor (ABC, Monday, 10 p.m., season six finale)
The Rookie, The Rookie: Feds, Will Trent (ABC, Tuesday, 8-11 p.m., season finales)
Schmigadoon! (Apple TV+, Wednesday, 12:01 a.m., season two finale)
The Conners, The Goldbergs, Not Dead Yet (ABC, Wednesday, 8-10 p.m., season finales)
A Million Little Things (ABC, Wednesday, 10 p.m., series finale)
Animal Control, Call Me Kat (FOX, Thursday, 9-10 p.m., season finales)