In We're No. 1, Steven Hyden examines an album that went to No. 1 on the Billboard charts to get to the heart of what it means to be popular in pop music, and how that concept has changed over the years. In this installment, he covers Elton John's Goodbye Yellow Brick Road, which went to No. 1 on November 10, 1973, where it stayed for eight weeks.
Over the course of 27 installments of We're No. 1, my goal has been to figure out what made some of the bestselling records of their respective eras so popular. But as much as this column has been about parsing the particulars of success, it's also been about how good times frequently foreshadow failure. A good number of the records I've written about tell stories about the myriad drawbacks that accompany the ultimate prize in pop music, a No. 1 record. This is certainly the case with The Wall, Bad, and The Miseducation Of Lauryn Hill, to name three examples. This partly is a reflection of my own interests; I like "fame and what it all means" records, and I'm fascinated by artists who sense their inevitable downfall amid the exhilaration of big-time stardom. But it also reflects a sad truth about many No. 1 albums. As I wrote in my piece about Counting Crows' Recovering The Satellites—one of my favorite "fame and what it all means" records—"No. 1 albums often aren't the apex of an artist's career; they may in fact be the beginning of a decline."
It's hard to argue that Elton John "declined" after the release of 1973's Goodbye Yellow Brick Road, which held the No. 1 spot in the closing eight weeks of 1973 and stands as his most popular record. John released scores of platinum albums afterward, and he remains one of the world's top concert attractions. No other artist has been as canny about reinventing himself for different eras and audiences; Elton John has been a sensitive singer-songwriter, an outrageous glam-rocker, a reassuring MOR balladeer, a kiddie-music magnate, and a distinguished elder statesman. Only a fool would ever attempt to write his obituary prematurely. As long as Elton John is standing upright, there's a decent chance that he'll write another hit single or produce a multi-platinum album at some point.
But looked at from a "creative prime" perspective, it's pretty clear that Elton John did not (and likely will not) produce an album as good, ambitious, or influential as Goodbye Yellow Brick Road. The battery of hit singles this album produced—the title track, "Bennie And The Jets," "Saturday Night's Alright For Fighting," the unkillable "Candle In The Wind"—speak for themselves. But it's the deep cuts that help give the album a uniform vision that's decidedly fatalistic and sadly romantic about the ups and downs of celebrity. Many of the best songs on Goodbye Yellow Brick Road are either about famous people or are thinly veiled metaphors about how fame draws you in and sucks you dry.
The Marilyn Monroe parable "Candle In The Wind" is the most obvious example, though not necessarily the best. My favorite "non-hit" from Goodbye Yellow Brick Road is "I've Seen That Movie Too," one of the great unheralded Elton John ballads. Bernie Taupin's lyric conflates a predictable B-movie with the rote arguments that occur at the end of a romantic relationship. The idea is that pop culture is an empty reflection of ordinary life, but sometimes ordinary life can be pretty empty, too.
"I've Seen That Movie Too" is part of a trilogy of songs that form the thematic heart of Goodbye Yellow Brick Road—at least in the way that I prefer to listen to it. The other songs are "Sweet Painted Lady," a lovely shuffle about a prostitute who is described in terms not that far removed from a pop star, and "The Ballad Of Danny Bailey (1909-34)," a retelling of the old Jim Morrison/Jimi Hendrix/Janis Joplin story about a young hotshot dead before his time, only transferred to the world of Prohibition-era gangsters.
G/O Media may get a commission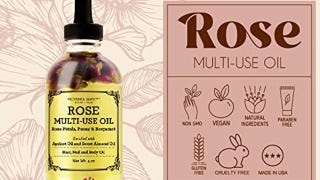 Provence Beauty Rose Multi-Use Oil
The title track is perhaps the most wistful song on Goodbye Yellow Brick Road, with a melody straight out of a Disney movie (20 years before Elton John started scoring Disney movies for real) matched with plainly disillusioned lyrics about stardom. Taupin's twin obsessions at the time—fame and nostalgia—come together on "Goodbye Yellow Brick Road," and they helped him and Elton John become richer and more popular than ever. There was no turning back for these guys, which makes Taupin's yearning "to stay on the farm" all the more acute.
In the Classic Albums documentary on Goodbye Yellow Brick Road, John somewhat separates himself from his longtime songwriting partner as far as this disillusionment goes. John insists he was having a great time in 1973, particularly with the adulation and money that was rolling in after several years of hit singles and bestselling albums. Just one year after Goodbye Yellow Brick Road, Elton John released the first of his many greatest-hits albums. He was only 27, but he had already amassed a lifetime of career-defining songs, including the Yellow Brick Road hits as well as standards like "Your Song," "Rocket Man," and "Daniel." (Then there are the songs that didn't even make the best-of, like "Tiny Dancer" and "Mona Lisas And Mad Hatters.")
What makes John's output in the early '70s even more impressive is the speed with which he turned it out. Between 1969 and '73, he released an incredible seven records. Goodbye Yellow Brick Road, a double-album of 17 songs, was John's second release of 1973, coming just nine months after Don't Shoot Me I'm Only The Piano Player. The follow-up to Goodbye Yellow Brick Road, 1974's Caribou, arrived just eight months later.
The Classic Albums doc also sheds some light on John's insanely rapid recording process at the time: Goodbye Yellow Brick Road was made in just two weeks at the Chateau d'Hérouville near Paris, which is also where John made 1972's Honky Château and Don't Shoot Me I'm Only The Piano Player. (Other albums recorded at the Chateau d'Hérouville: T. Rex's The Slider and Rainbow's tremendously underrated '70s rock should-be classic Long Live Rock 'N' Roll.) John relocated to France after sessions in Jamaica—he wanted to work there because the Rolling Stones had recently made the famously drugged-out Goats Head Soup in Jamaica—proved disastrous. At the Chateau, John returned to his brutally efficient methods: He would get the lyrics from Taupin, work out the melody over breakfast, teach his band the song as he was writing it, and by the end of the day the track would be laid down after a few takes.
Elton John recorded like Robert Pollard, but he turned out hits like Elvis Presley. Alas, John's commercial and artistic synchronicity did not last. Within a few years of hitting his high point on Goodbye Yellow Brick Road, substance abuse would sap John of much of his energy, and the hits (at least temporarily) dried up. He hit a low point with 1979's Victim Of Love, which failed to even go gold in the U.S., a first for an Elton John record since his 1969 debut, Empty Sky. By this point, Elton John finally bid his own farewell to the fanciful yellow brick road of rock-star innocence; unlike Taupin, he didn't do it by choice.
Note: This is my last We're No. 1 column. Thanks for reading!