"Why would a con artist target a private investigator, the one person most likely to bring him down?" asks a character in ABC's The Catch whose boss, elite sleuth Alice Vaughan (Mireille Enos), just got fleeced by the type of suave grifter she prides herself on seeing through. The reason is the same one that explains how an unparalleled Washington fixer found herself embroiled in a torrid affair with the leader of the free world and a fearsome litigator helped her students cover up her husband's murder. It's because The Catch is an archetypal Shondaland drama about a type-A career woman who would be within striking distance of her best self if not for the dashing, dastardly ladykiller occupying her blind spot.
For Alice, that ladykiller is Ben (Peter Krause), who she knows as successful venture capitalist Christopher Hall, her too-perfect fiance. He's handsome, charming, successful, and the right kind of aloof. Alas, there's a catch—the title works on multiple levels. Ben anchors a sophisticated team of con artists alongside Reginald (Alimi Ballard) and Margot (Sonya Walger), his lover and boss. With the wedding date approaching, Ben abruptly vanishes, taking Alice's life savings and her professional reputation along with him. It's up to Alice and her colleagues to track Ben down and exact revenge before dogged FBI agent Jules Dao (Jacky Ido) can nab him first.
It sounds simple because it is. Essentially, The Catch is a gumshoes-versus-grifters color war, and it's frothy and shallow by design. The concept, conceived by British novelist Kate Atkinson, sounded dark and cynical when it was just a logline, especially with Hannibal alumna Jennifer Schuur at the helm. But Schuur left the project early on and Shondaland-approved showrunner Allan Heinberg stepped in to rebuild the show from the ground up, starting with an entirely reshot pilot and reshuffled cast. Most notably, Alice went from being a forensic accountant to a private investigator, and the show around her brightened, taking on a blue-skies tone that would have made it perfect for the USA network circa 2007.
That kind of commercially agreeable retooling usually ruins a show, but not so with The Catch, which works precisely because of Heinberg's changes. Of Shonda Rhimes' block of Thursday night dramas, The Catch most resembles Scandal, with a gorgeous, well-heeled squad of operators doing dirty work for powerful people. But the version of Scandal that was actually fun to watch hasn't appeared in at least two seasons, replaced instead with an inscrutable spy drama with murky stakes and a serious ick factor. How To Get Away With Murder has a better handle on its characters and story than does Scandal, but it's an equally toxic environment. Even Grey's Anatomy, the most optimistic show out of the Shondaland empire, has been consistently dour in its post-McDreamy phase.
G/O Media may get a commission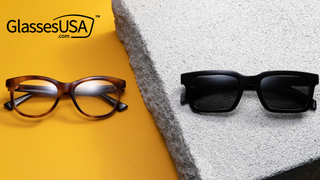 60% off frames
GlassesUSA.com Back to School Sales
When The Catch assumes Murder's 10 p.m. time slot, it'll be like a flavorful sorbet at the end of a heavy, gristly meal. The show tips its hand early, opening with a brisk heist sequence set to Gin Wigmore's "Man Like That," the type of song that sounds specifically composed for television montages. In keeping with Rhimes' brand, The Catch's music does most of the table setting, from the conspicuous pop-song placements to the score, heavy on rubber-band bass and reminiscent of David Holmes' collaborations with Steven Soderbergh. The Catch's visuals are as borderline overstylized as its sound. Director Julie Anne Robinson's coverage is relatively austere, but it doesn't seem that way when scenes are stitched together with busy split-screen transitions.
There are few flaws to be found in the cast, particularly the perfectly chosen leads. Enos evinces just the right blend of tenacity and vulnerability, as does Krause, who has to make Ben look torn between his craft and the genuine feelings he developed for Alice during the long con. Alice's colleagues don't fare quite as well in the pilot, but not because the actors aren't appealing. The pilot spends so much time setting up the central conflict between Alice and Ben, there's not much oxygen left over for Alice's business parter Valerie (Rose Rollins), and peers Danny (Jay Hayden) and Sophie (Elvy Yost). To the extent they're defined in the pilot, it's by their skills and tactics—Danny is prone to bending the rules, and Sophie is, somehow, a lawyer and a hacker.
It's unclear what role any of them have as the show goes forward, and the same can be said of Ben's team. The dark cloud hanging over The Catch is its seemingly self-limiting premise. It's hard to imagine what an average episode will look like structurally, since Alice and Ben's cat-and-mouse game seems too thin to sustain an open-ended series. Even with the private investigation environment acting as the perfect engine for case-of-the-week adventures, the show's balance is tilted too heavily in Alice and Ben's favor. But perhaps the episodic stories will be the real draw of The Catch, which distinguishes itself from its Shondaland peers by being bubbly, not just soapy.