Madonna takes on Tennessee's anti-drag laws
The birth of the Silver Age
Contrary to popular belief, the Marvel Age of comics was not an overnight success.
The first issue of Fantastic Four shipped at the end of 1961. It sold well, and would eventually be seen as the beginning of Marvel's Silver Age—a slow but sure ascent that left the publisher at the apex of the industry by the end of the decade. At the beginning of the decade, though, Marvel was barely a ghost. After the upheaval of the 1950s, when public outcry and industry collusion combined to effectively put large swaths of the comics industry out of business, Marvel was barely alive. It had been forced to accept a punishing distribution deal with National (later DC), limiting the number of titles it could sell in any given month.
G/O Media may get a commission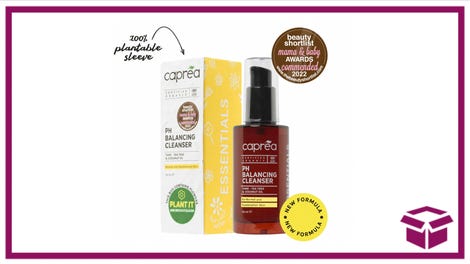 Save $9
47% Off Essential Organic PH Cleanser
Sustainable beauty
Caprea's Essential Organic PH Cleanser is just $10 with promo code TEN. Normally $19, this foaming face wash is crafted with organic Monoi oil. It's meant to target the production of oil secretion while protecting your skin against air pollution. Normally $19, you can save big on this richly-lathering face wash while supporting a brand that keeps the environment top of mind.
The "Silver Age" proper began in 1956, with the release of issue #4 of DC's Showcase. This issue featured the return of The Flash after a five-year publishing hiatus. Only, this wasn't the same Flash: the previous Flash was a man named Jay Garrick who wore a metal cap in homage to the god Mercury, but the new Flash was Barry Allen, a police scientist whose uniform was sleek and streamlined. If the original generation of "Golden Age" heroes had arisen in response to World War II, the heroes of the Silver Age were products of the space race, with all that entailed: both a worshipful obeisance to science and technology as the pillars of Western civilization, and a reflexive Cold War paranoia.
The Fantastic Four didn't come along until five years after the new Flash made his debut, and in the intervening years DC successfully revived a few other superhero properties—Green Lantern, Hawkman, and the Atom. However, it wasn't until DC decided to revive its flagship superhero team-up book that Marvel began to pay attention. In early 1960 the Justice Society Of America became the Justice League Of America. It was the success of the Justice League that finally attracted the attention of Marvel's publisher Martin Goodman. He suggested to Stan Lee (his nephew) that the company might want to get in on the fad by premiering its own super-team book, which Lee subsequently did, co-creating the Fantastic Four with frequent collaborator Jack Kirby.
Fantastic Four was an overnight success that single-handedly jump-started a moribund publisher. But capitalizing on that success, at least at first, was difficult. A few months after receiving the sales figures for Fantastic Four, its second new superhero title The Incredible Hulk came. As odd as it may seem now, the Hulk was not an overnight success at the time, and his first solo title folded after six issues. Obviously there were still some bugs to work out.

The Hulk, like the Fantastic Four before him, didn't resemble any of the superhero character revivals happening across town at DC. During the dark times of the late 1950s, Marvel had kept itself afloat with a handful of romance, Western, and monster books. These weren't recognizable monsters like Dracula, Frankenstein's monster, or zombies—all of whom had been specifically forbidden at the formation of the Comics Code a few years earlier. These were, instead, monsters from space, with the occasional radioactive menace and magical beastie thrown in for good measure—folks like Goom, Googam son of Goom, Fin Fang Foom, and Groot (yes, that Groot), the erstwhile monarch of Planet X. The Thing and the Hulk were half-monster—men tragically trapped by their monstrous alter-egos.
Lo, there shall come a (tiny) hero
Tales To Astonish #27 hit stands at the tail end of 1961, shipping alongside the second issue of Fantastic Four. The same month that featured the Fantastic Four's first fateful meeting with the sinister Skrulls also saw the release of "The Man In The Ant Hill!" by Lee and Kirby. This seven-page cautionary tale featured the adventures of Dr. Henry Pym, a scientist (of some unknown specialty) who stumbles upon a serum that allows him to shrink to the size of an ant. After stumbling around the backyard for a few pages he locates the serum, returns to man-size, and vows never again to meddle with size-altering chemicals.
There isn't a lot in this first story to recommend. Whereas previous issues of Tales To Astonish had introduced readers to such notable figures as The Creature from Krogarr and Moomba, the monsters here were merely normal-sized ants. Pym was about as generic as mad scientists came in the early 1960s, walking around regularly making declamatory statements such as, "When I've finished it, I'll show you! Then you shall know I'm a greater scientist than any of you!" But something about the adventure struck a chord with readers, and with Lee himself, because the summer of 1962 saw the release of Tales To Astonish #35 and the return of Pym, kitted out in a brand-new superheroic identity: Ant-Man. Although Pym himself was introduced directly after the Fantastic Four, Ant-Man is generally considered tied for third in Silver Age Marvel history—created after the Fantastic Four and the Hulk, and shipping to newsstands the same summer as Spider-Man and Thor in 1962. (Thor, it should be mentioned, was an immediate hit as the headliner of former monster book Journey Into Mystery, while Spider-Man would wait another six months to receive his own solo title.)
There was a problem, however. Ant-Man may have been one of the first five Marvel superheroes, but not all superheroes are created equally. He wasn't even the first shrinking super-hero. When DC reintroduced the Atom in 1961, Dr. Ray Palmer invented a belt that allowed him to shrink to subatomic size using the power of a white dwarf star. (The original Golden Age Atom had been Al Pratt, a powerless hero whose great distinguishing feature had been that he was short, which is neither a joke nor funny.) Both heroes were doubtlessly influenced by the 1957 movie The Incredible Shrinking Man, based on the 1956 novel The Shrinking Man by Richard Matheson. But while shrinking down and seeing the world from an entirely new perspective may be an appealing fantasy, as a superpower it might leave something to be desired. Whereas the Fantastic Four and Spider-Man were defined by their famously dysfunctional interpersonal dynamics, Ant-Man was stuck in third gear, tirelessly generic.
Ant-Man's earliest adventures are remarkable only for their unremarkability. Pym is first inspired to don the Ant-Man costume in response to the threat of Communist spies determined to locate another of Pym's miracle inventions—a gas capable of making people immune to radioactivity. In order to protect this strategic miracle Pym busts his shrinking serum out of storage and builds himself a helmet to communicate with ants. Easily the match for Commie saboteurs, he was well on his way to a distinguished superhero career. (It's worth noting that the origins of Ant-Man, the Hulk, and the Fantastic Four all begin with attempts to beat the Soviet Union in the race for strategic technological advantage.)
If successful superheroes have one thing in common, it's the creation of a strong rogues' gallery. This Ant-Man proved a singular failure, devoting the first year of his existence to fighting also-rans such as Comrade X, The Protector, and the Scarlet Beetle. (Although, to be fair, the Scarlet Beetle was pretty cool.) The closest thing he had to an archenemy was D-list evil scientist Egghead, whose head was shaped like an egg. Before even a year had passed, Ant-Man gained a costumed sidekick—rare for Marvel—in the form of his girlfriend, bored socialite Janet Van Dyne. Along with the Wasp, Ant-Man was a founding member of the Avengers when they first assembled in mid-1963.

But none of it seemed to work. After a few more months as a pint-sized duo alongside the Wasp, Ant-Man officially became Giant-Man, using his shrinking serum in reverse. Because Marvel was still constrained in the number of books it could produce, it was forced to combine two separate features into one title. In 1964 the Hulk joined Giant-Man and the Wasp in the pages of Tales To Astonish. Eventually they were kicked to the curb entirely, with the Sub-Mariner becoming the Hulk's Tales co-star in 1965.
A Tale of Two Ant-Men
Hank Pym never found his footing, either as Ant-Man or Giant-Man, with or without the Wasp. While he remained a mainstay of the Avengers throughout most of the team's history, his changing identity soon became a significant facet of his character. He became Goliath in 1966, and Yellowjacket in 1968. Yellowjacket was the result of a botched experiment in which Pym accidentally became schizophrenic, assuming a brash and over-confident personality as a way of over-compensating for his perceived weakness. Later on, this fake (and inaccurately labeled) "schizophrenia" was revealed to be a symptom of real mental illness, cementing Pym's identity as the also-ran who suffered from nervous breakdowns as a result of feelings of deep-seated inadequacy. Pym finally had a dysfunctional personality hook, but said personality came about as a result of his inability to maintain a solo career.
Scott Lang was created in 1979 by David Michelinie and John Byrne. Lang was an ex-con hired out of prison by Tony Stark to work as an electrician for Stark Industries. Although determined to set his life straight, he was forced back into burglary by his daughter's illness. Using information stolen from the Avengers, he broke into Pym's home to steal his Ant-Man gear, and with the equipment was able to save the only doctor in the world capable of fixing Cassie Lang's heart condition. Intent on returning the costume, Pym informed Lang that he had been aware of Lang's activities, and decided to allow Lang to remain Ant-Man on the condition that he always use his abilities for good. With a few interruptions—such as the time he was dead for a few years in the mid '00s (long story)—Lang has been Ant-Man ever since.
If the Hank Pym Ant-Man had been unintentionally hapless, a victim of circumstances who never hit his stride in a swiftly changing marketplace, the Scott Lang Ant-Man was fully aware of his status as a permanent fixture on the C-list. Although he appeared regularly as a supporting player in Iron Man, The Avengers, and Fantastic Four (both of which teams he joined for a period), his superhero activity always took a backseat to his responsibilities as a parent.
The original Ant-Man represented something of a half step between the stopgap monster books Marvel had published in the late 1950s and the superhero books that drove the company's later rise to power. Henry Pym is unique for the ways in which his precarious career was eventually folded into his character: the also-ran feature perpetually in search of a successful gimmick became the also-ran hero in search of a raison d'être. Pym wasn't as smart as Iron Man, as strong as the Hulk or Thor, or as capable as Captain America. Trying to keep up with the superhero Joneses drove him bonkers. In mid-1968, just a few months before the accident that made him Yellowjacket, Pym was responsible for another ill-fated experiment, one which resulted in the creation of Ultron. (In the comics, Tony Stark had nothing to do with the creation of Ultron.) Ultron's genocidal rage was explained as a kind of robo-genetic inheritance, devolving form his "father's" mental instability.
The guilt over creating Ultron added another layer of angst to what was already a deeply troubled character, but Pym wouldn't become truly irredeemable until 1981. Suffering from years of instability, culminating in an episode where he struck a defeated foe from behind, Pym (then still Yellowjacket) was threatened with a court martial by the Avengers. Buckling under the pressure, he concocted a dangerous scheme to win his way back into the team's good graces—by building (another) killer robot to attack the team, a robot which only he knew how to defeat. The Wasp—then his wife—discovered his plan and attempted to deter him.
What happened next remains a source of great controversy. Pym hit the Wasp, a hard backhand that sent her sprawling across the floor. The creators involved insist that a mistake had been made at some step of the creative process: What had been intended by the writer to be Pym merely pushing his wife aside was reinterpreted dynamically by the artist as him assaulting her. There is also the distinct possibility that the creators had no idea how fraught the incident would become, and have spent years trying to distance themselves from the results. Whatever the reason, Pym was caught and expelled from the Avengers for hitting his wife.
That was 34 years ago, and Pym—despite the good work of dozens of well-meaning creators—has yet to recover. He's been "redeemed" in every way imaginable, as both a solo hero and a member of the Avengers. He's reconciled with the Wasp (more than once), sought treatment for his bipolar disorder, and specifically dedicated his life to undoing the evil committed by his robot "son" Ultron. Whether or not any of these actions should have been enough to efface the memory of the one episode of spousal abuse, nothing has ever managed to do so. So while he remains an interesting and often compelling character, flawed and damaged, capable of great heroism while just as often undone by feet of clay, he will almost certainly never again be the protagonist he once was.
From the Silver Age to the silver screen
Until now, Henry Pym has been MIA from the Marvel Cinematic Universe. He didn't cofound the Avengers, and he didn't accidentally create the Avengers' greatest foe. He makes his movie debut played by Michael Douglas, former superhero and current mentor to Scott Lang, the once and future Ant-Man. It's a sure bet that Douglas' avuncular Pym won't be burdened with the same troubling backstory as the comics' version, just as Pym's comics backstory is undoubtedly a major reason why Paul Rudd's Lang is the movie's protagonist.
Ant-Man's first appearance in live action wasn't quite so auspicious. On the March 17, 1979 episode of Saturday Night Live, in a sketch titled "Superhero Party" (the host was Superman's Margot Kidder), Garrett Morris appeared as Ant-Man. To the amusement of his heroic peers, Ant-Man came in for a pretty brutal mocking. He defended himself with the punchline, "I shrink myself down to the size of an ant while retaining my full human strength." Not his finest moment. Ironically, this drubbing came just two weeks following Lang's premiere as the star-crossed hero.
Lang's version has a good hook, in all fairness, and should make for a better movie than one starring Pym's aggressively generic version would. He's an ex-con single father who has to redeem himself by stealing another man's superhero gear. The previews promise that this Ant-Man, unlike Garrett Morris, will be fully in on the joke of his own relative puniness, able to use his status as an unlikely and underestimated hero to his advantage. He may not have the flashiest set of powers and abilities, and he certainly doesn't have the most auspicious character history, but heroes are defined by their adversities. Few characters have faced more of an uphill battle throughout their career than Ant-Man.