Every year, The A.V. Club ventures into the skeeziest, sleaziest dollar stores that haven't yet collapsed under the weight of their own grime, and scans the shelves and walls for the toys that convey the important holiday message, "Eh, good enough." As always, Cheap Toy Roundup aims to help modern-day Scrooges with a guide to the money-saving joys of inexpensive toys, for those who care enough to pay the very least.
Pocahontas: Indian Princess
As everyone who saw the Disney movie knows, the Native American princess Pocahontas was a real historical figure who fell in love with English soldier John Smith, sang him a bunch of pretty, consciousness-raising songs, saved his life when her father wanted to kill him, and took her career tips from a talking tree. Thanks to her bravery and dedication, all those mean white invaders then cheerfully returned to England forever. That history isn't entirely reflected in this toy, which was apparently created with the understanding that Pocahontas was some kind of red-headed, ass-kicking action-movie heroine who saved John Smith by flashing her considerable cleavage at his would-be executors, then taking them out with such traditional Native American weapons as a rifle, various swords, and whatever that thing is with the heart-shaped tip. Bet this Pocahontas doesn't hang around singing with a cute raccoon and hummingbird all day; she's more likely to while away the hours by sharpening blades and trying to invent gunpowder.
FLARP! 
In case the term "flarp" isn't evocative enough, the front of the package of this three-pack of "stink bags" works overtime to telegraph what's inside: "Stinky!" "Yuck!" "P-Yew!" And so on. The back of the package, however, devotes most of its space to the myriad warnings involved in deploying these stink bombs. We thought about setting one off in the name of good journalism, but after reading all of the cautions—choose a safe location, move several yards away after activating, product may stain clothing, walls, or floors, and so on—we got tired and decided to forget the whole thing. Who knew flarping was so complicated?
G/O Media may get a commission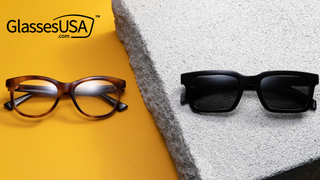 60% off frames
GlassesUSA.com Back to School Sales
Games With Key Chain (REALLY WORKS!!)
"Games With Key Chain" looks like a funny absurdist joke, filled with random bits and pieces that don't look like they relate to each other in any way. There are eight tiny plastic daggers (four hot pink, four neon green), 10 little balls, a thing that looks like a birdcage, and another that looks like a tiny barrel. There are also, notably, no instructions of any kind. As near as we can tell, you're supposed to press the little pirate guy into the barrel, then stab the little daggers into it until he pops out. As for the birdcage, balls, and little make-your-own dice, the packaging suggests you're supposed to put the balls on the birdcage and spin it until they fall off, which doesn't exactly sound like a dollar's worth of fun. Perhaps you're supposed to invent a game with them? Just don't invent a game that DOESN'T REALLY WORK!!, or you'll be defying the packaging.
Animal Sound Tubes
Some of the first things parents tend to teach very young children is what noises animals make: Cows go moo, kitties go meow, ducks go quack, black bears and severed ladies' hands go bwaaaaaaap. Now there's an easy way to teach at least a couple of those lessons, thanks to these noisemaking devices, which are labeled as Animal Sound Tubes. They're educational and creepy! (Well, the black bear one isn't creepy. The detailed furry limbs printed on its sides to make it more bear-like are very cute, and it has an ingratiating smile on its muzzle, as if to say "Please don't judge me harshly just because I hang out in a dollar-store bin with mutilated body parts.") As to the woman's chopped-off hand (hell, let's not be sexist, maybe it belonged to a dude who liked glossy red fingernail polish), it's less unsettling if you stop thinking of it as an aspiring animal and instead think of it as a handy back-scratcher for those who like their back-scratching to come with sudden unpredictable nasal whiny noises. But who doesn't?
Fitment
Most of the verbiage found on dollar-store toys is an affront to the English language, breaking it down to its most basic, disparate components. Fitment goes in the opposite direction, using a word most people haven't seen since the SATs, if ever, to describe this 23-piece set of tiny plastic dollhouse furnishings. But the questions raised by Fitment don't stop at the name. For example, why is the "Season Of Love" hotplate bigger than the "Food Set" refrigerator? What function is fulfilled by the giant oval fitment with "Happy Time" stamped across it? On what channel could one watch Fairy, the show displayed on the television fitment? Do fitments come in colors other than pink and purple? How do fitments taste? That last one, at least, is answered by the packaging, which proclaims that this collection of choking hazards has a "Good taste!"
My Manicurist
While hair and nails are both composed of keratin, the specific tools required for their care and upkeep differ significantly. That doesn't seem to bother the manufacturer of the My Manicurist kit, which seems confident that a real manicurist could make do just fine with hair curlers, a comb, and a headband. The only thing in this kit that even approaches nail care is the purple hairbrush, which could conceivably be a nailbrush if not for the fact that it is clearly a hairbrush. The confusion might be chalked up to a language barrier, if not for the packaging, which features a sketchy motif of nail polish and a nail file, indicating that someone just mixed this up with the cardboard backing for the "My Hairstylist" kit. Somewhere, a little girl is trying to brush her hair with an emery board.
Star Wars Clone Trooper Bobblehead Ship

We were pretty disappointed to find out that this thing is a 2008 McDonald's Happy Meal Toy that wound up in a dollar-store bin, and not the inexplicable Chinese knockoff it appeared to be. That said, this clone trooper's bobblehead is on backward, so he can't see where he's going. Not that he can fly his ship anyway, given the way his tiny nondescript shoulders and arms are wedged into his cheapo plastic ship. Basically, this looks like two toys on two different scales jammed together in an industrial manufacturing accident. Given that it's a Star Wars toy and a Happy Meal toy, though, it's double-collectable, and we're betting there's someone out there who covets it with burning intensity to fill out some incomplete collection. You wanna buy it and underwrite this year's Cheap Toy Roundup, theoretical Clone Trooper Bobblehead fan?
Music Xylophone
This toy is so much better than those Industrial Bore Hole Mining Xylophones we bought for our nieces and nephews last year. Or the Enzymatic Extraction And Genomic Mapping Xylophones that were the hot dollar-store kids' toy back in 2008. Unlike those, this one comes in the form of a stoned-looking duck in a babushka, as all musical instruments should. And this one even says right on the packaging that it produces a beautiful melody, though for honesty's sake, it should probably say, "Might produce a beautiful melody if your kid is talented enough to compose one out of four notes produced by banging a piece of plastic on a piece of metal all damn day."
Jumbo Necklace (Lanyard Included!)
For the wannabe hype man (or hype child) in your family, there exists a metal circle on a golden rope, and the metal circle is made to look like a clock. The clock reads a strange time that is close to 3 p.m., though the hour hand is curiously far from the 3. In any case, no children in the world are likely to exclaim, "Yeaaaaaaah boyeeeeeeee!" when receiving this gift.
Space Weapon Equipment
Military scientists have long tried to solve the puzzle of a space gun that could turn into a space sword, but have never cracked the code. (Space bayonets proved incredibly ineffective.) But at least our children can pretend that such a miracle exists with this "space weapon equipment," a green-and-orange pistol/sword that switches between its identities with a swift turn of the handle—keep it straight and it's a sword, bend it and it's a gun. Either way, it comes with "8 SOUNDS + LIGHT," which is actually a pretty impressive number of sounds and light for a toy this shitty.

[pagebreak]
Blinking Trick Fan
The best thing about this blinking trick fan is not that it's "Novel! Funny! Amusing!" It's that even though the package says, "batteries included," there are no batteries—just some staples in the packaging and two little cylinder-shaped holes where the included batteries once lived. They were clearly long ago harvested like so many black-market organs, leaving this sad little blue fan on its own, powerless. Adding some batteries actually turns the fan into a delight, albeit a dangerous one: The middle of the fan lights up in patterns that might be called novel and amusing, but there's no barrier between little fingers and the tiny fan blades, other than common sense—and who has common sense when there are amusing lights to be poked? Bonus: On smooth surfaces, the fan kinda dances around like a robot.
Happy Superior
Not "Happy Superior Cars" or "Happy Superior Racers." Just "Happy Superior," says the cardboard attached to these six VW Beetle knockoffs. (Also, it says "SPEED POWERFUL," which sounds awesome.) Most importantly, though, there's a drawing of a snail wearing bitchin' sunglasses, because when thinking of fast cars, the first animal that comes to mind is a snail, particularly one that looks like it's at the beach being constipated. The cars themselves have little stickers that say things like "lovely" and "fine," and for some reason have pictures of farm animals on them. Those who actually open the package are greeted by two words in a thought bubble: "Funny cartoon." Really more meta than funny, Happy Superior.
Truck: Super Truck
And speaking of Chinese-made toy vehicles covered with random phrases, there's this adorable little toy truck, which looks like a perfectly fine plastic vehicle. But its makers weren't content with that. The packaging proclaims it to be "Vivid And Great In Style," and the truck itself says, "POWER mightiness" on the front in wee letters. And a little label on the side proclaims Super Truck is "To Be Highly Praised And Appreciated By Consuming Public!" Somewhere in all this is a spider who devoted her life to making sure that her little truck buddy didn't end up in a landfill, and who decided its best chance was to be surrounded with words of effusive praise. All that's missing is a "Some Truck!" label. (C'mon, Charlotte. It's an entirely acceptable toy truck, but it isn't that vivid or great in style.)
Animal Explorer

More lessons about animals: Rhinoceroses are purple, they have rounded faces like hippos, they have long, curved stinging tails like scorpions, and they have flashlights in their mouths. Oh, and when those lights are activated, they make pig noises. This is actually a great toy for a kid who's afraid of the dark and also afraid of conventional, non-cute, non-noise-making flashlights. Or for someone who needs a primer in the genetic-engineering technology of 2075 and how it will be used to create monstrous hybrids to serve our every need, including our need for rhinoceroscorpion light sources.

Battery Operated Blender With Glass And Spoon
"Just Like Mom" reads the packaging for this plastic blender, which allows aspiring mini-mixologists to play along as Mommy whips up a batch of her famous Afternoon Margaritas. (Because all children should be taught that blenders make fun toys.) As the packaging proudly proclaims, it's battery-operated, with the big pink button on the front eliciting a clattering whir from the plastic blades roughly one out of every five times it's pushed. Most of the time, though, the blades just sit there doing nothing, while a puny light on the front of the blender chassis blinks on and off as if to say, "What, you thought your dollar-store toy blender from China would actually work?" Perhaps it has something to do with the batteries provided with the toy, which were bulging out of their compartment when we unwrapped the blender. At least the accompanying plastic glass and spoon are relatively benign, and the packaging is surprisingly grammatically sound, though a bit oddly fixated on the toy's battery power.
"Cuddly Cousins" Hammerhead Plush
Also in the "not the best thing to teach little kids to play with" category: This terrycloth stuffed hammerhead, which is cute and cuddly and noticeably lacking in row after row of razor-sharp, eviscerating teeth. Somewhere out there, a generation of toddlers is learning that sharks are fuzzy and huggable, and setting themselves up for a lifetime of disappointment and confusion, especially when Shark Week rolls around.
Sport Game
The favorite pastime of Milhouse Van Houten, the cup-and-ball gets a high-octane makeover in with Sport Game, which is, according to the packaging, of the "new-style" variety. The sport-game on offer here seems to be sending tiny choking hazards ricocheting across the room: The plastic trigger possesses much more muscle than is necessary to lift a tiny plastic ball, which it rockets sky-high on erratic, unpredictable trajectories. (On the first try, one of ours flew behind a bookshelf, never to be seen again.) The two included cups, which are different colors and shapes, indicate there might be some sort of throw-and-catch element to this sport-game, but the packaging offers no instruction other than a simple, unadorned "Best."
Finger Lights
Finger Lights. They're lights that go on fingers. Pretty simple stuff, but this three-pack—which includes only one finger light that actually works, with no way to replace the batteries on the ones that don't—has in-depth directions on the back, instructing users to switch them on using the "on" button, put them on their fingers, then "Move your finger about and shine light on any nearby surface to make fun color light effects that move and dance about." Strangely missing: the instruction to first take a bunch of MDMA and head to a rave.
Turbo Wheels
Over the years, the Cheap Toy Roundup has featured some mighty crappy stuff, but this one may be the flat-out winner when it comes to low effort: It's some Matchbox-style cars made out of printed cardboard with crease lines so kids can fold them into vaguely car-ish boxy shapes. Advantage: These "cars" will flatten nicely when a stuffed animal rampaging through some toy town steps on them. Disadvantage: everything else about these excuses for toys.
Syp Blank Table Tennis Set
"Syp Blank," as near as we can tell, is Chinese for "ping-pong paddles so cheap, they only have rubber on the side you can actually see when they're safely ensconced in the package." Now why on earth haven't more toy manufacturers learned that a toy only needs to be vivid in style or speed powerful on the side potential purchasers can actually examine ahead of time?