[Note: This article contains spoilers for the most recent episode of Game Of Thrones.]
And so the dance of dragons (and PR obfuscation) continues to the very end, as the media team behind HBO's Game Of Thrones unleashed a volley of new images from the show's upcoming penultimate installment today, operating firmly in the "Famous people stare off into the distance at something" school of total television obscurity upon which the show's largely-unnecessary-at-this-point promotional effort so frequently relies.
G/O Media may get a commission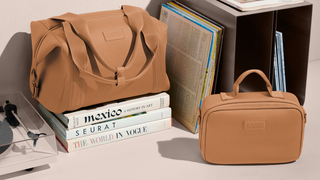 15% off
Dagne Dover Travel Kits
And while recent developments have got us a tad worried that the object commanding so much attention from the likes of Tyrion Lannister, Euron Greyjoy, and Grey Worm might be a copy of the Golden Arches—or maybe a Burger King sign—absentmindedly left in a frame of the show's skyline by an overworked digital editor, in all likelihood, it's probably got to be Cersei Lannister, right? After all, last week's "The Last Of The Starks" doubled down on the queen's Big Bad bona fides, what with her tying the recently dusted Night King in the "dragons murdered" stakes, one of Westeros' most competitive villain metrics. But then, it might be Dany, too; Peter Dinklage definitely has something that might be a "You just burnt how many people alive to avenge your dead best friend?" expression on his face.
Really, though, we'll be pretty happy as long as it's a massive army or a big-ass crossbow or something, and not, say, something far more terrible looming over the walls of King's Landing, his burger-wielding wrath ready to be unleashed.