Back in the late '70s and early '80s, every small town in America had a band like Free Energy. They typically were made up of four or five guys, knew three or four chords, and played music that sounded best blasting out of a Trans-Am's cassette deck on its way to a beer run. And if they were lucky, they scrounged up enough money to buy a cowbell.
Free Energy's 2010 debut album, Stuck On Nothing, was produced by LCD Soundsystem's James Murphy, who gave it a warm, retro sheen and instant hipster cred. The follow-up, Love Sign, is overseen by John Agnello, who's worked with Dinosaur Jr. and Sonic Youth—so the guitars are more prominent this time, and so are the hooks. If the Philadelphia quintet wanted to be The Cars on Stuck On Nothing, it's aiming for Cheap Trick on Love Sign.
Unlike other modern bands that play around with '70s sounds, Free Energy is totally sincere about its facial hair and Thin Lizzy-style double-guitar lines. Singer Paul Sprangers doesn't have a particularly strong or distinctive voice; he's as faceless as any vocalist who fronted a barely famous group back when Cheap Trick At Budokan topped the charts. And the band doesn't have pricey studio tools at its disposal. But it has plenty of meaty hooks.
From the cowbell-powered opener "Electric Fever" to the handclap frenzy of "Girls Want Rock" to the dance shuffle of "Street Survivor," Love Sign is a power-pop throwback that's entertaining as well as indistinctive. Where else could listeners find multiple "whoa-oh" group sing-alongs alongside chunky guitar riffs straight out of the Jimmy Carter era delivered with such earnestness? Besides the Jimmy Carter era, that is.
But it's not all sticky fun and games. The Springsteen-sized epic piano ballad "Dance All Night" sounds way too ambitious and out of place among the album's other bite-size nuggets, and a handful of songs haul out the cowbell and two-guitar attack when they don't have much else to say or do. Love Sign isn't all that different than what shaggy-haired kids were playing at their local live-music clubs circa 1979. The indie-rock buzz is just added perspective.
G/O Media may get a commission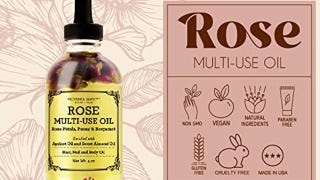 Provence Beauty Rose Multi-Use Oil