If you've watched any cartoons in the last twenty years, you've likely seen something done by Genndy Tartakovsky or, at the very least, inspired by him. He's the creator of Dexter's Laboratory, Samurai Jack, and the Star Wars: Clone Wars cartoon (not the 3D one, but the other one that everyone says you need to watch). His latest projects, the successful Hotel Transylvania films, may look different in terms of animation, but they've still got the classic Tartakovsky approach to frenetic, physical humor. In a recent interview with SyfyWire, Tartakovsky discusses the old school influences that informed his animation style.

"Bob Clampett, Tex Avery, Chuck Jones. Those guys were my number one," says Tartakovsky, after recounting his first experience making an animated short, which was a "slapstick-y" homage to Avery he did during his first year at college. "For me, it was the raw energy and the individuality that the Warner Brothers and Tex Avery's stuff had—and Hanna Barbera too."
That foundation of Bugs Bunny-inspired physicality continued to help Tartakovsky even as he moved on to non-comedy projects like Clone Wars or Samurai Jack, and began incorporating other influences into his style. "All my action principles are very similar to my cartoony principles, because all the poses want to be really strong," he says. "And then through the years, Harvey Kurtzman (of early Mad magazine fame) became a big influence. Of course, anime came into the picture when I was a kid…Everything started to melt together."
Though he may have moved away from 2D animation with the Hotel Transylvania films, Tartakovsky hasn't completely abandoned his first love. He worked on the newest season of Samurai Jack in between his last two films and, though he knows studios are financially wary of doing a 2D feature, he thinks audiences are ready for it:
I think they've forgotten how fun it is to see something 2D on the screen, because when 2D died, we were just repeating ourselves for years. There was nothing new. Everything was the same. So the audiences were burnt out on it. And CG is still fresh, it's still kind of new. And it looks very expensive. It looks very detailed. It looks really good. But it's just a completely different aesthetic than 2D. That's the thing. And once you see a really well-made 2D thing, I think audiences will eat it up.
G/O Media may get a commission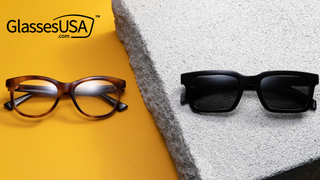 60% off frames
GlassesUSA.com Back to School Sales
He's probably right. Now we just have to convince Tartakovsky to make it. You can read the whole interview—including his thoughts about working within Lucasfilms' parameters on Clone Wars—here.
Send Great Job, Internet tips to gji@theonion.com