After all these weeks of waiting, that glorious thing you look forward to all year has finally arrived: People's Best (and Worst!) Of 2006 issue! That's right, the magazine that recaps everyone who has been photographed and recapped a thousand times already this year is finally here!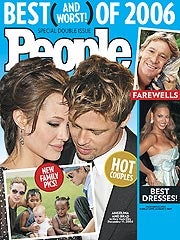 Did you know that Brad and Angelina are a Hot Couple (with a really hot bunch of toddlers)? How about Borat, remember him and his many catchphrases? Did you know that 2006 was the year The Crocodile Hunter died? And who could forget that time that person said/did that dumbass thing? Well, it's all here for you to relive! But, by far the best thing in the Best (and Worst!) Of 2006 issue is this photo of George and Laura Bush at their most casual.
The headline? "One Tough Year" I don't normally recommend that people buy
People, but in this case you should. Computers don't do justice to just how beautifully awkward this photo is: the stiffness in the arms, the mechanical turn of the head, the tension in her face–it's breathtaking. I swear you can almost feel her teeth grinding. Simply put: Best Photo 2006.