No matter what Trent Reznor does—scores a bestselling videogame, wins an Oscar, forms a new band with his wife—he'll never completely shake Nine Inch Nails. The ghost of his recently off-hiatus group haunts every one of his non-NIN projects, from his soundtrack work with filmmaker David Fincher to the theme song he wrote and performed for Call Of Duty: Black Ops II to How To Destroy Angels, the band he put together with spouse Mariqueen Maandig, longtime collaborator Atticus Ross, and art director Rob Sheridan.
Welcome Oblivion, How To Destroy Angels' debut album, follows a pair of EPs that attempted to distance Reznor from his past. But it's not like he strayed too far from the electronic-industrial wastelands that made Nine Inch Nails one of the '90s' most influential bands. Both 2010's self-titled free-download EP and 2012's An Omen built slightly menacing art out of various blips and beeps. Basically, they sounded like Nine Inch Nails records with a female singer.
Four of An Omen's half-dozen tracks show up on Welcome Oblivion, nestled comfortably within the corridors of the whirring, rattling, humming machine work. Reznor still manages to extract melody and an occasional hook from all the noise—a trait that goes all the way back to Nine Inch Nails' first album. The stripped-down and bubbling "Ice Age" is welcoming in ways that NIN never was, and the slow-build intensity of the semi-instrumental "The Loop Closes" sounds like it was scooped up from The Downward Spiral's editing-room floor.
But the album's landscape is mostly littered with bits and pieces of scattered NIN-style electronic debris, like that found on the brief, abrasive opener "The Wake-Up" and the skittering "And The Sky Began To Scream." Maandig softens the space previously occupied by Reznor's howls, here tamed to occasional backing growls. Her breathy, often sultry coos add cloudlike tranquility to the hard rain spilling around her. It makes How To Destroy Angels' music more outgoing and less exciting than Nine Inch Nails'. It also makes Reznor's clean break all the more impossible to achieve.
G/O Media may get a commission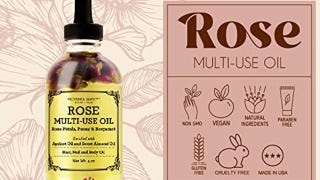 Provence Beauty Rose Multi-Use Oil