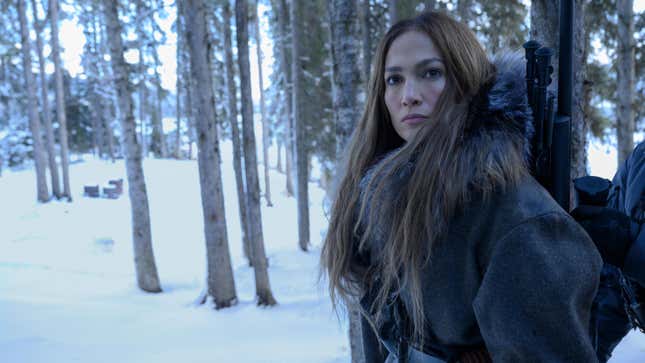 The unserious blockbuster is really and truly back. While raunchy sex comedies like Jennifer Lawrence's No Hard Feelings may be surefire signs of an impending recession, we won't lie and pretend we're not completely thrilled about this long overdue development. And when you get down to brass tacks, what actor has done more for the genre than the inventor of Google images, Jenny from the Block?
D'Arcy Carden talks "Shotgun Wedding" and "A League Of Their Own"
After single-handedly resuscitating the rom-com with hits like Marry Me and Shotgun Wedding, Jennifer Lopez is turning her sights to a different facet of her past: the jokey, self-aware action thriller (see: Anaconda).
This sure-to-be historic flick is titled The Mother, a film about a "killer [who is] also a mother" with the tagline "vengeance is a mother" that premieres on... you guessed it... Mother's Day. Chef's kiss.
JLo is (obviously) the mother in question, a deadly assassin camped out in the Alaskan wilderness after a failed op forces her to abandon her newborn baby. After one of her old enemies kidnaps her daughter some thirteen-odd years later, Lopez's character (who doesn't have a name as of yet, but fingers crossed she stays simply "Mother") is forced out of hiding to rescue, protect, and train the young girl for whatever lies ahead. And... that's it!
JLo spends the rest of the trailer dropping both one-liners and attackers like flies. It's like John Wick (a camp classic, by the way) meets that one episode of Archer where they shoot people while riding around on snowmobiles. No notes. We'll be there on opening night.
Joseph Fiennes, Lucy Paez, Omari Hardwick, Paul Raci, and Gael Garcia Bernal also star in the film which definitely won't become yet another meme in Bennifer's growing arsenal. Oop, too late for that!
The Mother premieres May 12 on Netflix.