Netflix touts its new sketch comedy series The Characters as "outlaw comedy." The formula is simple: Netflix gave eight rising comedians 30 minutes to play around, writing and starring in their own self-contained sketch show. The final products, however, are far from haphazard. Each of the eight comedic brains tapped for The Characters create their own worlds full of incredibly specific details. And though there's definitely a sense that the comedians are wading through the margins of their idea journals, picking some of their weirder characters and premises, no one is just fucking around on The Characters. Netflix might call it "outlaw comedy," but it runs like a well-oiled machine. With few exceptions, each comedian makes the most of every minute they have, spinning complex worlds that most sketch series have whole seasons to build. They get to write the rules themselves.
Of the first four installments, Natasha Rothwell's stands out as a particularly tight episode. Rothwell showcases true chameleonic powers as she slithers through her own world, playing hilarious character after hilarious character, including a homeless person who threatens to spoil Game Of Thrones to subway riders if they don't pay up (genius) and a snotty-nosed little girl named Tynesha who terrorizes her mother's coworkers and also offers very useful life advice with a feminist bent. The episode ends with Rothwell and Saturday Night Live's Cecily Strong rapping about being basic bitches (with spot-on lyrics ranging from "That's right, I'm a basic bitch / Forever 21 got me lookin' rich" to "Got The Bachelor and Shonda on my DVR / I order a vodka cran at every bar"). The song is solid on its own, but it's made even better by its place in the intricate world Rothwell creates. At the beginning of the episode, Rothwell plays a sketch-comedy rendering of herself who goes out the night before she has jury duty. She wakes up with a box of wine labeled Basic Bitch, foreshadowing the beautiful rap that's to come. It's difficult to pull off a callback in a single, self-contained episode, but Rothwell succeeds, and it makes her world all the more cohesive.
Orange Is The New Black's Lauren Lapkus similarly picks one primary premise—a parody of reality dating competitions called The Single Celeb—and uses it to unspool an entire world of weirdos. Unfortunately, fading popstar Whitney Peeps of The Single Celeb makes for the weakest, most trite character Lapkus morphs into over the course of the half-hour. Burning Love so perfectly parodied reality dating series that more recent spoofs tend to live in its shadow. But The Single Celeb still has its ups (all of the contestants vying for Whitney Peeps' love are named Ben, except for a dork named Kendall), and it serves as an excellent vehicle for the episode as a whole. Rothwell and Lapkus both find things to bring a disparate group of characters together: jury duty and reality television. Those simple throughlines make The Characters more than just a wacky incubator for random ideas. Each episode feels whole.
By design, every episode of The Characters has a completely different look and voice, reflecting the personalities of their creators. John Early's episode thrives in its understated moments. Several of his characters are theatrical, but the humor remains subtle and is found in weird places like the simple line "I was injured in a trust fall" and the way Kate Berlant pronounces the names of popular snacks. Tim Robinson makes the most random episode, but even though he doesn't connect his characters as meticulously as the others, it still flows smoothly, bound by his slightly more over-the-top voice. All of the comedians tap other stand-up comedians and improvisers to flesh out their worlds. While the creators do most of the character work, they're crucially supported by small but sharp comedic performances from the likes of Tyson Beckford, Cole Escola, Janna Emig, Jo Firestone, Chris Gethard, Sue Galloway, Aparna Nancherla, Zach Kanin, Conner O'Malley, and Bobby Moynihan.
G/O Media may get a commission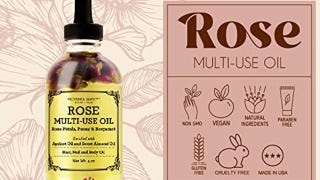 Provence Beauty Rose Multi-Use Oil
The Characters is weird without trying too hard to be weird. For as much careful attention to detail as there is, there's a general ease to the series. The production value is high, but it never feels overproduced. Rather, the mission each comedian sets out to complete is creating a sketch show that makes it clear who they are. Each episode embodies its creator's distinct voice, shows what kind of comedy they're drawn to and excel at. Netflix gave the comedians creative control, so everyone ends up playing to their strengths.