Here's a head-scratcher from California: For some reason, a handful of nuns are refusing to sell their convent, which has been unused for several years, to beloved pop singer Katy Perry. The whole thing has been going on for a few months, and though there are a couple of different reports with varied details, the gist of the conflict is that some of the nuns who are members of Los Angeles' Sisters Of The Most Holy And Immaculate Heart Of The Blessed Virgin Mary want to sell their convent to a restauranteur who would turn it into a hip hotel and keep it open to the public, and the others—plus the Catholic archdiocese that is technically in charge—want to sell it to Katy Perry.
The boring take on this story, which unsurprisingly comes from The New York Times, is that Katy Perry's offer would involve more money going to the archdiocese, while the restauranteur's would have more money going directly to the nuns and their order. The nuns want to be able to control what happens to their property, but the archdiocese claims they don't actually control as it is. See? That's not very exciting.
Luckily, The Los Angeles Times—America's party paper—has a more interesting version of the story. In this account, the nuns had no idea who Katy Perry was when she offered to buy the convent, other than that she was supposed to be a famous singer. So they did some research and dug up some of Perry's videos, which prompted one of the sisters to say that she "wasn't happy with any of it." The implication there is that they thought Perry's shtick was too inappropriate for a (former) house of God, but we're not sure where anyone would come up with an idea like that. After all, Katy Perry is the woman behind such wholesome pop hits as "Teenage Dream" (which is probably about young people fantasizing about respecting their parents and doing well in school), "I Kissed A Girl" (a tribute to chaste signs of affection among friends), and "Ur So Gay" (which, uh, just read the lyrics for yourself).
There's also this video for "California Gurls," which we assume is fine but can't actually watch because our Net Nanny has blocked it for some reason.
Going forward, it sounds like it'll either be up to California's courts or The Pope to decide what to do with this convent. Don't be surprised, then, if Katy Perry starts playing a lot of shows in Italy.
G/O Media may get a commission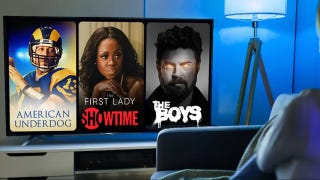 UNDER $1
99¢ Prime Video Channels