Today saw the release of the first trailer for The Last Jedi, a teaser that, as expected, held back most of its major plot points in favor of some striking imagery, the random hustle-bustle of space battles, and a little Force-yoga instruction from Mark Hamill's Luke Skywalker. But more importantly, it confirmed that the title isn't referring to the last Jedi (as in "We're happy you're leasing this apartment. The last Jedi we had in here was a real asshole"), but rather, the final Jedi.
"I only know one truth," Luke says. "It's time for the Jedi to end." And unless he's merely testing her, or there is some unspoken ellipsis there ("…school lunch programs"), or it's a prelude to his proposing a newer, cooler gang of Force users ("And it's time for the Screamin' Scorpions to begin"), the guy whose entire family has been repeatedly torn apart due to the Jedi's self-imposed quest, in a galaxy that just keeps coughing up more Sith lords and planet-destroying space balls anyway, thinks that maybe enough is enough already.
On the other hand, as people on the internet counter, no. No it is not.
Since the trailer's debut, social media has been flooded with devout followers of that hokey religion wielding their most ancient weapons—the Michael Scott GIF, the Tyra Banks GIF, and of course, the White Guy Blinking GIF that for over a thousand generations has been the guardian of peace and justice in the Twitter republic, until people finally knock it off with that shit.
G/O Media may get a commission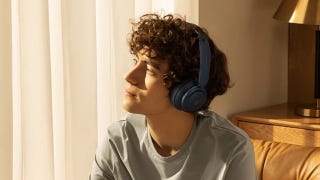 30% off
Soundcore Headphones and Earbuds
God I am so fucking sick of this GIF.
Hey look here's another one.
HE'S BLINKING LIKE HE CAN'T BELIEVE WHAT HE JUST HEARD. IT'S APPLICABLE TO EVERYTHING.
This GIF is going to make me delete Twitter finally, and one day I will thank it.
Anyway, in an amusing coincidence, the Star Wars film series itself contains a line spoken by a character in deep denial—the same character, as a matter of fact, which makes it thrice so! Oh ho! Hoisted with your own rhetorical petard, Hamill!

LUKE: "It's time for the Jedi to end."
ME: pic.twitter.com/WPq5vjygjV

— Will Bardwell (@willbardwell) April 14, 2017
And then there are just your standard refutations that it is Jedi-ending time, predicated on the grounds that they do not want it to be.
I DIDN'T WAKE UP FROM A 3 HOURS NAP TO WATCH THE TRAILER JUST TO HEAR LUKE SAY IT'S TIME FOR THE JEDI TO END

— li$a (@lisawcyne) April 14, 2017
Indeed, you would be hard-pressed to find someone who agrees with Luke Skywalker that they've had it with the Jedi—or if they do, they are apparently too afraid to voice their opinion on social media, likely knowing it would only be buried under the deluge of objections. There certainly aren't enough for a blog post aggregating random Twitter reactions to a trailer, I'll tell you that! If there were, rest assured, I would definitely put one together for you, if only to ensure equal representation across the partisan divide of this hot-button social issue. Or maybe it's just that there's no comparable GIF for expressing quiet consensus? Oh, if only there were a White Guy Nodding Mutedly GIF we could affix to every goddamn thing. Alas, there is not, so the GIFs of dissent will continue to speak loudest.
Still, "Fuck That, My Watch Says It's Still Jedi O'Clock" is a pretty compelling argument—one that will surely only grow more lively throughout the intervening eight months before the movie's December premiere, giving us all ample time to consider carefully the many advantages and disadvantages of discontinuing the Jedi, before the franchise that has plans for literally dozens more stories involving the Jedi makes its final decision.