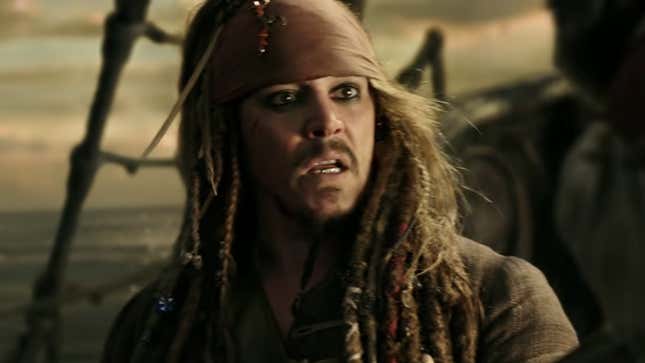 Disney, the company once known for some of the most innovative and imaginative storytelling in the entertainment industry, is now primarily in the business of reheating old intellectual property. Hot off the heels of The Little Mermaid live-action remake, Walt Disney Studios Motion Picture Production president Sean Bailey discussed his future projects with The New York Times, a list that includes a lot of familiar names: Haunted Mansion, Moana, Hercules, Lilo And Stitch, Hocus Pocus 3, Mufasa: The Lion King, and who could forget, Pirates Of The Caribbean.
The latter—possibly a sixth installment in the series, possibly a hard reset, who can say—is apparently a "priority" for the studio. "We think we have a really good, exciting story that honors the films that have come before but also has something new to say," Bailey tells the Times. But can Pirates escape the long shadow of its biggest star, Johnny Depp? Bailey is "Noncommittal at this point" about bringing the embattled actor back as Captain Jack Sparrow.
It's not exactly a "welcome back," but it's not a rejection, either. Depp was booted from the semi-U.K.-based Fantastic Beasts franchise after the English court deemed abuse accusations against him substantially true. But following that ruling, he came out largely victorious over ex-wife Amber Heard in a similar case in the U.S. Pirates producer Jerry Bruckheimer said last year that "I would love to have him in the movie. He's a friend, a terrific actor, and it's unfortunate that personal lives creep into everything we do."
His personal life certainly seemed to creep into the production of Pirates 5, where Depp was rumored to be frequently inebriated and chronically tardy to set, "which often left hundreds of extras waiting for hours at a time," according to The Hollywood Reporter. "There were certainly days when our plans were challenged," Bailey commented to the outlet at the time. "But no one should underestimate Johnny's passion and commitment to this character and franchise."
Basically, it seems like Bailey is staying diplomatic about Depp. Meanwhile, the Pirates reboot (if it can be described as such) is moving forward with a story from Ted Elliott and The Last Of Us' Craig Mazin and a "younger cast," per Bruckheimer. (A separate Margot Robbie Pirates seems to be up in the air.) Whether that young cast will be offset by an aging, rum-soaked rapscallion remains to be seen.