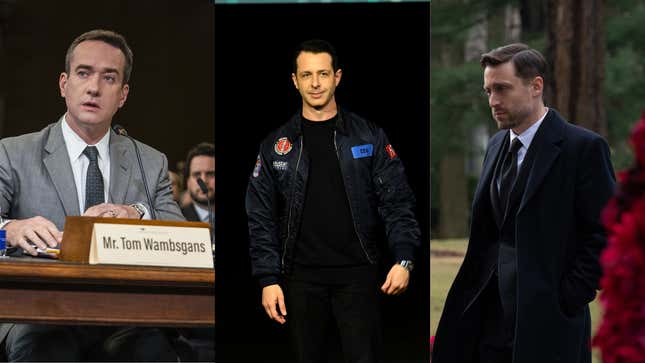 Succession has blessed us with an unforgettable television experience. After four seasons, Jesse Armstrong's HBO saga about the Roys is hanging up its hat, with the series finale airing on May 28. Since its debut, Succession has made clear that the show will never hesitate to embrace cringe with its script and performances. Every snarky insult, sexual innuendo, or seemingly casual conversation is drowning in it.

It's not Succession if the episode doesn't make you squirm, from a single dialogue like Shiv (Sarah Snook) asking Cousin Greg (Nicholas Braun) if he's attracted to her, or season one's entire family therapy episode. The show is often written to give the audience full-body shudders, and it's a massive triumph—look no further than the most recent episode. In season four, episode nine, "Church And State," the clan finally hosts Logan's (Brian Cox) funeral. It leads to some devastating eulogies from Ewan (James Cromwell), Kendall (Jeremy Strong), and Shiv—The A.V. Club's William Hughes recaps it best here. But there's only one recoil-worthy speech delivered to an audience of zero. More on that below.
So, yes, nothing screams cringe on Succession more than when characters steal the focus to deliver well-articulated nonsense. To celebrate the series, The A.V. Club is ranking some of Succession's most cringeworthy speeches. Of note: While there are legendary speeches, like Kendall's "This is the day his reign ends" in the season two finale or Roman going off on Mattson in season four's fifth episode, those are game-changing and heartfelt declarations, respectively. For this ranking, we chose only the speeches that made us want to poke our eyeballs out.