Every day, Watch This offers staff recommendations inspired by a new movie coming out that week. This week: The genre-blending sequel Riddick inspires five days of space westerns.
Outland (1981)
It's a shame that Sean Connery is remembered primarily as the first Bond and as that Egyptian dude who dies in Highlander, since his best work as an actor may be in the little-heralded space Western Outland. While the film is loosely based on High Noon, director Peter Hyams trades the vast expanse of the American West for a dark, claustrophobic mining colony on Io, one of Jupiter's moons. After a series of strange suicides, Connery's police marshal suspects foul play and exposes a conspiracy in the colony's administration. Once the truth is out, hired assassins try to shut him up. Standing in for Gary Cooper, Connery is less a hero than a haggard lawman attempting to remain just within a system that is anything but.
The major draw here is Connery's performance, the most subtle and evocative of his career. Ditching his suave Bond persona, Connery presents his weary protagonist as a man deeply committed to keeping the peace, but also aware of the damage that sense of duty has done to himself and his family. Outland is intense and often obscenely violent, but the best scenes are the quiet ones in which Connery explains to the colony's doctor (Frances Sternhagen, in an equally underappreciated turn), or to his family why he acts the way he does. Rarely is the star given the opportunity to explore the deeper motivations of his characters, and Outland proves he's up to the task.
Outland has a strong streak of social commentary, suggesting that even after humankind manages to settle down on new worlds, greed and conformity will continue to dominate its interactions. The tagline for the film, "The ultimate enemy is still man," sums up its cynical view of the future. Although his criticism of profiteering veers close to heavy-handedness, Hyams manages to keep the tension high. Despite its mediocre ticket sales, Outland will likely be remembered as the director's finest hour; it's certainly better than End Of Days, his biggest hit.
G/O Media may get a commission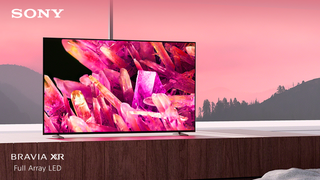 $400 off
Sony 55 Inch 4K Ultra HD TV X90K Series
Availability: Outland is available on DVD (which can be obtained through Netflix), for rental or purchase from the major digital providers, and to stream for free on YouTube.