There is an undeniable lure to obsolete media. The internet proves it every day. Case in point: a stubborn revival of the VHS format. Supplanted by DVD, which in turn was supplanted by streaming video, the once-mighty, now-humbled Video Home System is now bathed in the warm, forgiving light of nostalgia. Wiped clean away are any unpleasant memories of unraveling tape spools, hopelessly jammed machines, forever-blinking digital time displays, late fees at video rental stores, judgmental clerks, and less-than-pristine image quality, not to mention the horror that was panning and scanning. All that remains in the collective unconscious is a vague yearning for those admittedly eye-catching VHS covers of yore, those oh-so-tempting rectangles of delight that once filled up aisle after aisle in rental and retail establishments alike, igniting the imaginations of all who saw them.
In that backwards-looking spirit, there is now a very cleverly-designed Tumblr that presents appropriately faded-looking VHS box art for such distinctly post-VHS-era titles as The Wolf Of Wall Street, Gravity, Game Of Thrones, Dexter, and more. According to its creator, the Tumblr was part of an April Fools' Day prank centered around a fictitious Parisian VHS-collecting hipster named Stan who insists on watching these new titles in an old-fashioned way. There is an article all about Stan and his tapes at a site called Golem 13, but it's in French, so good luck. In this case, however, explanatory text is irrelevant. One need only look at a glorious VHS copy of Guardians Of The Galaxy resting on a top-loading machine to grasp the central concept.
Gorgeous, no? And take a gander at this intriguing Breaking Bad/Interstellar double feature, with a side order of The Walking Dead.
G/O Media may get a commission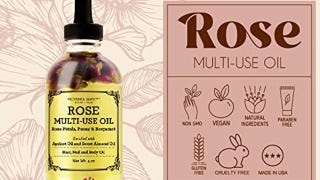 Provence Beauty Rose Multi-Use Oil
It almost makes you want to return to the days of physical media. Almost.