Earlier this week, we wrote that Warner Bros. was making some rumblings about bringing the Matrix franchise—which hasn't had a new entry since 2003's The Matrix Revolutions—back to life. At the time, the word being used to describe the new project, potentially penned by screenwriter Zak Penn, was a "reboot," mostly because entertainment writers are as susceptible to computer puns as anybody else.
Wading into the morass of reboots, remakes, relaunches, reimaginings, and re-etc's that surround any attempt to breathe life into a moribund franchise these days, Penn got on Twitter yesterday to clarify that he has no intention of recreating (ah, there's another one) one of the most beloved science-fiction franchises of the last 20 years.
From his comments, it seems clear that Penn is less interested in re-telling (!) the story of The Matrix, than in expanding it, a la what Star Wars is doing with side projects like Rogue One. He went on to mock reporters, us included, who jumped to the worst case scenario about the project, joking that the original The Matrix is already perfect, and that his choice to recast Keanu Reeves would just be Keanu Reeves.
G/O Media may get a commission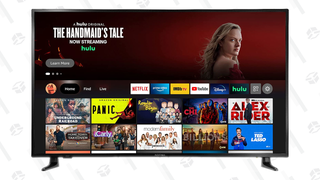 38% Off
Insignia 50" 4K UHD Smart TV