The Babadook is one of the best horror movies of this decade, its tale of a storybook monster made manifest through a woman's rage and anxieties. It delivers both inventive scares and potent metaphors. But, because one's art is no longer their own once it's released into the wild, The Babadook itself is now serving double duty as both a terrifying symbol of mortality and an out-and-proud gay icon.
When the memes began, Attitude magazine attributed the Babadook's new identity as gay audiences giving the film a "queer reading." Their take:

The 'queering' of films occurs when academics or audiences take film characters with no explicit sexuality, and they 'read' them as LGBT+, taking evidence from the text. Alexander Doty famously envisioned The Wizard of Oz as a lesbian fantasy. In his book Flaming Classics: Queering the Film Canon, Doty envisions Dorothy as a young lesbian, with the Wicked Witch and Glinda representing the "wicked butch and good femme" respectively.
Turns out the real reason was much, much simpler. BuzzFeed reports that it began last summer, when some eagle eyes noticed that the horror flick was being categorized as an LGBT movie on Netflix.
G/O Media may get a commission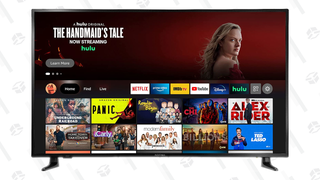 38% Off
Insignia 50" 4K UHD Smart TV
The juxtaposition of a bug-eyed, charcoal sketch and the kaleidoscopic vibrancy of queer iconography seems to have clicked. In this sense, Attitude's take is spot-on; there's no explanation here, no necessity or reason. The internet has simply willed the Babadook's sexuality into existence.
This, of course, hasn't stopped people from drawing corollaries.
Or from imagining what role the Babadook might've played in the march toward gay rights.
Or from imagining what other horror icons might fly the rainbow.
And then there's this, which somehow combines the Babadook's cultural resurfacing with the "one thicc bih" meme: