Sex And The City, "Easy Come, Easy Go" (August 6, 2000)
Several years removed from its heyday, it's easy to spot the flaws in HBO's fairy tale about a single girl in the big city. The much-lauded dialogue feels creaky with age—less witty repartee and more a stereotypical vision of how sophisticated women might gab about their lewdest moments. But it's also hard to ignore Sex And The City's cultural impact. It was one of the shows that vaulted HBO to the top of the heap, and fizzy episodes like "Easy Come, Easy Go"—in which all the women at the show's center face relationship crises of one sort or another—were what made S&TC so beloved to so many people. The series is so of its moment that it's already showing its strain, but there are few better time capsules of the dawn of the decade.
Malcolm In The Middle, "Bowling" (April 1, 2001)
Because Malcolm In The Middle got so bad for so long, the innovations it spurred when it debuted in 2000 have mostly been forgotten. It was the first successful single-camera sitcom in ages, and the first to translate the cartoony pace and jokes of The Simpsons to a live-action format. For its first two or three seasons, there was nothing quite like Malcolm: It was willing to attempt wild stylistic innovations, as in this episode, which plays out the same evening in two alternate timelines—one where Frankie Muniz's Malcolm goes bowling and one where he doesn't—and along the way, highlights the sterling work of Jane Kaczmarek and Bryan Cranston as the title character's parents.
South Park, "Scott Tenorman Must Die" (July 11, 2001)
Although South Park was a bigger cultural sensation in the '90s, almost all its best episodes came in the first half of this decade. Case in point: this acidic black-comic riff on what happens when Cartman vows to get his revenge on Scott Tenorman, an older boy who conned him by telling Cartman he could reach puberty by buying some of Scott's pubic hair. Though South Park was most acclaimed for its political commentary this decade, some of its funniest episodes were ones that avoided issue-based storylines and came up with horrifying riffs on traditional sitcom plots. The final joke in "Scott Tenorman Must Die" is one of the decade's darkest and best.
G/O Media may get a commission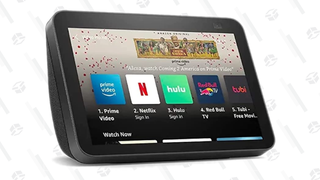 King Of The Hill, "Bobby Goes Nuts" (November 11, 2001)
King Of The Hill, on the other hand, experienced something of a back-and-forth stylistic struggle in the '00s, as the comic visions of co-creators Greg Daniels and Mike Judge battled for the heart of the show. This episode—probably best known as the one where Bobby yells, "That's my purse!" and "I don't know you!" a lot—is the one that best blends the show's competing schools of comedy, with Daniels' dark, satiric sense of telling stories about the small indignities of life (even though he'd left the show at this point) blending with Judge's celebration of common-sense values trumping political correctness. Judge's view would come to dominate the show—to its detriment—but this episode crafted a funny tale from behind-the-scenes conflict.
Everybody Loves Raymond, "Talk To Your Daughter" (March 18, 2002)
In the wake of 9/11, America turned to old, reliable sitcoms like Friends, King Of Queens, and this one, which had its best season in 2001-2002. Everybody Loves Raymond's hoary old plot devices and classic construction meant that it was never an Internet favorite, but the series defined its characters and their relationships so well that it could build an episode around a conflict between any of them. Later in Raymond's run, everyone would grow too spiteful toward each other, but in this one—in which the characters try to figure out why they don't go to church more often—the show gets at questions of America's queasy relationship with its religious past, without lecturing, and while remaining funny throughout.
24, "Day 1: 11:00 p.m.-12:00 a.m." (May 21, 2002)
A few years ago, 24—one of the most influential dramas of the decade—would surely have made our Top 30 list. Now, in the wake of two lackluster seasons in a row, it's an afterthought. But for its first five seasons, 24 was TV's most reliable rush, tossing Kiefer Sutherland's Jack Bauer into crisis after crisis with a riveting made-up-on-the-fly feel. To watch 24 was to cheer how the writers got Jack out of trouble as much as it was to cheer Jack. The first-season finale contained one of the biggest shakeups of any show this decade, as the creative staff proved they meant business by killing off Jack's wife at the hands of the treacherous Nina. A few years later, killing off regulars on a TV show would become so popular it would become a cliché, but in this episode, it was still bracingly unexpected.
Aqua Teen Hunger Force, "Dumber Dolls" (Nov. 3, 2002)
Aqua Teen Hunger Force is a hard show to describe to anyone who doesn't watch it. It essentially reinvents the classic comedy team via stoner humor and talking fast-food products, pairing the old comedy trope of a really smart guy and a really dumb guy with the new idea of tossing a confrontation-loving personality that can only be described as "cable-news host" into their midst. This 15-minute near-masterpiece guest-stars David Cross as a suicidal, depressed doll named Happytime Harry who joins Meatwad's playthings and ends up bringing down the mood of everyone around him. Dark, despairing, and scabrously funny, "Dumber Dolls" helped make Aqua Teen into Adult Swim's first signature show.
Gilmore Girls, "They Shoot Gilmores, Don't They?" (Nov. 12, 2002)
In the first few development seasons after 9/11, networks green-lit a lot of shows that purported to be about good, decent American values and people who really cared for each other. Often, it seemed like they were all just trying to clone Gilmore Girls, a show that was nearly canceled in its first season, then became one of The WB's signature hits in its second. The series' vision of a New England small town as a kind of heaven—where everyone wanted to help a single mom raise her kid—was one of the most warm-hearted visions of American life on TV this decade, even in episodes like this one, where a town dance marathon leads to sadness and heartbreak for both of the titular girls.
Alias, "Phase One" (Jan. 26, 2003)
Yeah, Alias eventually became so labyrinthine that it made no sense even to its few remaining fans, and sure, this episode was a big reason the show eventually turned sour, but for its first two seasons, there was nothing as wildly entertaining as Alias on the air. It was an action-thriller that blended family drama, relationship angst, spy shenanigans, and some of the most fraught workplace politics in television history into a heady blend of plot twists galore. And it featured some of the best acting a genre show could muster, from the likes of Jennifer Garner and Victor Garber. This episode broke apart everything on the series before it could get too predictable, providing a huge thrill for the handful who stayed up to watch it after the Super Bowl.
The Simpsons, "Moe Baby Blues" (May 18, 2003)
The Simpsons spent most of the '00s trying to prove that it still deserved to exist. No matter how hard showrunner Al Jean tried to bring the show back to its roots after Mike Scully turned it into a cartoonish fantasy early in the decade, there was always something missing. The series, which had done everything, mostly lost its ability to surprise. Every so often, though, it came up with an episode like this one, offering a funny new way to use the characters. Here, forlorn bartender Moe becomes obsessed with caring for baby Maggie, in ways both hilarious and rooted in the characters we'd grown to know. "Moe Baby Blues" added a new relationship to the show, and represented one of the few consistently funny episodes this decade.
Angel, "Smile Time" (Feb. 18, 2004)
Angel, often the black sheep of Joss Whedon's TV universe, spent most of its run in danger of cancellation for one reason or another, which meant the constant wheel of retooling essentially made Angel into a new series every season. All five of those series were compelling to varying degrees, but what it became in its final season—a workplace drama about the employees at a demonic law firm—proved the most durable. This episode, wherein the hero investigates an evil children's show and is transformed into a puppet, is both screamingly funny and surprisingly sophisticated in its examination of adult sadness.
Scrubs, "My Screw Up" (Feb. 24, 2004)
Few shows have caused as much debate among TV fans in the '00s as Scrubs, a sitcom that was warmly funny to some and gratingly whimsical to others. One thing all seemed to agree on, though, was that John C. McGinley's Dr. Perry Cox was one of the singular TV characters of the decade: an antisocial man who pushed away all who came close, but a brilliant doctor nonetheless. (Sound familiar?) Most debates about the series centered on its star and narrator, Zach Braff, but this episode puts him in the background and instead focuses on how Cox tries to deal with the death of a close friend. The Sixth Sense-inspired ending would feel cheap if McGinley didn't make it so moving.
Desperate Housewives, "Pilot" (Oct. 3, 2004)
For its first five or six episodes, Desperate Housewives seemed like it would accomplish the impossible and be both a funny satire of primetime soaps and a satisfying soap in its own right. Almost immediately afterward, the series began to fall apart, unable to handle its huge mainstream success. But for those first few episodes, Marc Cherry's vision of suburbia as a campy, slutty, Day-glo world felt like nothing else on TV, simultaneously arch and sincere. The expert pilot bought the show so much goodwill that a lot of viewers didn't notice Desperate Housewives had gone downhill until well into its second season.
Everwood, "A Mountain Town" (Feb. 21, 2005)
The WB was a font of interesting TV from about 1995 to 2003, but it was slowly splintering by the middle of the decade, unable to find companion pieces for the few minor hits it still had. Caught in the midst of this chaos was Greg Berlanti's Everwood, a sweet, unassuming show about the world's most hyper-earnest small town. Everwood could be too saccharine, but at its best, the series was about people who longed to do the right thing while struggling to know exactly what that might mean. For example, "A Mountain Town," in which Treat Williams' Dr. Andy Brown struggles to figure out how to tell his son Ephram that Ephram's girlfriend put their baby—whom the son never knew about—up for adoption.
Carnivale, "New Canaan, CA" (March 27, 2005)
Carnivale was a stylish-to-a-fault series with a deep, nearly impenetrable mythology about the forces of good and evil moving toward a final battle, and it attracted one of the most vocal cults of the decade, even though it only lasted two seasons and was one of the few HBO original series not to garner very good ratings. While Carnivale was never as good as its gorgeous production design, the show had its sublime moments, particularly in this series finale, which brought a handful of storylines to a close while launching a series of others, all in a deeply stylish manner that wed apocalyptic imagery to cryptic stories that hinted at America's dark past.
House, "Three Stories" (May 17, 2005)
Procedurals were the order of the day through most of the decade on the broadcast networks, because they offered single-serving stories that closed off neatly at the end of each hour. But some of these procedurals introduced interesting characters, and few in the '00s were more interesting than Hugh Laurie's Dr. Gregory House. Laurie gave one of the decade's best performances, and this episode—in which he recounts the case studies of three patients to a med-school class—may be his finest hour, for the way it coats the show's standard medical mysteries in a veneer of personal anger and pain. "Three Stories" won a well-deserved writing Emmy, unusual for a category dominated by shows with more serialized storytelling.
CSI: Crime Scene Investigation, "Grave Danger" (May 19, 2005)
CSI was the most popular drama of the decade: a cool burst of crime-solving that wedded the science geekery and directorial styles of The X-Files to a classic detective show. For its first few seasons, it was even a little cool, and heavily hyped in the media, until the series' style became the dull default at CBS and other networks. One of the decade's biggest TV events occurred when Quentin Tarantino directed the show's fifth-season finale, wherein a member of the CSI team was buried alive, and the rest raced to find him. The heavily hyped, highly rated event ended up having something CSI was a bit short on at that point in its run: actual tension.
Everybody Hates Chris, "Everybody Hates Sausage" (Oct. 13, 2005)
Everybody Hates Chris may be the decade's most misunderstood sitcom. Since Chris Rock was one of the primary creative forces, many anticipated that the show would be just like a Chris Rock comedy routine. Instead, it was a warmly sentimental valentine to the idea of living in a stable, two-parent household. Episodes like this one provided plenty of laughs, spurred by dad Julius (the wonderful Terry Crews), who felt his family should eat discount sausage at every meal, but underneath the jokes, the primary appeal of the show was its portrayal of a family whose members truly cared for each other.
Grey's Anatomy, "Into You Like A Train" (Oct. 30, 2005)
Grey's Anatomy was the decade's other smash-hit drama, and the show that finally took down the CSI franchise for a little while. Its soapy complications, ridiculous medical storylines, and odd character beats couldn't have been more different from the procedurals that were saturating the other networks, which may have explained why the ABC doctor soap was all the rage for a year or so. Or maybe it was because of episodes like this one, in which medical calamities commented on the larger issues at work in the doctors' lives. Often, Grey's Anatomy made this connection incredibly clumsily, but in "Into You Like A Train"—where a train crash becomes a metaphor for how quickly the doctors' lives are spinning out of control—the show turned melodramatic excess into great, goofy fun.
Rome, "The Spoils" (Nov. 13, 2005)
No less an authority than the head of HBO said that the network botched its handling of Rome by canceling the swords-and-sandals epic before its time. The series—one of the most expensive in the history of television—was never quite as good as HBO's buzzier hits, but it used its opulence to tell the story of an empire both simultaneously at its height and in perpetual decay. Rome's best storytelling device was relaying the story of the city through the eyes of two soldiers who grew with the empire; in this episode, where one of them is arrested and forced into gladiatorial combat, the series reached a visceral, moving payoff.
[pagebreak]Brotherhood, "Samyutta 11:10" (Aug. 13, 2006)
Showtime spent most of the decade trying to be HBO, largely by coming up with shows that felt like they were assembled by some sort of HBO replication machine, only lacking something soulful and true at their centers. Brotherhood, the best drama of the decade that almost no one watched, was the best of these series: a bald-faced attempt to meld The Wire and The Sopranos that somehow took on an identity of its own. One of the decade's best performances came from Annabeth Gish, who reaches bottom in "Samyutta 11:10," releasing the family cat into the woods after a crippling descent spurred by addiction and a desire to be free of her life. Brotherhood was rarely transcendent, but it captured something real and earthy, and it deserved a better fate.
Extras, "Ian McKellen" (Feb. 11, 2007, U.S. debut)
Extras' best season was its second, when the series attempted to tell a story about reaching a pinnacle of success and still feeling like shooting yourself in the face. (Co-creators Ricky Gervais and Stephen Merchant excel at that kind of story.) This episode was also Extras' funniest, nicely playing off of Ian McKellen's previous film roles to turn him into a daffy sage for Gervais, as a struggling film extra who just wants more from his life. Extras was never as good as Gervais and Merchant's previous series, The Office, but that's because it wanted to be more like a goofy sketch show. This episode was both its most amusing sketch and its finest hour.
Heroes, "Company Man" (Feb. 26, 2007)
It seems ridiculous now, but Heroes was the talk of TV fans everywhere in its first season. Some thought it was better than Lost, offering up plots that actually went somewhere and questions that were answered within only a few episodes. And some thought its characters were too weightless to carry the show very far. While the latter group ended up being right, "Company Man" suggested that Heroes might just find a way to blend compelling character arcs with thrilling super-heroics, as it took the series' most mysterious character—Jack Coleman's "Horn-Rimmed Glasses"—and told a gloriously sad story of a man who comes to love the super-powered baby girl foisted on him, only to lose her when he's forced to wipe her memory. "Company Man" made even Heroes skeptics take notice. Sadly, the series un-wrote all it had accomplished in the very next episode, and the rest is junk-TV history.
John From Cincinnati, "His Visit: Day Five" (July 15, 2007)
David Milch's post-Deadwood effort was one of the most famous creative busts of the decade, but it provided at least one indelible episode: a weirdly clarifying hour that spelled out Milch's grand theories about damaged people forming communities to help each other, and his idea of how God might reach out to touch the lives of burned-out drug addicts and former surfer kings. The episode's final 10 minutes—set in the parking lot of a hotel where the titular John, the show's Christ figure, gives his version of the Sermon On The Mount—are simultaneously completely baffling and strangely moving, as John's words bring together the sad, tortured souls of Southern California to reach toward a higher purpose. That purpose never came, thanks to the series' rapid deterioration and subsequent cancellation.
Doctor Who, "Blink" (Sept. 14, 2007)
Russell T. Davies' grand re-imagining of the United Kingdom's biggest pulp sensation became a huge hit on his native shores, and built a substantial cult in America, too. While Davies' love of operatic endings was always appreciated, he was also smart enough to turn an episode or two per season over to Steven Moffat. "Blink" was Moffat and the new Who's most terrific mind-bender: an episode in which the titular Doctor barely appears, and a damsel in distress tries to survive in a creepy, monster-infested old manor house. The show's time-travel mechanics are utilized terrifically, David Tennant's Doctor serves as a goofily believable lifeline, and the girl in trouble? She'd grow up to be An Education's shoo-in Oscar nominee Carey Mulligan.
It's Always Sunny In Philadelphia, "Sweet Dee's Dating A Retarded Person" (Oct. 11, 2007)
It's Always Sunny In Philadelphia's nature practically demands unevenness. Its central characters are only broadly defined, mostly so the series can tell stupid-funny stories about current social situations. The writers' main storytelling technique is to take something from the news and then concoct the most over-the-top story they can spin from it. Yet Sunny is frequently one of the funniest shows on TV, largely because it sacrifices anything approaching a continuing storyline in favor of nonstop laughs. This episode may be its best crafted—it focuses on put-upon Dee's relationship with an amateur rapper who might be just a touch mentally handicapped, as well as introducing the musical fantasy figures Nightman and Dayman—a comic well the series would return to often.
In Treatment, "Alex, Week 8" (March 18, 2008)
Based on an Israeli series (with scripts directly translated in its first season), In Treatment has been one of the decade's quietest half-hours on TV: a five-times-a-week oasis of silence that audiences can dive into if they can appreciate the show's miniature character beats and snail's pace. (Those who complain that Mad Men is slow have clearly never seen this show.) But In Treatment has a sense of catharsis few other shows can match, and this episode—in which the father of tormented, possibly suicidal fighter pilot Alex visits therapist Paul (the riveting Gabriel Byrne) to determine just why his son died—is a richly moving portrayal of the ways parents and children build each other up and tear each other down.
This American Life, "John Smith" (June 8, 2008)
Sometimes, the television version of This American Life feels like it's trying too hard—and failing—to capture the mood of the radio show. Sometimes it feels like it's trying too hard—and failing—to be an Errol Morris film. But in this episode, it successfully blends the atmosphere of the radio series with the approach of a top-notch documentary to create one of the most moving non-fiction films of the decade: an hourlong examination of six men named John Smith, all at different ages, from cradle to grave. "John Smith" mostly eschews the series' gimmicks to tell carefully wrought small stories, and is all the better for it. It's the kind of riveting television that you stumble upon at 1 a.m. in a motel room and can't switch off.
The Middleman, "The Pilot Episode Sanction" (June 16, 2008)
For a time, it seemed like all TV genre shows were cursed to be dark, brooding reflections on the cost of living in a society where death waits around every corner. While not perfect—or even the series' best episode—the Middleman pilot got rid of those notions as quickly as possible, returning to the wacky tone of a '50s serial, packed with shoddy special effects, stupid monsters, and pop-culture references galore. The series only lasted one season on a network (ABC Family) clearly wrong for it, but stars Matt Keeslar and Natalie Morales gave all they had to characters who felt, respectively, like an average Joe from the '50s and a modern, directionless college girl. The Middleman wasn't particularly deep, but it was super-fun.
Pushing Daisies, "Oh Oh Oh, It's Magic" (Nov. 19, 2008)
Conventional wisdom says the Pushing Daisies pilot was so gloriously over-the-top and imaginative that the rest of the series could never hope to match it. And while that's true on a visual level (the series would never have a budget like the one it had for the pilot again), it's not true on a character level, as Pushing Daisies and creator Bryan Fuller spent much of the series' second (and final) season deepening the characters' emotional connections and exploring their nuances. Take this episode. Resurrecting pie-man Ned discovers he has two younger half-brothers he never knew about, and over the course of an hour, he finds a whole family he's not sure he wants to be a part of. It's sublime stuff about reconnecting with people when you're an adult, and it's what kept the tweeness on the series' surface from becoming unpalatably gooey.
Chuck, "Chuck Versus Santa Claus" (Dec. 15, 2008)
The Christmas episode is one of the hardest events to pull off in television. It's obligatory to do one, but there are only so many different plotlines—someone has to work on Christmas, family is coming over unexpectedly, etc.—which often gives these episodes a same-y quality. The hilarious, heartfelt spy spoof Chuck decided, instead, to put a Christmas overlay on an episode full of action-packed twists and turns: one in which believable emotional conflicts divided allies, and the desire to get home for Christmas became a kind of ticking time bomb. The episode's final montage—as love interest and brutally efficient secret agent Sarah tracks a killer through a Christmas-tree lot—is the icy patch down at the bottom of holiday cheer.
Burn Notice, "Bad Breaks" (Feb. 12, 2009)
It's easy to deride Burn Notice as schlocky. Its central character and plotting are both direct lifts from the sorts of '80s action shows that seem ridiculous to modern eyes, and its serialized plotline is so scant as to be almost nonexistent. But the courage of its convictions, and a belief that we're really interested in its vision of spycraft as the grooviest thing going, gets Burn Notice through. That may not work for everyone, but it does for a significant portion of the audience, and it's never better than in this episode, where head spy Michael pursues a target to a bank… where a robbery and hostage situation promptly breaks out. It's a hoary storyline, but Burn Notice, as usual, gives it kicky new beats.
The Big Bang Theory, "The Terminator Decoupling" (March 9, 2009)
The Big Bang Theory feels like an anomaly in this age of quirky single-camera comedies. It's a multi-camera laugher, filmed before a live studio audience and reliant on some of the oldest plot devices in the book. Its characters are all broad stereotypes who interact with each other in mostly predictable ways. Yet thanks to sharp writing and an amazing cast, it's funnier than it has any right to be, and proof that there's gas in the multi-camera sitcom model yet. This episode, wherein the nerds at the show's center embark on a trip to San Francisco and run into beautiful science-fiction icon Summer Glau (herself on the worthwhile Terminator: The Sarah Connor Chronicles at the time) uses all the series' well-defined types to their hilt.
Better Off Ted, "Racial Sensitivity" (April 8, 2009)
Heading into the end of the decade, a slew of solid new comedies debuted on a variety of networks, but a surprising amount were on ABC, a network that hadn't come up with a good new comedy that lasted for more than a season since the '90s. But Better Off Ted, created by Victor Fresco as a return to the workplace world he mined so well in Andy Richter Controls The Universe, was just the ticket for viewers despairing that there were no more good TV satires. Ted's "Racial Sensitivity" is one of the funniest half-hours of the decade, a daffily over-the-top look at what happens when a corporation inadvertently reinstitutes segregation throughout its office tower, then makes matters worse the more it tries to compensate.
Party Down, "Celebrate Rick Sargulesh" (May 8, 2009)
One of the big stories of the end of the '00s was the way more and more networks were getting into the scripted-TV game. Among the best of these new series is Starz' Party Down, arguably the funniest sitcom about the sheer joy of giving up your dreams since Taxi. A pitch-perfect ensemble cast turns every episode into the sort of anything-can-go-wrong farce that's hard to do well on TV, and co-creator Rob Thomas (Veronica Mars) called in every favor he could think of to get terrific guest stars. In this episode, it's Steven Weber, playing a Russian mobster who's also an aspiring screenwriter celebrating his acquittal in a murder trial. As the staff of Party Down's catering company gets more and more involved with the mobster and his friends, the situation spins hilariously out of control.
Rescue Me, "Torch" (June 30, 2009)
Rescue Me was one of the decade's most frustrating shows, vacillating between great comedy about what guys do between work and the rest of their lives, and a substantially weaker dark drama about firemen whose lives spiral out of control after 9/11. The series' best season was its first, but its best episode is this one, a frank examination of how central character Tommy Gavin (Denis Leary, who also co-created the series and co-wrote most of the episodes) can accomplish things most of the other firemen simply can't bring themselves to do, simply by virtue of how much he's hardened his heart. The scene where Tommy wraps the burnt body of a small boy—done in one shot—is as devastating a shot as the '00s produced.
Dollhouse, "Epitaph One" (July 28, 2009)
Another sign of the times: Some of the best episodes of the decade showed up only on DVD, including this one, wherein Joss Whedon's latest, most troubled series lays all its cards on the table and shows that it knows where it's heading after all. Shot on the cheap with handheld DV cameras, "Epitaph One" creates a beautiful, believable post-apocalyptic future, fills in the gaps between that future and the show's present-day timeline, and deepens and darkens all the series' themes about the nature of identity and the problems that arise when we trust corporations with potentially world-altering technology. The final moments—as a trio of survivors make their way into an uncertain future—are surprisingly powerful.
Sons Of Anarchy, "Albification" (Sept. 8, 2009)
After the loss of The Shield, it wasn't immediately clear that FX would attempt any series as dark—or as good—any time soon. The Shakespearean motorcycle saga Sons Of Anarchy started out slowly, then gradually created a world full of detail and dark beauty in its first season, before blowing all that up in the exemplary second-season première. Creator Kurt Sutter offers a vision of a world in which all that stands between good people and the most depraved sorts of scumbags is a biker gang full of scumbags almost as awful. Then he twists that vision in "Albification," where the members of biker gang SAMCRO realize there are worse enemies on the horizon, and Katey Sagal's alpha-biker-chick Gemma finds herself in a horrifying situation brought on by a world that she's previously been proud to rule.
Parks And Recreation, "Practice Date" (Oct. 8, 2009)
It took a while for Parks And Recreation to find its feet. In the first season, the writers didn't give a sense that they knew how to write for all of the characters, and the situations often felt forced. Between season one and season two, all involved developed a better sense of how to make the show work, mainly by changing it from a broad sitcom about small-town government into a specific satire of the kinds of people who make public service their life. This episode follows the lonely Leslie Knope (Amy Poehler) as she tries to psych herself up for a date with a similarly lonely cop, and ends up making everyone around her more and more uncomfortable.
Modern Family, "The Incident" (Oct. 14, 2009)
One of the best signs of hope that network television can continue to be relevant in the face of sagging ratings (caused by increased use of DVRs and online viewing) has been Modern Family, a show that improbably resurrects the family sitcom from the doldrums by putting a new spin on old situations. Filled with vividly realized characters and sharply drawn relationships, the series uses the faux-documentary aesthetic of The Office to revivify the familiar. Its best episode to date is "The Incident," in which the family at the series' center reveals the source of so much of their uncomfortable tension. Network TV is in as big a bind as it's ever been in here at the end of the '00s, but Modern Family offers plenty of proof that the networks can still make great series.