Here's what's up in the world of TV for Wednesday, October 22. All times are Eastern.
Top pick
The 100 (The CW, 9 p.m.): It's the second season premiere of The CW's post-apocalyptic teen series, The 100. Last season, in his pre-air review of the series, the dearly departed Todd VanDerWerff described life for characters in The 100 as both "incredibly hot and attractive and filled with sexy sex" (the best kind of sex) and "nasty, brutish, and short." All of those are selling points, as far as I'm concerned.
Also noted: '90s Kid edition
Melissa & Joey (ABC Family, 8 p.m.) / Baby Daddy (ABC Family, 8:30 p.m.): That's right. ABC Family's biggest sitcoms are back for some Halloween specials, and that only means one thing: wordplay. And nostalgia-baiting. Okay, it only means two things. First, Melissa & Joey has "Witch Came First," an episode that's existence is 100% based on the fact that Sabrina The Teenage Witch is a show that exists. Note that Aunt Zelda herself, Beth Broderick, is also in this episode.
G/O Media may get a commission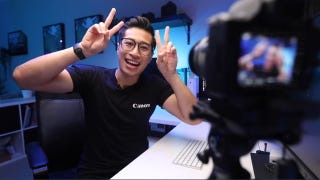 Up to 33% off
Canon Camera National Promotion
Webcam kits, lenses, & more
Since many of us adopted working from home, we've become accustomed to the crappy video quality output of our laptops' built-in webcams. Present yourself professionally with the help of a professional quality camera. Dress to impress now means set dressing and picture definition. Canon has made it easy to take your EOS camera and convert it to a webcam with the help of a variety of kits.
Then, there's Baby Daddy with "Strip Or Treat." If there is any justice in this world, the strip part of this title will be all about the attractive giant known as Danny Wheeler taking on a new career. Since there is no justice in this world, the episode is about the guys being mistaken for strippers…and being sent to jail for that. I don't think that's how the law works.

Hey, Salem! What do you think about all of this?
Also noted: Regular Person edition
The Middle (ABC, 8 p.m.) / The Goldbergs (ABC, 8:30 p.m.): "Brick launches a podcast." How has Brick having a podcast not been a focal point of The Middle for years? Hopefully Will Harris can make sense of all of this. Also, The Goldbergs is riffing on WarGames with an episode titled "Shall We Play A Game?" so that should be fun. It's the closest we'll get to Adam launching a podcast, after all.
Arrow (The CW, 8 p.m.): ROAD TRIP! Oliver finds himself in Corto Maltese, in search of Thea and her new haircut of evil. It's so nice the show can kick back, relax, and just have fun after all the pain and suffering from those first two episodes. Classic Arrow, right? Right? On the off-chance that this episode is not all stars and sunsets (hey hey hey yeah), Alasdair Wilkins will be around to talk you through it. This season is making him really good at that.
Web Therapy (Showtime, 11 p.m.): This marks the second GOOP reference in a row on a Wednesday What's On Tonight, with Gwyneth Paltrow having a guest appearance in the episode of Web Therapy. It's the season four premiere of Lisa Kudrow's Skype therapy-based comedy, and while that is great, it's a little hard to get too excited when the comeback of The Comeback is on the horizon. For what it's worth, this is the non-"sexy sex" Top Pick of the night.
Regular coverage
Survivor (CBS, 8 p.m.)
Modern Family (ABC, 9 p.m.)
Black-ish (ABC, 9:30 p.m)
American Horror Story: Freak Show (FX, 10 p.m.)
The League (FXX, 10 p.m.)
Key & Peele (Comedy Central, 10:30 p.m.)
TV Club Classic
Lost (Classic) (1 p.m.): This week's episodes are "What Kate Did" and "The 23rd Psalm." You know what that means! Myles McNutt gets to write about everyone's favorite Lost characters: Kate and Mr. Eko.
Elsewhere in TV Club
There is no more regular coverage of Supernatural, but that doesn't mean there's nothing more to say about the show, especially now that's it's in its tenth season. Enter Eric Thurm's 100 Episodes piece on the show, which digs deep into how the show has achieved such longevity.
Also, before you watch tonight's episode of American Horror Story: Freak Show, you can check out The Lady Aye's For Our Consideration about the historical relevance of the horror anthology series.
What else is on?
The Mysteries Of Laura (NBC, 8 p.m.): "A fashion designer's intern is murdered, so Laura infiltrates Fashion Week, where the suspects include top models and knockoff sellers." The mystery of all of this is how long will it take until the first "Laura—a middle-aged woman—could never compared to a super model!" joke of the episode is uttered. My money is on two minutes after the cold open.
Nashville (ABC, 10 p.m.): "A homeless man makes an impact on Scarlett." Nashville isn't exactly a fountain of creative ideas, but this plot just may be the most Scarlett plot there has ever been. Yes, Scarlett's name is now worthy of being an adjective with negative connotation. Congratulations, Nashville.
Chicago P.D. (NBC, 10 p.m.): "Burgess and Roman look for a girl who stole a police badge." If there's one thing I learned from Friends—and I have learned a lot—it's that such a storyline will only yield hilarious results. Hopefully Phoebe Buffay is the one who stole the police badge here too.
Franklin & Bash (TNT, 10 p.m.): It's the season four finale of Franklin & Bash, and you know what that means. Vegas, baby! Seriously, the season finale takes place in Las Vegas, where the bros are arrested for cheating a casino. That is just so Franklin and Bash. Well, it's really more Bash than Franklin. Or is it more Franklin than Bash? Maybe—just maybe—the season four finale will answer the question of which '90s babe is which. If not, there's always season five.
Beetlejuice (ABC Family, 6 p.m.): There are several truths to come from the 1988 Tim Burton classic, Beetlejuice. "Nerdy" ghost Alec Baldwin is actually the most attractive version of Alec Baldwin. Not enough people talk about how creepy it is that Beetlejuice wanted to take Lydia as his child bride. (Yes, people talk. But not enough.) PG movies of the '80s probably traumatized a lot more '90s kids than we know. This is the single greatest musical number of any non-musical movie:
Mars Attacks! (Encore, 6:10 p.m.): Less beloved that Beetlejuice, this Tim Burton film doesn't feature any of the aliens taking child brides. But they are invading Earth, so they're not really good guys…

World Series: Game 2: Giants at Royals (Fox, 8 p.m.): Giants. Royals. Royals. Giants. Who's going to win the big one? Based on statistics and hours of research, I've come to the conclusion that the winner will be: either the Giants or the Royals. Sorry to burst anyone's bubble.
In case you missed it
Snuff Box: John Teti's One Season Wonders, Weirdos, And Wannabes piece on Matt Berry and Rich Fulcher's Snuff Box calls the brilliant show too dark for television and too smart for YouTube. Bask in the bizarre, crude humor of the six episode series and you'll see what he means.