Weaponizing its music in a way not heard since a '97-era college dorm, adolescent-angst-poppers Third Eye Blind performed last night to a Cleveland audience filled with Republican National Convention attendees, with the intention of being disappointing on purpose. As Billboard reports, frontman (and sole remaining original member) Stephan Jenkins capitalized on his captive audience at a charity gig inside the Rock & Roll Hall Of Fame Museum, telling them he "repudiates" the GOP and chastising them with calls for tolerance and science—and in the biggest fuck-you of all, playing mostly new stuff.

Jenkins—a bit of a policy wonk who's previously expressed interest in political blogging—has made no secret of his distaste for the Republican Party, although the feeling isn't mutual. Possibly out of collective yearning for bygone fraternity days, Republicans previously invited Third Eye Blind to play their 2012 convention—an offer Jenkins refused, penning a blog for The Huffington Post in which he suggested the only way he'd attend would be to "Occupy it." He more or less achieved that by playing the RIAA-sponsored benefit for Musicians On Call, which "brings live and recorded music to the bedsides of patients in healthcare facilities," and using his time on stage to tell the crowd he "repudiates" everything they stand for.
In one clip, amid random boos and catcalls, Jenkins introduces "Jumper"—"a song about acceptance and tolerance from a friend who jumps off a bridge because he was being bullied because he was gay"—by reminding the audience that "the RNC has still not, to this very day, been able to incorporate LGBT Americans fully, like my cousins who are gay, into the American fabric." He then goes on to tell them that "to love this song is to take into your heart the message and to actually have the feeling to arrive and move forward and not live your life in fear [not] imposing that fear on other people."
That message may not have been warmly received—"You can boo all you want, but I'm the motherfucking artist up here," Jenkins said at one point—but concertgoers were obviously thrilled to hear "Jumper," the lone recognizable hit in a set crowded with deeper cuts from recent Third Eye Blind albums.
Indeed, after being openly mocked by Jenkins' baiting them with calls to "raise your hand if you believe in science"—with the very concept of science, again, receiving a round of angry boos—the irascible crowd wasn't even granted the soothing balm of his cheery ode to crystal meth addiction, "Semi-Charmed Life." Instead they were mostly subjected to songs from 2015's Dopamine, the musical equivalent of a 15-hour filibuster.

G/O Media may get a commission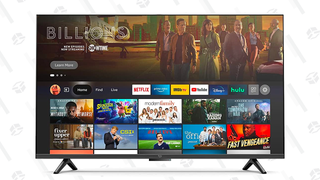 22% off
Amazon Fire TV - 50" Omni Series 4K - Early Access Deal
Unsurprisingly, conservatives were angry, albeit in a more focused way this time. Twitter quickly lit up with critiques from attendees, ranging from the concert's lack of hits to the fact that this all took place at a charity show. And while the band dismissed the latter, saying Musicians On Call was "well aware of our take on things," it mostly seemed to be relishing the hatred. (Not to mention the attention.)
"We used an event meant to aid suffering veterans and kids to troll for attention"
-@ThirdEyeBlind pic.twitter.com/EcC14GanzW

— F. Bill McMorris (@FBillMcMorris) July 20, 2016
As Billboard notes, Third Eye Blind is likely to be the last, unlikely voice of protest to be sprung on RNC attendees during its final two days. The only scheduled remaining acts scheduled for after-party gigs are country singer Lee Brice and avowed Trump backer Kid Rock, whose only mutinies will be against good taste.